Aqua x Stone sealer review
Aqua  X stone sealer is another new product from Black Diamond Coatings that aims to shake up the tile sealers market with a product that does more.
Black Diamond's goal with Aqua-X 33 Stone Sealer is to provide professional contractors and well educated homeowners with a product that exceeds expectations and delivers a superior stain resistant finish.
It's a safe and easy to use sealant as it's water-based that not only penetrates, but also allows moisture transmission to avoid mildew growth underneath the surface in wet areas like showers or outdoor areas.
This tile sealer is safe to use on:
Marble tile

Unsealed tiles

Pavers, Bricks & Similar Masonry
I've already tested the grout sealer version of this sealer and it performed pretty well for the price of the product, how well will it do in the natural tile test? 
As with all my sealer reviews, I test the amount of coats it requires to bead up and how well a properly sealed tile resists common household stains like oil and wine.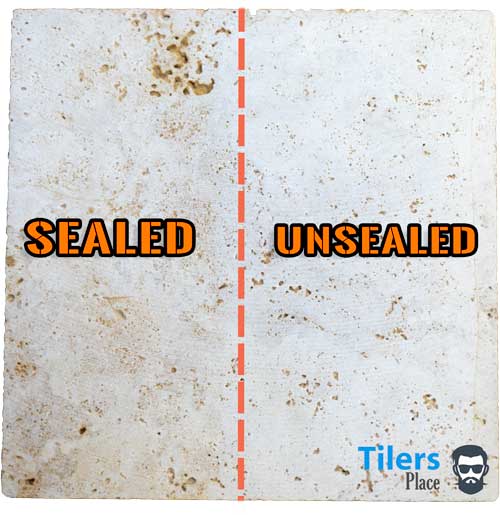 Aqua X

 Stone 

Grout Sealer

 Overview
Aqua X 33 Stone Sealer is a professional product that aims to provide dependable results for those that work in the industry like stonemasons, tilers and general contractors. It's not a DIY-special product that works on occasion and provides passable results. 
For a homeowner, that's excellent news as you get a top quality product. 
This product is a natural finish, meaning no shine or alteration of the finish of your material. It's also water-based which makes it less harsh on you and easier to apply over solvent based products.
PROS
Good Stain Protection Against Most Stains
Cheaper Than Most Professional Grade

 Tile/Stone

 Sealant

s

Natural Appearance

 

(Does Not Alter Look Of The Stone)
Excellent Coverage Rate Of 

1,000 square feet per Gallon

Moisture Barrier

 

(Prevents Bacteria, Mold, Mildew and

 Terrible Smells Building

.)
Weather Resistant And U.V Stable
Water-Based Formula with Low-VOC (Approved In 50 States)
CONS
 Dosen't Fully Protect Against The Toughest Stains
Needs 2 Coats For

 

Maximum Stain Protection

Unavailable In Most Online Stores
Not Suitable For Commercial

 

Food Prep

eration Areas (Sealer's

 

Choice Gold

 

Is Reccommneded.)
Alternative Product
My go-to sealer is Aqua Mix Sealer's Choice Gold. Its a top grade product for both natural stone tile and grout.
Expect unmatched stain protection that lasts up to 15 years in low stress situations. 
If you're seeking the best grade tile sealant without compromise, then you won't get better than Sealer's Choice Gold and it's trusted reputation with thousands of tiler's using it on a daily.
Coverage Rate Of Aqua X 33 Stone Sealer
The expected coverage range of this product can be up to 1,000 square feet per gallon, per coat. This number depends on the porosity of the stone and how it's applied.
How Long Does 

Aqua X Stone Sealer

 Last?
Black Diamond claims the product will provide stain protection for up to 5 years. Whilst this seems like a long time, other professional stone sealers like Sealer's Choice Gold last 3X more at 15 years.
Do remember however that these claims are always in ideal conditions that rarely match real life use cases. Things like surface wear, weather conditions and moisture amount will greatly alter the effective lifespan of any sealer. Even I don't believe Sealer's Choice will last 15 years but I do know it'll last longer than Aqua X 33.
What other tilers and I would recommend to our clients is a life span of about 1 year and to re-coat the sealed surface every 9-12 months for optimum performance and continued protection against stains.
Alternatively, reapplying whenever water fails to bead on the surface is the best tip for preserving your expensive surface.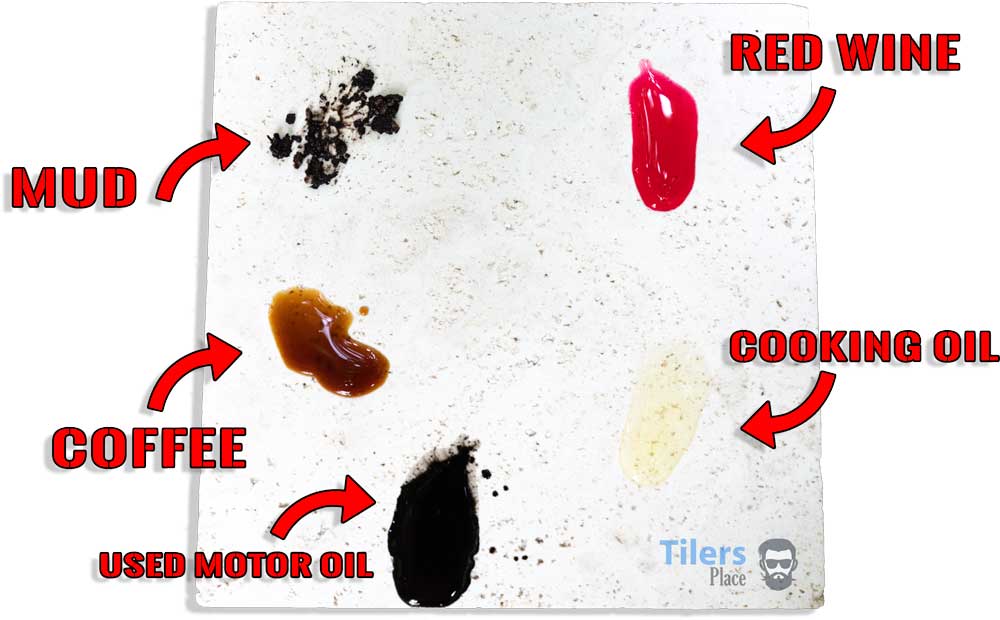 I attempted to make this test a recreation of real world situations as I felt this would be most valuable to you. Seeing how a product performs in a daily situation will more helpful to make an informed buying decision. There's no B.S or bias here, I did this test in my own home and recorded the honest results for our benefit, not the manufacturer's. 
The sealer was applied to a travertine marble tile that was never sealed before. It was thoroughly dry and I applied the sealer to the surface following the instructions on the bottle. I ensured that any excess was removed and I didn't flood the tile in the solution like is commonly done with stone tile. Black Diamond does not recommend applying the product in this way.

To ensure the first coat dried properly, I waited 24 hours before attempting the first water beading test. Results of that test can be seen below. 
Once I had enough coats to ensure the stone was sufficiently sealed, I applied the common household stains and left them on for about one minute before wiping them off with a wet cloth.
This was to simulate the amount of time a homeowner would drop something on the stone, notice it and run to get a wet cloth or paper towel to mop up the mess. 
Since we are working with natural stone, I also did a test with a common tile and grout cleaner, a product most homeowners buy shortly after getting stone tile installed. This was to see whether a tile cleaner helped removed stains from sealed stone tile. 

How Well Does Water Bead With Aqua X 33?
One coat of Aqua-X Stone Sealer was not enough to make water bead on the surface. 
Whilst water absorption was slowed down, it still entered the body of the material. This was evident in the flat beads of water that didn't bead up but continued to get flatter as they were soaked in. 
The test depending on getting a surface that was sufficiently sealed and so I waited until the stone was dry and applied another coat. 
A second coat of sealer worked more as intended. The water remained on the surface and easily slid off when I tiled the test piece of stone tile. 
The effect was akin to that of water rolling off a freshly waxed car. 
Aqua-x 33 Stone Sealer Test Results
Here are the results of the tile sealer stain test. Remember that there were two coats of sealant applied to the travertine test tile.
The picture says a thousands words so look closely, I'll provide my written observations beneath.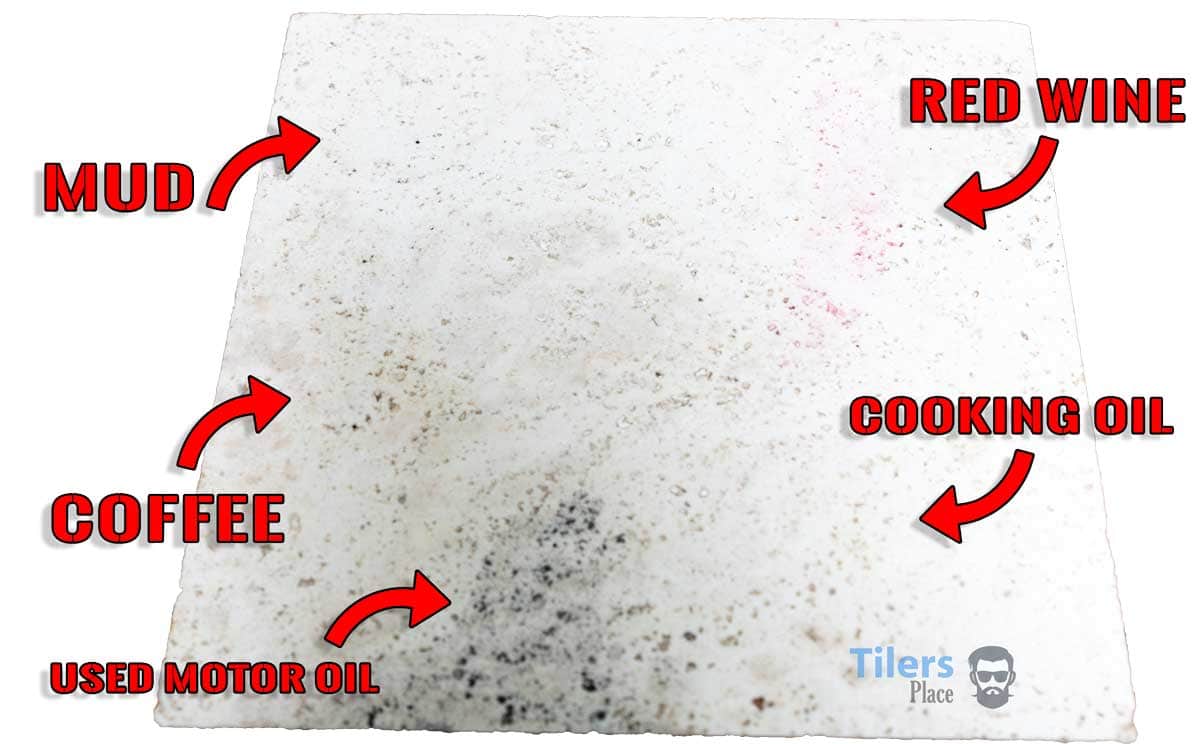 The first wipe of the stains was fairly disappointing. Most stains left traces on the marble apart from the common mud. Cooking oil and coffee were less visible but still left a noticeable mark that would annoy most homeowners.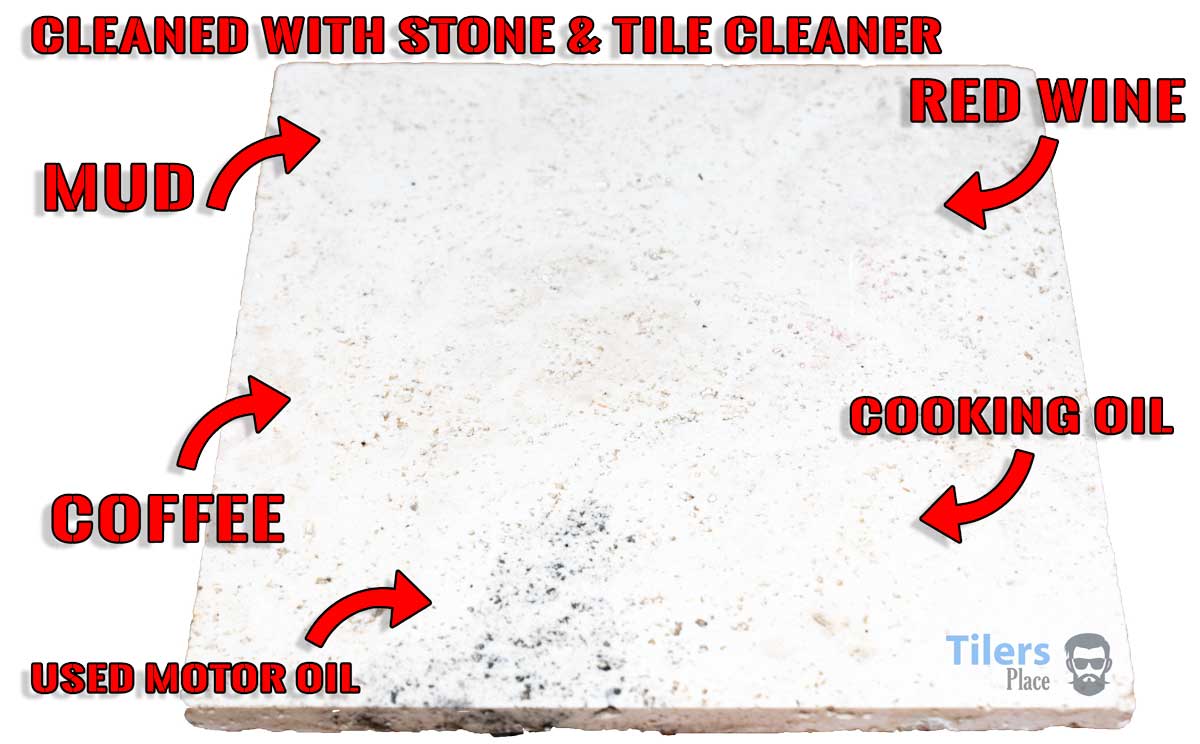 I applied a stone & grout cleaner and gave the test tile a brief scrub to see if the cleaning agent would help loosen the stains.

The results were much more encouraging with most stains getting removed. Coffee and cooking oil were removed cleanly without any staining. Red wine was removed about 97%, only a very slight color tinge can be seen when observed closely. 

Used motor oil didn't budge however. It completely obliterated the travertine marble and no amount of scrubbing could remove it. I wasn't surprised by this as used motor oil is an incredibly tough stain but I would have been happy if it did get removed. 
Aqua X Stone Sealant Conclusion
As a fairly affordable and water-based stone sealer, I was quite impressed with my stain test results. It continues to warrant a spot in my best tile sealers review.
Despite it requiring two coats instead of one as stated by the manufacturer, its still within reasonable parameters. I never expect a product to work exactly as stated on the packaging as no two situations are I alike. An extra coat of sealant to achieve maximum results is acceptable.
The sealants resistance to common stains like mud and coffee were encouraging and would make it an ideal product for most households that are diligent with their cleaning – and don't drink too much red wine.
Whilst red wine did not come off easily with water, a simple clean with a stone safe tile cleaner effectively removed the stain. If you have stone floors in your home and don't use stone cleaners as part of your cleaning routine, I'd highly recommend you get one, even if your floors are sealed. 
This sealant is very easy to apply, even with a pressure sprayer for those covering large areas. A nice feature is it's quick drying time, with floors being opened to traffic after only 1 hour in conditions 72°F (33°C) or above. 
Thanks for dropping in and reading this stone sealer review. Hopefully it provides some value to you and aids in your buying decision.
Be sure to check out my grout sealer reviews if you're interested in sealing your grout next.