Aqua x grout sealer review
Aqua  X 

grout sealer

 is a modern 

tile grout

 sealer that is made for professional and DIY use. 
The main feature of this grout sealer is to prevent mold and mildew build-up and repel water. In terms of a shower grout sealer, Aqua-X grout sealer is one of the best shower grout sealers available on the market right now. 
I've already tested those aspects of this sealant in my best grout sealers review – the object of this review is to see how well Aqua X withstands common household stains and how many coats are required for water to bead up properly.
Ready to see some stain repelling action? Let's Go
Aqua X

 Tile 

Grout Sealer

 Overview
Unlike the Aqua Mix Penetrating Sealer that I previously reviewed, Aqua X by Black Diamond Coatings is designed and capable to be used by professional tile setters. This means it contains more solids (the actual bits that remain in the grout after it dries) and professionals can trust the product enough to stake their reputation on it when doing a paid job.
Black Diamond Coatings also promote that this water based sealer only requires one coat to perform effectively and acheive full strength. I will test these claims later on in this review.
PROS
Rather Excellent Stain Protection
Cheaper Than Most Professional Grade 

Grout Sealant

s

Natural Appearance

 (Does Not Alter Look Of Grout)

Moisture Barrier

 (Prevents Bacteria, Mold, Mildew and 

Foul Odor

s Building Up On Grout.)
Weather Resistant
Breathable (This substance allows for the surface to breathe. It does not trap dew and humidity)
Water Based Formula with Low-VOC (Approved In 50 States)
Can Also Be Used On A Tile Floor Like Stone Tile, Natural Stone But Their Stone Sealer Is Recommended
CONS
Dosen't Last As Long As Other Proffessional Grout Sealants (5 years vs 15 of Sealer's 

Choice Gold

)
Needs 2 Coats For 

Maximum Stain Protection

Not Suitable For Commercial 

Food Prep

eration Areas (Sealer's 

Choice Gold

 Is Reccommneded.)
Alternative Product
Aqua Mix Sealer's Choice Gold is a top tier sealant for natural stone tile and grout.
It provides unmatched stain protection and can last up to 15 years when applied properly. 
If you want a similar product but with superior performance then go ahead with this sealant.  I've been using it for over a decade without any issues. 
Coverage Rate Of Aqua X Grout Sealer
The coverage range can be up to 75 cubic feet per 16 oz. depending on the porosity of the cement based grout, the implementation process and number of coats applied.
How Long Does 

Aqua X Grout Sealer

 Last?
The manufacturer claims it will stay on the surface for up to 5 years which seems like a lot but when you equate it to another specialist sealant like Sealer's Choice Gold at 15 years – it's not that long.
Note that these figures are set in ideal conditions, with low surface wear. While it is quite hard to estimate expected life span of the sealer in every situation, its best to not expect 5 years with no maintenance of product.
It all depends on the application, the type of pavement, traffic level and the amount of moisture in the area. 
In my (and other tilers) experience with water based sealants, we would suggest that reapplying every 9-12 months would be best. Keeping an eye on whether the water continues to bead and reapplying when it stops is also a good rule of thumb.
In order to make this test as "real world as possible." I attempted to replicate the application of a grout sealer in real life, and I deliberately stained samples to imitate the kinds of stains grout sealers would be exposed to.
The test I worked on was like the one conducted by NATCO a few years ago. It had more of a science feel, making it more precise (than mine) but ultimately it strayed away from how a sealer would be applied and used in real life.
The colour of grout used was light grey and I mixed it following the instructions on the packet. I formed it to create small grout "pucks." It was then allowed to dry for 72 hours. After the grout achieved full hardness, I applied a coat of Aqua X grout sealer by spraying directly onto the grout and spreading it with a sponge. 
To make sure everything is working, I waited a whole day, and then sprayed some water on the grout to see if it was beading.
How Well Does Aqua X Bead Water?
One coat of Aqua X allowed the water to bead lightly. Whilst it did bead, I found that there was a light ring around the beads where water had sunk into the grout. It didn't bead fully like water does on freshly waxed paint. 
As a matter of interest, I applied another coat of sealant to a different grout puck so I had one with one coat and another with 2 coats. This would allow me to test the effectiveness of the sealant against stains.
The second coat of sealant helped the water bead properly. If I was to use this product again, I would always apply two coats. 
The stains were dabbed onto the grout pucks and left on the grout for a minute. This was intended to simulate how someone would accidentally spill something on their tile grout, get concerned and walk to the kitchen, grab a wet rag and try wipe off the stain.
Please note that the colour of the grout can differ based on the degree of light conditions. I took these pictures outdoors.
Penetrating Grout Sealer Test Results
Here is the photo you've been waiting for. Both pucks were photographed to compare how the extra coat of sealer protected against stains. Remember the recommended amount is 1 coat.
Please check out the picture and then I'll provide a quick description of what they look like in person.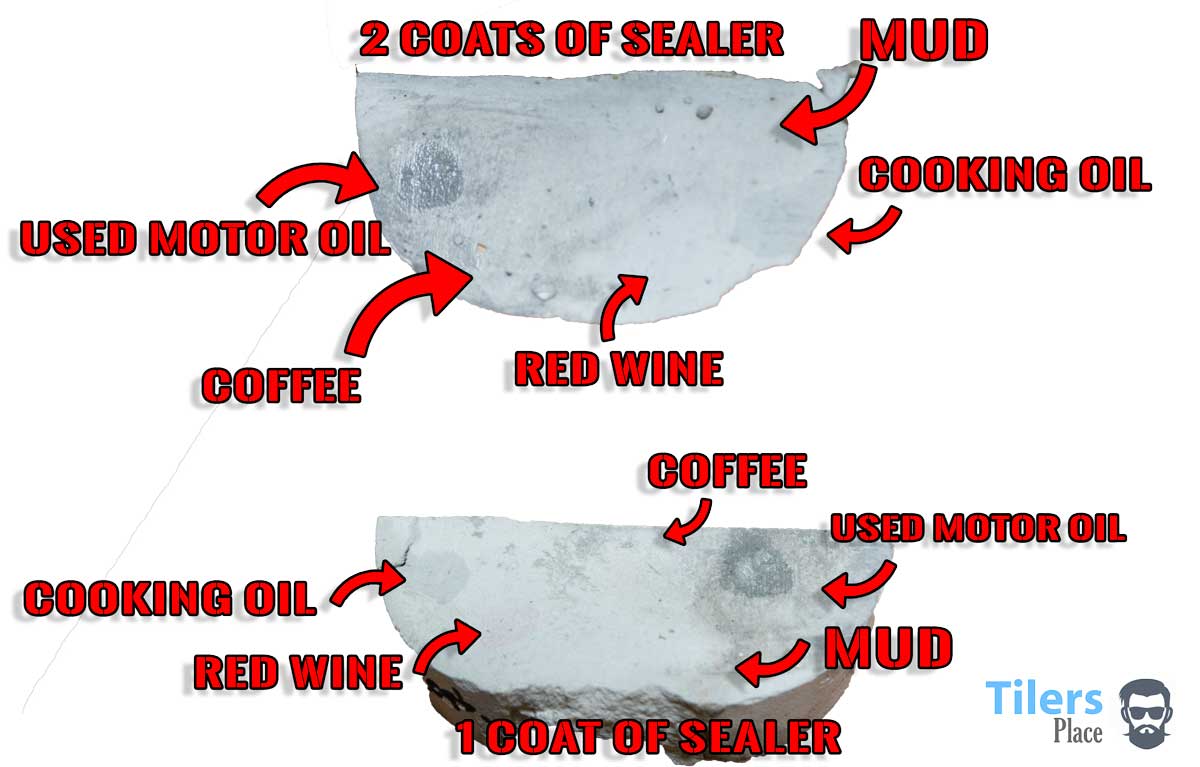 The single coat of grout sealer proved to be ineffective against most stains. Only mud and coffee came off cleanly. Cooking oil penetrating the surface and remained inside, leaving a stain. Red wine left a pink colored patch that would not come off. It had effectively discolored the grout with its powerful pigment. Motor oil was most devastating, leaving a very noticeable patch. Cleaning it with a specialist cleaner did nothing to remove the dark stain.

The second coat of grout sealant proved to be very effective. Every single stain barring the motor oil came clean off. Only water was used and everything came off with a simple wipe of the wet rag. Used motor oil still remained but less visibly than on the single coat.
Aqua X Grout Sealant Conclusion
For a grout sealer that is aimed at mold and mildew protection, I am very impressed at how it worked against stains.
Despite the sealer working better with two coats (1 coat recommended by manufacturer) I still consider it a win and a superior product to Aqua Mix Penetrating Sealer which I tested previously.
I was very impressed how it protected tile grout against one of the harshest household stains – red wine and cooking oil. No trace of these stains was left on the grout after a simple wipe of a wet rag. Impressively, this product can be also used a natural stone sealer for materials like granite or marble. Keep in mind however that if you are thinking of sealing a large area, I'd go with a standalone stone sealer. or something like Aqua X Stone Sealer reviewed here. 
This sealant will do an excellent job protecting all color of grouts, from white to dark grey. 
Drawbacks of this product is the short effectiveness in comparison to Aqua Mix Sealer's Choice Gold which lasts up to 15 years instead of 5 of this product. It also is not rated to be used in commercial kitchens like Sealer's Choice Gold is. 
If you want the optimum product and less maintenance, go with Sealer's Choice Gold.
Thanks for taking the time to read this grout sealer review. I hope you find this as valuable as I do. It was interesting to learn how the sealant would stand up against ordinary stains and sharing those results with you.
If you are interested in reading more grout sealer reviews, please check out one of my new reviews in which I feature 5 different grout sealers.