Tilers Place is reader-supported. When you buy through links on this page, I may earn an affiliate commission on qualifying purchases.
 Best Tile Cutter For Small Tiles – Rubi Ts Max Tile Cutter Review
Professional Tile Cutter For Small Format Porcelain & Ceramic Tiles
Looking for a ceramic tile cutter for small tiles that won't break the bank or your reputation as a professional tile cutter? 
Rubi Tools has you covered with it's latest line of TS MAX tile cutters offered in three sizes to cover all your requirements. Cut floor, wall and everyone's favorite; brick/metro tiles quickly and easily without any breakages or silly mistakes.
Join me on another epic tile cutter review that is as entertaining as splitting your pants on a Monday morning. Is the Rubi TS MAX the best tile cutter for small tiles or is it as good as a $20 QEP Tile Masher? 
Let's Find Out!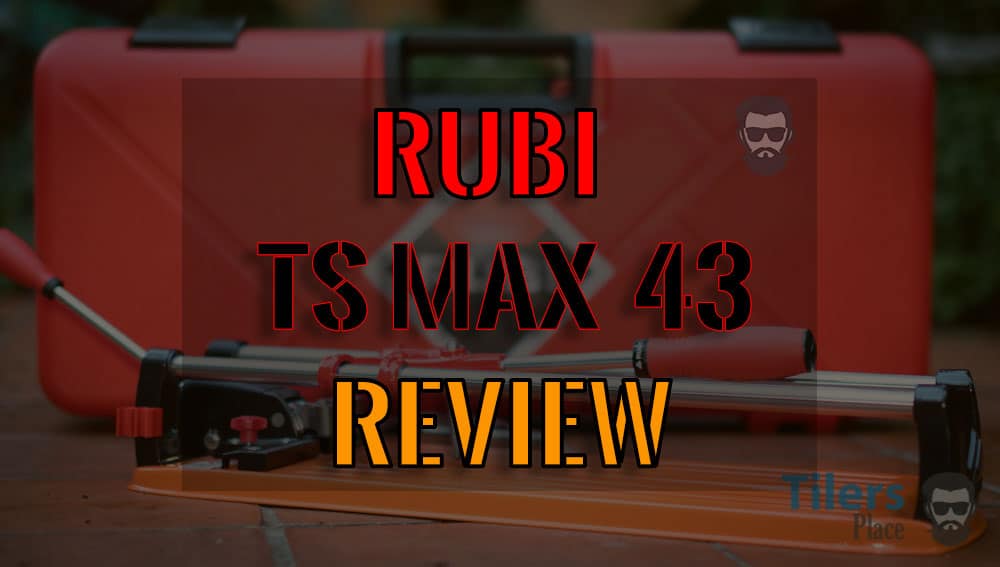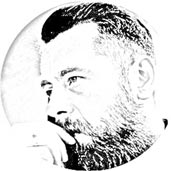 Hi there and welcome to Tilersplace.com a.k.a The-Only-Website-To-Review-Tile-Cutters.Com
My name is Carl and I have been a professional tile setter for over 25 years and been a fan of the tile cutter ever since I started as a helper may eons ago. Being able to cut tiles quickly without running out to the tile saw was a major win for my lazy teenage ass.
Fast forward and I writing extensive tile cutter reviews to help good guys like you make a right decision on your next major purchase.
Rubi TS MAX Tile Cutter Overview
Let's take a quick look at the Rubi TS Max tile cutter and give you the goods quickly. 
The Rubi TS Max series of tile cutters are an evolution of the original Rubi tile cutter design that has been around for decades. 
This generation of TS tile cutters features improved ergonomics with a more comfortable handle and breaker bar that features Rubi's new design language.
While the porcelain tile cutter resembles the older TS range of tile cutters, notable improvements like a larger measurement bar and spare blade holder mounted on the subway tile cutter have been added for more precise cutting of multiple tiles.
The TS MAX tile cutters come in 3 sizes to suit every user and their requirements. 17″ 22″ and 26″. Each carries the same breaking strength specifications and all come with a robust storage case to keep your tool precise.
Rubi TS MAX Tile Cutter Specifications
TS-43 MAX tile cutter
Cutting length –

 

17″/ 43cm

Diagonal cutting length –

 

12 x 12″/ 30cmx30cm

Cutting height –

 

1/4 – 5/8″/ 6-15 mm

Separator power –

 

1764 lbs./800kgs

With carrying case – 

YES

Weight with carrying case –

 

19.40 lbs./ 8.8kgs
TS-57 MAX tile cutter
Cutting length –

 

22″/ 57cm

Diagonal cutting length –

 

16 x 16″/ 40cmx40cm

Cutting height –

 

1/4 – 5/8″/ 6-15 mm

Separator power –

 

1764 lbs./ 800kgs

With carrying case – 

YES

Weight with carrying case –

 

21.16 lbs./ 9.9kgs
TS-66 MAX tile cutter
Cutting length –

 

26″/66cm

Diagonal cutting length –

 

18″ x 18″/ 46x46cm

Cutting height –

 

1/4 – 5/8″/ 6-15 mm

Separator power –

 

1764 lbs./ 800kgs

With carrying case – 

YES

Weight with carrying case –

 

29.5 lbs./ 13.4 kgs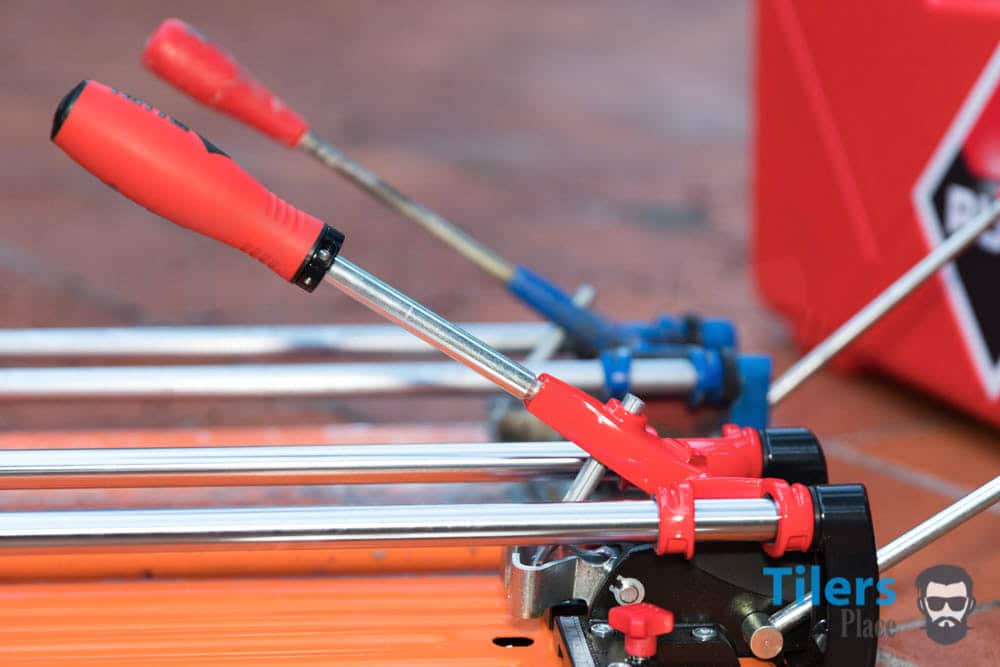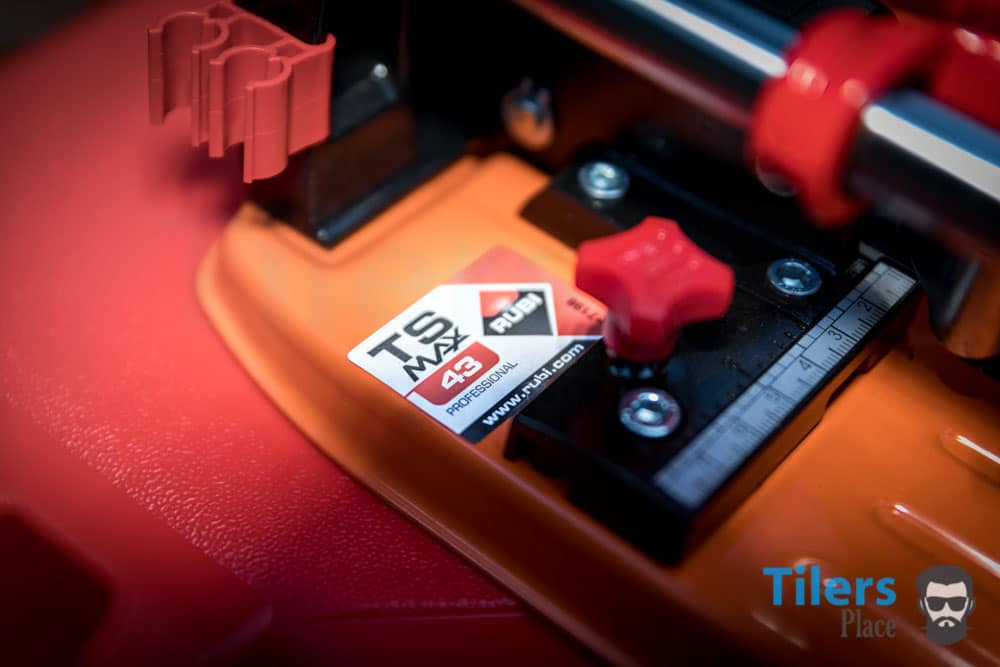 Who Is This Tile Cutter For?
Not sure whether this tile cutter is right for you? 
The Rubi TS line of tile cutters were designed with the professional tile setter in mind, one that required a reliable and consistent tile cutter that is compact and light weight.  
Compact and lightweight are attributes that cheap and nasty tile cutters like QEP tile cutters feature also – but here the similarities end. So don't think this is a cheap tile cutter. 
This tile cutter is absolutely ideal for tiling backsplashes and bathrooms using metro tiles otherwise known as brick tiles. It is simply the best tile cutter for metro tiles. 
The sliding measure bar is wide, allowing you to accurately setup a measurement and rip off how many cuts you need, it's easy to break tiles and it produces neat and clean cuts every time. It's a joy to use, especially considering how compact and light it is. There is a strong reason why I always turn to the TS series for small tile jobs. 
The TS line was popular back in the day when porcelain tiles had not yet entered the market with their tough as rock composition and tricky cutting characteristics. Fortunately, Rubi has kept their lightweight TS line up to date to cater to those of us who require such a cutter.
The TS-Max tile cutter is ideal for smaller jobs or jobs in home that do not have the real estate to setup a larger tile cutter like a TX-900-N or a TR-Magnet.
I purchased the TX-MAX 43 Ceramic tile cutter to replace my old and beaten TS-50. I always carry two tile cutters at all times as I cover the common spectrum of tiles that I could face on a day to day basis. My TX-900, my personal best tile cutter only comes out for bigger tiles and my back thanks me for how rare those jobs are.
Every Hero Has It's Flaws
PROS
• Lightweight & Compact
• Simple to Use 
• Neat Cuts On All Types of Tiles
• Can Easily See What + Where You Are Cutting 
CONS
• Measuring Bar Is Too Wide – Small Off-cuts Are Tricky To Remove
• Cutting Head Can Get Loose With Time
Alternative Small Tile Cutters
Don't like RUBI Tile Cutters? No problem, here are similar tile cutters from your favorite brands.
I have been a tile setter long enough to understand that we all have a particular tile cutter brand that we simply like the best. It does what we want and we vehemently stand by our chosen brand and laugh in the face of anyone using a brand that isn't ours.
Fair enough, I won't argue the merits of every brand as they all do something better than the other.
To help you on your hunt to find the best tile cutter for small tiles, I have tracked down the equalivent models made by the other top tile cutter manufacturers: Sigma and Montilit.
Stuff like QEP and the multitudes of Chinese knock-offs will not even be mentioned as they insult you, me, my website and professional tilers everywhere. 
Sigma 2G 15″ / 37cm Tile Cutter
The cute and blue eyed Sigma 2G tile cutter is everything you would expect from a Sigma tile cutter but in a tight and firm little package.
 Fully featured with the weird reverse handle, shock absorber plates and sliding measuring bar, it has everything you want at a price you can afford.
Montolit 52p3 20″/50cm Tile Cutter
For those that love a-bit of tricky engineering that features on all Montolit tile cutters can opt for the 52P3. Featuring the same attributes as the Sigma and upping the ante with a more advanced handle, it offers easier tile breaking. This technology does come with a higher price tag over the other two small tile cutters but it is also the largest of the lot.  
The Best Small Tile Cutter In-depth Review
It isn't a Tilersplace pattented tile cutter review without lots of text. 
I don't know about you, but I am sick of cutting everything on a wet saw or dry cutting hand held tile saw.
Having to stop work every time I need to resize a tile and drag my lazy bones around the client's home is just a major drag. 
Now that's all well and good when I need to cut out holes or around tricky edges but doing multiple straight cuts for half an hour on tile saw? I can't tolerate that! 
So that's why I'm a great lover of tile cutters and the amazing versatility and how truly time saving those tricky hunks of metal truly are.
Just set one up in the area I'm working in, set a size with the sliding bevel and wham-o, I can know out 30 cuts in half the time. 
Cutting Glass Mosaics With A Tile Cutter
Yeah buddy, you heard right. 
You can totally cut glass tiles and mosaics with a tile cutter.
I didn't know that for the longest of times and would do all my cuts on a tile saw. Problem was, that without a brand new mesh blade, I'd wind up with terrible chips and rough edges and even a new blade would often tear up the tile so bad that I was stressing out trying to hide the terrible edges.
Then one day out of desperation I tried cutting a mosaic on my old Rubi TS-30 tile cutter. Lo and behold! It cut it, and snapped it clean through.
The heavens parted, doves flew around and the water in my flask turned to wine. Okay it didn't, but it felt that way. The cigar I smoked later that night definitely tasted sweeter than before though.
What a discovery!
How To Cut Glass Mosaics With A Tile Cutter
Cutting glass mosaics or any mosaic can easily be done with a tile cutter. The cutting procedure is very similar to cutting any standard tile but some care needs to be taken. 
1. Use a mat like the specially made Mosaic mat from Montolit and lay it across the cutting base of your tile cutter. It should fit other brands of tile cutters as well. 
2. Lay your mosaic onto the cutting board and make sure it is pressed up against the backplate.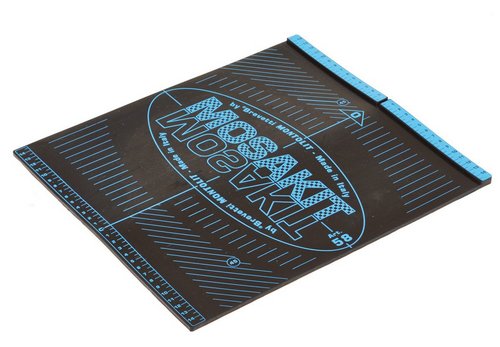 3. Score a line across the mosaic, take your time to ensure the blade scores across all the mosaics evenly.
4. Use your breaker bar to gently snap every mosaic in half. If you are using a tile cutter with a fixed breaker bar like the TS-MAX, you can use a pair of tile nippers to break the mosaics.
In terms of simplicity and speed of work, there is something magical about the Rubi TS-MAX tile cutter. 
There is no over complicated bits of engineering or flimsy parts that'll easily break due to a lazy helper cutting corners or not storing the tile cutter away securely.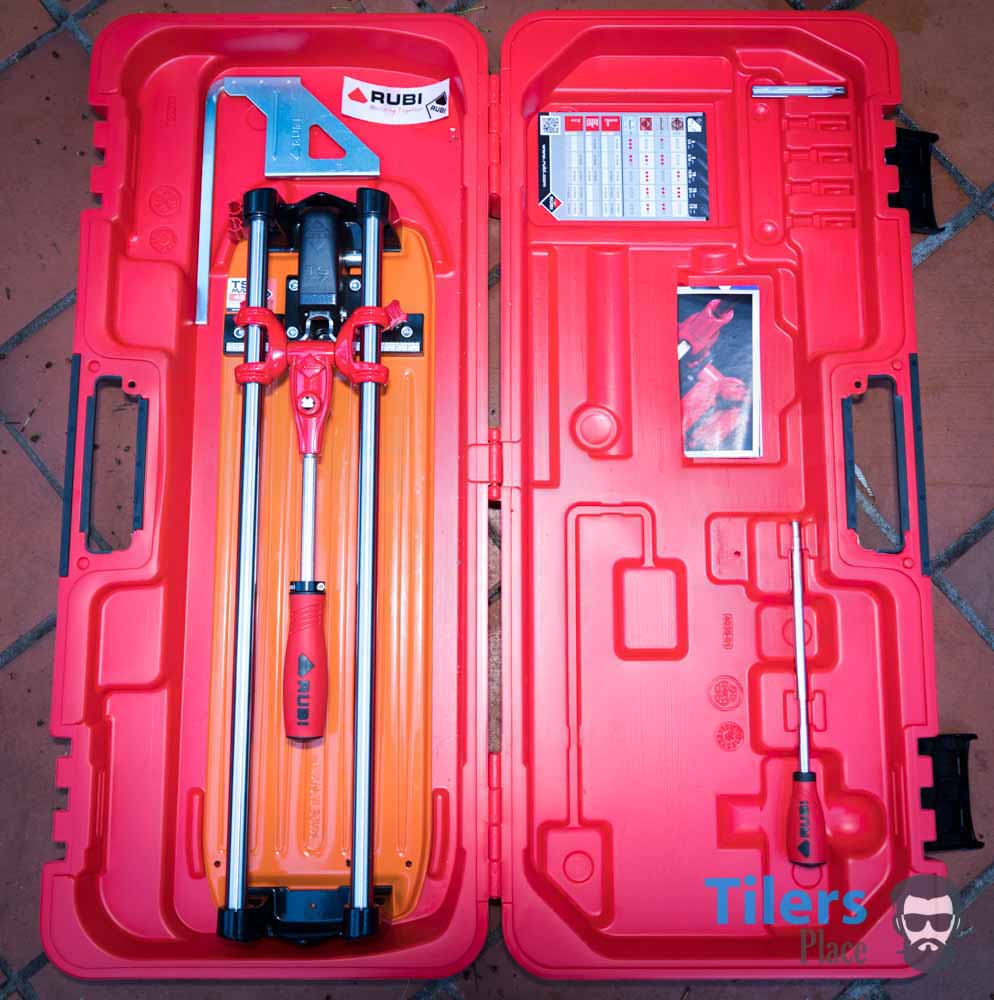 Speaking of securely, all sizes of Rubi TS-Max tile cutters come with a very sturdy and generous sized case.
It's big enough to hold the tile cutter, it's handle and measuring bar and a couple of bottles of beer – if you need to smuggle them in past the homeowner.
I've always loved that Rubi includes hard cases with their tile cutters as it means they remain accurate and undamaged as I go from job to job. 
I don't know about you, but I cringe everytime I see a Sigma or Monti tile cutter just dumped in the back of a tiler's truck. I've lost too much tools to loads shifting during transport to take such risks. 
So we know some of the features, but how well does it cut?
You already know the answer bud, it cuts like magic and breaks quickly and easily. It's just as good as the TS line of cutters from the old days, where you could cut thousands of tiles just as well as the first. Just score a line, pull the breaker bar – boom.
The new line of TS-Max tile cutters follow all the basic architecture as the previous generation but feature modern updates such as:
• Soft plastic grip on the scoring bar and breaker bar
• Larger and better constructed carry case
• Wider and highly accurate measuring bar.
• Scoring wheel holder mounted on the tile cutter. 
Such features, while appearing basic really make a world of difference in the professional world. Every little thing greatly helps in the day to day grind and I really enjoyed moving up to this cutter from my old TS-50.  
Rubi Tools have given their TS line of small tile cutters a proper spruce up with their new components and design language.
An all new carry case sets off the new line and the features continue onto the cutter itself with handy upgrades to the handles and measuring bar. 
The same quality materials and quality remain alongside the attractive Rubi tools color scheme that features on all of their professional tile cutters.  The TS-Max cuts all manner of tiles including glass tiles and mosaics, making it a great help in today's designers jobs.
I personally love the new measuring bar which helps set a true 90 degree angle for accurate cuts of multiple tiles however it is a little too big. Small off cuts can be hard to remove as space is limited to push the piece away. While it does slow down work a little, it is in no way a game changer.
If you are looking for a tile cutter for small tiles, I'd definitely take a look at this one or one of the alternatives I listed above from Sigma and Montolit. 
Remember, just because you are cutting small tiles doesn't mean you can skimp on quality, so avoid buying the cheapest tile cutter available online, because it'll end up costing you time and money.