Tilers Place is reader-supported. When you buy through links on this page, I may earn an affiliate commission on qualifying purchases.
Best Grout Sealer Reviews For 2023
Sealer Buyer's Guide + Review 
Grout sealers
 are easily the most
common tiling products
out there and everyone that has a tiled surface knows about them – they work wonders and the best way to add protection to your investment for years to come. From preventing mildew growth and common food stains, they make tile maintenance easy.
My choice for most applications is Sealer's Choice Gold By Aqua Mix
It's a professional grade grout sealant that not only offers excellent stain protection, it works great in showers thanks to it's breathable qualities. Natural look, simple to apply and up to 17 years protection on all grout and natural tile. Can't beat it! (Pretty competitive price too.) 
This review of the best grout sealers for 2023 is designed to help you select the right sealer products for your application.
If you are looking for the best tile sealers – click here 
The Hardest Part Is Finding The Right One
The trouble you may find is due to the popularity of this product. The types of grout sealer, the brands and the things they promise are numerous and can confuse you the more you research.
From penetrating sealers to solvent or water-based formulas, the mumbo-jumbo gets more confusing and the rabbit hole goes deeper.
Luckily, your favorite tiling site has got your back again and I will teach you everything you need to know. 
Let's seal some grout!
The Best Grout Sealers/Sealants – Information Table
| Name | Type | Rating | Use | Price |
| --- | --- | --- | --- | --- |
| Aqua X Grout Sealer | Penetrating | 5 | Grout In All Areas - Commercial or Residential Use | Check Price |
| Miracle Sealants - Porous Plus Sealer | Penetrating | 4.5 | Ideal for porous surfaces like sanded grout and travertine etc | Check Price |
| Aqua Mix Sealer's Choice Gold | Penetrating | 4 | Ideal for sealing natural tiles & grout in one go. | Check Price |
| Tuff Duck granite grout Grout Sealer | Penetrating | 4 | Ideal for grout, marble, granite and slate. | Check Price |
Hi there and welcome to Tilersplace.com
My name is Carl and I have been tiling professionally for over 20 years in both the USA and England.
In that time I have sealed my fair share of grout, stone, cement tiles and I've used some great and some not-so-great sealants in that time.
Today, I want to pass on my experience with these grout sealers products so that you can make the right and proper decision when selecting one for your project.
When it comes to selecting a suitable solution for your tiles or grout, take some time and consider what kind of result you are expecting from the sealer.

Every sealer is made for a different purpose and can affect the end result. Penetrating sealers are generally more useful for grouting protection as they enter the grout and protect it from within. 
Since mildew growth happens from the inside of grout, a penetrating solution will work best in the shower or wet area. Kitchen floors also experience their fair share of drops of water and oil and will also benefit from the same kind of product.

Below you will find the best 3 overall sealing solutions from leading brands like Miracle Sealants, Aqua Mix and Black Diamond.

QUICK TIP: When we say "Grout Sealer" it's the general term for a sealer that works on both grout and tiles. If you want a specific tile sealer, check out my best tile sealer review.
Best Sealer For Sealing Tiles & Grout
This product is great for those wanting to seal natural tiles and grout at the same time. It penetrates the surface and does not effect the natural finish of tiles or grout.
1.

Aqua Mix – Sealer's Choice Gold
Aqua Mix has been producing quality tiling solutions and problem solvers for over 30 years and I have been using their product for nearly as long.

The Sealer's Choice Gold is my go-to tile and grout solution for most everyday job's as it provides a natural, non-sheen look to natural stone, unglazed ceramic tile, porous surfaces and grout. It doesn't affect the final finish of the surface either.

It is an impregnating sealer also, making it suitable to seal and protect ALL natural stone from oil and water based stains making it ideal for all areas of the home, from food preparation to bathrooms and shower floors.

Its also has a water-base formula which provides less harsh odor and VOC's over solvent-based products. There really is no surprise why its called "sealer's choice", its a very quality product. 
Pro's
Natural grout look with no extra sheen

No color change in grout or darker shades

Suitable for all types of Natural Tile + Grout

Excellent coverage

Penetrate's dense, low

porosity 

materials  

Protect's against all stains

Suitable for Exterior/Interior Surfaces and Grout
Con's
Higher Price Than Common Grout Sealers

Requires multiple coats for best protection
Best Sealer For Porous Surfaces
This sealer from Miracle Sealants is great for porous tiles like marble and sealing large amounts of cement grout like in a stone/pebble shower floor
2. 

Miracle Sealants – Porous Plus Sealer
Miracle Sealants have lived up to their name and created a miracle sealer than works great on absorptive surfaces.

This formulation allows the stain fighting component to remain close to the surface of the tile/grout allowing maximum protection of permeable surfaces. Its a proper heavy duty solution for shower floors and high traffic areas that lasts a long time. Works great on porous cement-based grout lines!

Miracle Sealants 511 Porous Plus also provides a natural look without added gloss and adds a non-slip property to the surface, making it great for outdoor areas where safety is a concern.
U.V and weather resistance ✅
Pro's
Natural grout look with no extra sheen

Ideal for porous natural stone and gritty cement-based grout.

Excellent coverage

Suitable for food areas

Protect's against all grout stains
Con's
• The most expensive product in this review
• Can discolor some marble surfaces
• Strong Odor due to being a solvent-based sealer.
Best Grout Sealant For Showers
This is a modern and feature packed solution that is perfect for wet areas like showers. 
3.

Black Diamond Coatings – Aqua-X Grout Sealer
Aqua-X  is a new product that has already made an excellent name for itself in the short time that has been on the market with their excellent products.

Black Diamond Coatings have outdone themselves by providing an affordable sealing solution that is packed full of features. 
It's application is very easy, has no VOC's or foul odors thanks to its water-based formula. It performed well in my stand-alone review of it, preventing staining from wine and cooking oil!
Did I mention it has mold and mildew inhibitors that prevent nasties growing on your grout? Any moisture will still be able to evaporate as well, so no odors will ruin your beautiful wet room.

The water beading effect is very impressive as well, water simply doesn't stick to the grout.
Lastly, it comes in a handy spray bottle.  
Pro's
Natural look with no extra sheen

Doesn't change the color in grout or turn it a darker shade

Industry leading sealer coverage

  

Protect's against all grout stains

Added Mold + Mildew Inhibitors to keep grout clean

Very easy to apply – goes on milky and dries clear

 
Con's
Requires 2 or 3 coats for best performance (especially with porous grout).
Best Sealer For Marble Surfaces
Tuff Duck granite grout takes the guess work out of sealing marble tiles and kitchen counters with this non-acidic penetrating sealer.
4. 

Tuff Duck Granite Grout Sealer
Tuff Duck is a lesser known name but that in no way makes it's Natural Stone Sealer a lesser product.

Tuff Duck granite excels at sealing granite, grout and marble tiles and countertops. It's non-acidic formula won't affect the natural color or leave an undesired gloss coat on top of it. It has a high yield that covers many square feet however make sure to apply multiple coats for it to last a long time.

On top of being able to work on all natural stones and tile, it can also be used on concrete and various forms of unsealed tiles like terra cotta and terrazo.
If you'll be working near marble or other porous surfaces, you can just apply this over the entire surface and achieve a uniform finish without worrying about excess sealer.
Pro's
Great protection for Marble + Granite

Wide variety of applications

Cheaper than other sealers
Con's
Doesn't penetrate as well as other sealers

Longer application time

Low Coverage

Can't be used on cement
When Do I Use A Grout Sealer?
The purpose of a grout sealant is to prevent water and any other external matter from staining or penetrating the grout or tile it is used on.
On a normal porcelain tile used in interior surfaces, that job is taken care of by the glaze, or that beautiful shiny part on the tile surface that is the pattern.
Your grout and marble, however, are not impervious to water, mold & mildew and the worst of them all – red wine!
The same applies to all natural stones like granite, sandstone, white marble, travertine. Its best to get them sealed with a quality natural tile sealer before any work is done. 
These natural tiles are penetrable by nature and do not come sealed from the factory. Meaning that they 100% require some sort of sealing prior to installation in order to prevent any adhesive staining, discoloration and dust build-up on the tile surface that will occur during tiling.
So to translate this into terms you want to hear:
If you are installing natural stone surfaces or counters in your home, you require a quality sealant for protection against any oil and water based stains. A sealant product will also save time with easy cleaning and maintain the finish of your expensive stone.
To achieve a natural look: Use Aqua Mix Sealer's Gold
To achieve an enhanced color, always wet look: Use Miracle Sealants Seal & Enhance
If you did not use Epoxy-Based Grout in your tiling installation and are wanting to maintain the look of your grout color, prevent mold & mildew build-up and make tile maintenance a breeze, then you require a grout sealer.
What Is A Grout Sealer/Grout Sealant?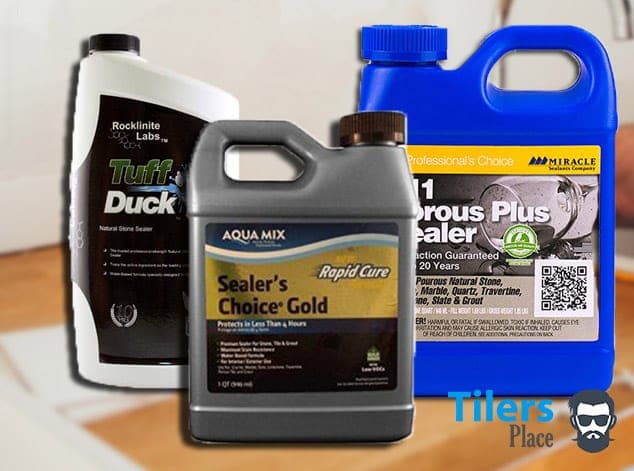 I have seen some pretty horrific explanations of what grout sealant products are on similar grout sealer reviews so I will try to explain it properly.
A grout sealer is best described as a water or solvent based solution that is designed to create a protective surface coating between grout and external dirt, stains and liquids. This provides full stain protection on the grout joints.
This is achieved by using polymerized silicone resins and additional polymers that penetrate the absorptive surface of grout and marble and create a barrier against external forces while still allowing the natural color and texture of the protected surface to show through.
The water or solvent that carries this resin is there so you can easily apply the grout sealer and allow for penetration of the surface and all of its numerous cores. With time, the carrying agent evaporates into the air and leaves only the resin behind.
"This is why multiple coats of a grout sealer are needed; because one coat of grout sealer is not enough to fully cover an area and create a thick enough layer that will endure living conditions and stains as the protective agent is diluted with the liquid based carrier."
What Is A Grout Sealer In Layman's Terms:
A grout sealer is the best solution against grout joints staining in interior surfaces and outdoors. It is a magical liquid that enters grout and protects them against everything. It goes on wet and dries up and your grout is sealed.
How Do I Use A Grout Sealer
To use a grout sealer you will require an applicator to apply the grout sealer and a clean surface to work on.
Depending on the scale of work you can either use a mini paint roller for sealing tiles or a sponge pad and a specialized grout sealant applicator bottle for grout sealing. A soft haired paint brush can also be used. I found the paint roller to be the best grout sealer applicator.
Lastly, you will need a clean cotton rag or paper towel to wipe away any excess solution that gets onto your tiles or surfaces that you do not want sealed. 
If you are wanting to seal old grout or tiles, you will need to thoroughly clean them first with a brush and cleaning solution. Oil, dirt and stains will need to be removed first.
Grout-Eez is one of those miracle products on the market that combined with a proper scrubbing brush, will clean your aging grout and get it ready for sealing.
Its a nice alternative to heavy duty grout cleaners like acid that are difficult and dangerous to use. 
Remember to always do a spot-check first to ensure no undesired changes occur on your surfaces.
Once cleaned, its best to give at least 12 hours for everything to be fully dried.
If you are sealing newly applied grout, give at least 48-72 hours for the grout to fully cure and dry out properly.
How To Apply In 3 Quick Steps:
Step 1: Apply your chosen product that best fits your needs to the surface using your applicator of choice. Remember to buy enough to cover the needed square feet of your installation. Aim to go in one direction only to remove smudge marks and build-up of product. Try to cover 100% of the surface. Remember to apply a thin coat and avoid vapors due to the toxicity of these products.
Step 2: Allow the product to sit on the grout for at least 5 minutes and then use a clean rag to buff away any excess left on the tiles. If you are sealing stone, you will likely skip this step as the sealer would have fully penetrated the surface. (Make sure your product is a suitable granite, grout and marble sealer.)
Step 3: It's best waiting at least 30 minutes and apply a second coat of sealer on the surface. After the second coat, wait for 2 hours and test if water penetrates the surface. It should bead up and not soak into the tile/grout. If it does, you may apply further coats untill desired result is achieved.
If you require further details and instructions
, make sure to check out my full and in-depth grout sealing guide.

Alternatively, you can view the video below from the makers of Aquamix.
How Does A Grout Sealer Benefit Me?
Deciding on sealing your tiles and/grout will only give you benefits with little/no drawbacks.                                                                                                                                                                                                                   Some benefits include:
• Best Grout Stain Resistance & Protection
• Easier Grout Maintenance – Less Cleaning
• Enhanced color (on natural tiles)
• Higher degree of Waterproofing
• More hygenic wet areas. (Germs can't grow on the grout.) 
"The only silly question is the one unasked" and so I want to answer all the most common questions asked about grout sealers and their use.
If your question is not answered, you may leave a comment below! I'll answer it to the best of my knowledge and your question might be featured in an updated version of this guide. 🙂
Question: Is it necessary to seal grout?
Answer: No, it is not necessary if you don't want the extra protection. Your grouting will still carry out it's duty but it will be more susceptible to staining, loose color uniformity and be harder to clean as a result. If you want to make sure you have the best quality tile finish with full surface protection, apply grout sealers after installation. 
Also, if you have epoxy grout, sealing is not necessary, nor is it recommended to even attempt this. Epoxy is nearly 100% waterproof and can not absorb any kind of grout sealers.
What is the best product to protect grout?
Answer: The best product is AQUA-X Grout Sealer. It effectively penetrates all types of grouting and applies a protective film over it that stops staining and helps retain the grouts color. 
For more pervious grouts or large sections of grouted areas like a pebbled shower floor, your best bet is a heavy duty grout solution like Porous Plus Sealer by Miracle Solutions is the best grout sealant for the job. It excels at protecting highly porous materials with its resin that remains close to the surface, battling stains before they penetrate the pores.
Can I Grout Stone Tile With Epoxy Grout? Will The Grout/Tile Sealer Protect It?
Answer: Generally, the answer is no. All stone tile are created/treated differently and have various degrees of porosity and inherent protection.. Highly pervious types always requires additional protection as it may absorb the epoxy resin through the edges of the stone, leaving a picture frame effect where the outer edges are darker. This color change is irremediable and will stay there for the life of the tile. If you want to use epoxy on natural tile, its best that you apply a grout and marble sealer on all sides of the tile before installation and test it first before proceeding. Without prior testing, you may end up with a multi-thousand dollar tile installation that is ruined forever. A solvent based product will generally provide more protection over a water-based sealer as well.
Should sanded grout be sealed?
Answer: Yes, it is best practice to add protection and seal all types of cement-based grout as it is highly porous and allows water to penetrate it. Especially if you are wanting to retain the color and prevent mold and mildew building, you should be sealing sanded grout with a quality water-based sealer that is formulated for sanded grouts and is safe to use. Sealer's Gold Choice by Aqua Mix or AQUA-X Grout Sealer are both suitable to seal sanded grout and two of the best grout sealers available.
How do you seal porcelain tiles?
Answer: Porcelain tile does not require additional protection from sealing as they come with a factory glaze that is 99.9% waterproof and don't allow water or anything to penetrate it. In terms of no water absorption, porcelain tiles are the best.
There are, however, some forms of unsealed porcelain tiles that could benefit from a light coat of a tile sealer. These tiles are very rare and you'll be warned of this from the tile seller upon purchase. Its best to ask the salesperson while buying your tiles if you are unsure.
How long do you have to wait to seal grout?
Answer: The best practice is make sure the new tile grout has cured for at least 48 to 72 hours before sealing. This is to ensure the grout reaches full strength and is fully dry. Old grout installations should be cleaned thoroughly before sealing and surfaces inspected for any cracking, or loose areas before applying a sealer. Membrane-forming grout sealers that are solvent based especially require a dry surface to avoid hazing over.
What is the best grout sealer to use on shower floors?
Answer: The best grout sealer product to use on shower floors is AQUA-X Grout Sealer. It is a high quality, penetrating sealer that will provide protection by repelling and beading up water on all surfaces. This in turn helps prevent mildew growth and staining from shampoos, organic compounds, human oil's, etc. (Yes, human oils can stain grout a dark pink color. Especially white grout.) Sealing a shower and shower floor is recommended and best practice as it will ensure the grouting will retain its color and allow for much easier cleaning over the long-term.
How long does grout sealer take to dry?
Answer: Grout sealer takes 24 hours to dry, cure properly and provide surfaces protection. If you are using grout sealer in a shower, it is best to wait longer (36 hours) to ensure it has dried out properly in all sections of the shower. For best results, check the label on the product you are using.
How often do I need to apply grout sealer?
Answer: A grout sealer provides the best results and surface protection when applied once a year to tiles and grout in high traffic areas like showers and kitchens. This is to ensure an even coat is present in the surface at all times and no patches of dirty grouting appear over time.
While manufacturers claim their products can last up to 10 years, the reality is once a year at least. Reapplying once a year will ensure the best results.
What is the best method to apply grout sealer?
Answer: There are 3 methods to applying grout sealer: painting with brush, roller application, and spraying. Each has advantages and disadvantages. The easiest way to apply grout sealant is by brushing it onto the grout line. You can chose a suitable brush size and it's easy to fully coat the surface.
This works well for small jobs like one room or hallway and can get quite tedious for large projects. Do note that if you want the best finish with less clean up, the brush on method is best.
Bottles with special roller nozzles work well to contain the sealer into the grout-line but may require multiple passes to properly saturate the grout.
A grout sealer spray in form of aerosol cans are by far the worst method as they over spray and create a mess. If the solution dries it's very visible as shiny areas on your tiles. This looks terrible.
In this buyer's guide we took a look at the best sealers available on the market for all types of tile and grout and took a look into what a sealers is and why you need to use one for lasting surfaces protection.
Overall, the Sealer's Choice Gold solution by Aqua Mix was the best all-round sealer for granite, grout and marble plus everything in between. It offers a great range of features in a very easy to apply solution.

Since trying out Aqua Mix's premium tile grout sealers over a decade ago, it's hands down my favorite and one I will recommend to future clients and readers of this website. It's so easy to use and provides an excellent result.

It is a tad more expensive over regular sealers however in this game, you get what you pay for. A cheap product will require more coats and deliver a lesser degree of protection. A few pennies saved today will cost more in maintenance in the long run. Just use the best and ignore the rest.

Hats off to Aqua Mix and their range of tiling protection products, Sealer's Choice is an excellent leader in the market.