Last Updated on
Tilers Place is reader-supported. When you buy through links on this page, I may earn an affiliate commission on qualifying purchases.
Best Tile Leveling System For 2020
Stop Tile Lipping With A Professional Leveling System
Professional Tile Setter's Review Of The Best Tile Leveling Systems Currently Available in 2020
The Raimondi Tile Leveling System is one of the original tile leveling systems and the best kit all round.
This kit comes with pliers, clips and wedges – everything that'll get you started leveling tiles. It's much more affordable over other professional systems and delivers a professional result. 
I use this system on a daily and it's my favorite tile leveling system.
Fed Up With Tiles Giving You Lip?
A quality tile leveling system can prevent the dreaded tile lipping problem from occurring during any tiling project.
By using a tile levelers like clips or wedges, your tiles will be kept level and flush with each other while the tile mortar cures and also help you fine-tune the tiles until they are perfectly smooth.
All systems on review can be used as floor and wall tile leveling systems so you'll only need one kit and it'll cover the whole spectrum of your tile work.
Level your floor and wall tiles and get a finish you'll be proud of for years to come! 
This review will show you some of the best tile leveling systems to level floor and wall tiles available on the market (or show you what to look for) and teach you how to use your new tile leveling kit like a pro!
Warning: This review contains images of the dirtiest clip pliers on the internet. Continue at your own risk.
I like it dirty, what can I say. I'm a sick mofo.
But in reality, these pliers are about 10 years old and have seen the wars. This photo was taken during a tough week and the thinset was flying. They have since been cleaned numerous times but stand testament that even though their coated like a KFC chicken wing, they still worked.
Hi there and welcome to Tilersplace.com a.k.a Dirtiest Tile Tools.com.
My name is Carl and I have been tiling professionally for over 20 years and it shows. My tools bare the signs of too many long days and helpers slacking off.
I've set my fair share of tiles in my time and I know that in order to get the best results, I need to use the latest and best tiling tools available – clique I know but damn if it isn't true.
Tile trends keep changing and we can barely keep up.
One of the newest tools in my belt is the Raimondi Tile Levelling System ™. A system of self-leveling spacers that makes creating perfectly flat tiled surfaces a snap.
Today we will look at the best systems out there and some tile clip alternatives that should get you laying like a pro in no time!
Best Tile Levelling Systems
Tile Leveling Systems – Best Overall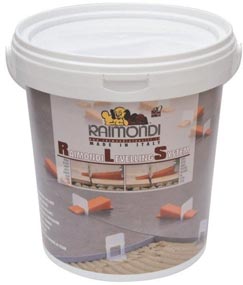 1 – Raimondi Tile Leveling System
The Raimondi Tile Level System Starter Kit comes with everything you need to start leveling tiles like a professional tiler.
The tile leveling kit includes everything:
It's an inexpensive way to get started with tile lippage tuning clips without spending a fortune, they are more fragile in comparison to other tile clips however at their price point, you can easily justify a few breakages.
The supplied pliers are suited for floor tiles but you can still use them for wall tiles or purchase the wall tile leveling system pliers if you do a lot of wall tile work.
The Spin Doctor Tile Level System Starter Kit is another popular tile lippage system. It's more time-consuming to drive the cap around the threaded spacer but offers more strength/leveling over the Raimondi.
The tile leveling kit includes:
Not included are the Clear View Bases that help keep the reusable bases clean. The clear view bases also add more strength by widening the surface area. It's not a requirement to use them, but they work a treat. 
The Spin Doctor is overall a more expensive and slower tile lippage system to use but it has the benefit of taking more pressures before the leveling bases snap. Great for extreme jobs where you can dedicate the time, otherwise the Raimondi is a perfect everyday tile lippage system.
The Perfect Level Master ™ system of self leveling tile clips offers more torque over the Raimondi in a similar design. The self leveling tile spacers can also be used as spacers/wedges.
While it is a great kit, the price to get the full kit costs more than double of the Raimondi tile leveling kit.
The tile leveling kit includes:
The Perfect Level Master ™ is a useful piece of tile leveling kit if you are wanting to utmost best without any breakages. It's premium price comes with many benefits but overall it'll do the same things that the much cheaper Raimondi RLS Tile Leveling System can do as well.
Peygran is a relative new comer to the leveling system game but they have promptly established themselves are a leader in the industry – to the point of becoming one of the most popular tile systems out there. With the widest variety of clip sizes and advanced pliers – that reputation is certainly deserved.
The tile leveling kit includes:
The Peygran tile leveling system is the most expensive kit out there but it does come with more clips and wedges. Also the highly adjustable pliers allow you to input the correct amount of pressure for every tile size. While the clips are specially designed to break off easily – a big advantage over the Raimondi tile levelling system.
TIle Leveling Clips – Grout Gap Sizes
Have you decided on which tile levelers you would like to go with?
Good! 
Here's one more factor you need to consider when purchasing a tile leveling kit, that being which size spacer/clip you will need.
Most tilers using these tile leveling kits purchase a variety of different sized clips to suit every job they do. 
The standard size gap created by these tile leveling clips is 1/8th of an inch (3.175 mm) and that covers most of their jobs however, if you need a smaller sized grout gap, you can also get tile leveling clips in 1/16 of an inch (2mm) if needed.
Click below to find the 1/16 Inch Clips For Your System At Amazon.
Your pliers and any other peripherals needed to crimp the spacers will work with whichever sized spacer you decide to go with. 
Top Advantages Of Using The best tile leveling system
There are many advantages to using a tile leveling system, in fact their pros far out weight the cons.
Advantages of Using A Tile Leveling System:
Disadvantages of Using A Tile Leveling System:
How To Use a Tile Leveling System
Despite tile leveling clips and anti-tile lippage systems being on the market for nearly a decade or more, they are still plenty of tilers that haven't used them.
While using the self leveling tile spacers is by no means rocket science, I'll try outline some basic guidelines on how to use your kit for tile leveling
Remember, whichever kit you go with will have it's own particular means of use but the basics remain the same, it's just the manner of how you couple the two pieces that'll be different.
For that – the manufacturer includes instructions that'll teach you everything you need to know on how to use their system.
Pro Tip: You Still Need To Use Tile Spacers With Your Tile Leveling System!  
How To Use A Tile Leveling System 
• Spread thinset, paying attention to keep trowel lines going in one direction only and lay a tile as usual.
• Slide a tile leveling clip/base underneath the tile until the base is sitting flush with the tile. Generally, four clips are recommended per tile. This is to ensure all four corners are flush with the neighboring tile. You may position the clips near the edges of the tile or in the centers.
For longer tiles like wooden plank tiles, you may use up to six tile leveling clips if needed.
• With another tile laid next to the tile with the clip, you can slide a wedge into the clip and use the adjustable pliers to crimp the wedge tight into the base. If you are using the Spin Doctor, just rotate your base until it's flush with the two tiles.
The general idea is that your wedge/base pushes any high edges down and makes a flat surface across the tiles. The tile leveling system also helps keeps the tile flush and smooth while the thinset cures overnight, effectively eliminating any slump caused by large format or plank tiles.
• When you are ready to grout, you can use a mallet to knock the disposable clips away, thus creating a clean grout line without any protrusions. The wedges/spin doctor bases can be stored away in a container for the next job.
Be careful to clean up any excessive mortar/thinset from the tile leveling clips as this will make removal more difficult.
Oh and keep your pliers and wedges cleaner than I do! 😉 A simple wash in clean water is enough to clean any thinset off.
Tile Leveling Clips – Limitations
Tile levelling systems are a much-needed addition to any tiler's toolkit as they can make any tile job into a masterpiece – but they're not magical.
They will not perfectly level out any uneven and crooked floor, they will only tune tiles to be perfectly flush and hold them level while the mortar sets. 
In order for a good tile leveler to create a perfectly smooth surface without any tile lippage, you need to remember a few things.
A tile levelling system is not going to do much if your floor or wall is greatly uneven or has irregularities in it. 
A quality preparation job using SLU (self-leveling underlayment), backer-board or a mud bed is still required before using tile leveling clips as they can only correct minor lippage, not level out tiles that are inches out of plumb.
While this may sound detrimental and make self-leveling tile clips useless, it's actually good that the clips won't pull tiles inches above the substrate.
Why?
Because if they did that, they would create hollow points in the tiles where there would be zero thinset/mortar and we all know that is bad.
Got coverage? Nope!
If you are new to tile leveling systems and are now scratching your head wondering, "well what's the point of using them then?", you are not seeing the power of this great tiling innovation.
One of the trickiest parts of tiling is getting your tiles to be perfectly level.
On some substrates and with certain tiles, it's not a problem.
You just trowel out your tile glue and go for gold.
But on others, you can spend precious time levering up tiles, adding or removing glue and hammering with your mallet, to get them perfect – only to come back the next day to see they have slumped down and caused lips.
This is especially the case now that we use large format tiles, plank tiles and tiles with straight edges and not rounded ones like they used to be.
Tiles with straight edges show lippage like nothing else, especially when they have a polished finish and laid on a floor.
A blind man with six layers of duct tape over his eyes could enter a room and pick out all the lippages, let alone your average homeowner (or spouse), expecting nothing but the best from their tiler.
Now factor in your new tile anti-lippage kit.
You prep your surface just like you would if you weren't using the tiling system and start tiling. You set your tile, then add a self leveling tile spacer. 
Upon crimping, the spacer/clip will even out the tiniest of imperfections for you and create a uniform level across your tile and it's neighbor.
Boom.
Keep going and keep adding those tile leveling clips and what do you have upon completion?
A perfectly flat tiled surface.
All done without endless fine-tuning by you.
And the best part is, when you return the next day to grout, your tiles will still be perfectly flat and uniform.
Are you starting to see the possibilities of a tile leveling clips in your bag of tricks?
Think back to the last time you laid large format porcelain tile or long wooden plank tiles that were not perfectly straight, how you battled to get them nice and flat, using all your skill and experience to render a crazy tile into a flat surface.
Now imagine how that job would have gone – and how much easier it would have been – if you had used the levelers.
The Best TIle Leveling System – Raimondi
Out of all the tile leveling systems available on the market now, I believe the Raimondi Leveling System to be the best.
I believe it to be the best floor and wall tile level system because of it's simple, easy to use design and it's affordability for a professional system.
It is by no means the cheapest tile leveling clip system available, that honor is left to imitation kits that are made from cheap plastic, but for a working professional or part-timer, the price to get a perfect floor is easily justifiable.
I have been using the Raimondi Tile Leveling System for close to ten years and it's still my go-to tile leveling kit. They are great for not only floor tiles, but also doubles as a wall tile leveling system for those jobs with larger tiles. 
Why do you think my pliers are so dirty and encrusted with thinset? It's because they're the original pair I got with my starter kit when I purchased it nearly 10 years ago!
Say what you want, but if any professional tool can last 10 years without any breakages, that's a damn fine tool in my book.
The main drawbacks of the system is the plastic clips. They can be fragile at times, I have to admit.
Quite often I am tightening a wedge and the clip breaks prematurely, it is annoying but I simply slide in a new clip and continue going.
The Perfect Level Master ™ clips are stronger and offer more torque but their higher price and fiddlier plier design mean I usually leave that kit at home.
The Spin Masters is great wall tile leveling system as I can access the pads easier with my cordless drill and makes tightening them easier than with the pliers but for small jobs, I still prefer the Raimondi System simply because I can set both floor and wall tiles with the one set.
In all seriousness, there is not much more to prattle on about why the Raimondi is the best overall tile leveling kit.

It works well in any situation, is cheap enough to justify breakages and every day use and the reusable wedges are going on ten years without any cracking or breakages.
It is also one of the very first tile leveling systems to be introduced to the market and its classic design is a testament to how good the original idea was.
I had a dig online and in tiler forums to see what others were saying about the Raimondi and was happy to see the general positivity as well.
Seasoned tilers and even first time DIY tilers were talking about how well the Raimondi worked at leveling their tiles.
Hacks were sharing pics of how they spot bonded tiles and how proud they were of themselves that the tiles were flush…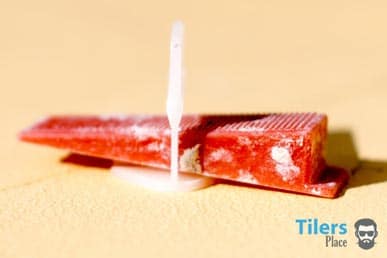 Good news for you buddy, you'll be get a lot of tear out jobs in the near future and we all know how easy spot bonded tiles are to rip out! (Cue hysterical laughter and dollar signs.)
There were the expected complaints about the clips breaking but overall, the vote was unanimous.
The Raimondi Tile Leveling System is damn good and it works.
End of story.
If you are looking for a great tile leveling system to invest in and don't want to spend too much money, you'll do well by choosing Raimondi.
It's stood the test of time and continues to provide thousands of tilers with an easy to use system that provides results.
Give it a go and see for yourself, maybe one day your pliers will look just like mine!
Tile Leveling CLips F.A.Q
 • Will using a tile leveling clip create empty voids underneath the tile?
When you use a tile leveling clip, you are not creating an empty void underneath the tile. This is a very common misconception with these tile leveling systems and everyones biggest concern.
When you are tightening the clip into place, you are pushing the tile down, not up and out of the thinset/mortar.
Instead of pushing a tile up to evenly match the surface of the other tile, it's pushing the lipping tile down flush with the neighboring tile to create an even surface.
This is achieved by your low tile which has enough suction with the thinset that it won't pop up during the tightening of the clip, instead it will hold in place and will bring the high tile into position with it.
Of course one clip isn't enough to remedy a trouble spot, hence that's why you use the tile clips in all corners of the tiles and push them all down.
Your tile is still achieving 100% coverage (provided you troweled the thinset properly).
Also remember that the clips make micro-adjustments, they are not moving your tiles around in large increments.
To put it plainly: Your low tiles have enough suction to bring any high tiles down to their level when you tighten a tile clip. 
You are not pushing low tiles up but pushing high tiles down.
• Can a Tile Leveling System fix bowed tiles?
Yes, a tile leveling system can correct bowed or warped tiles.
Plank tiles and large format tiles are commonly warped or bowed. Meaning they are not perfectly flat, usually they have a dip in the center or all 4 corners do not evenly touch the surface.
A tile leveling kit in combination with your thinset will push down all corners of the tile and effectively even it all out.
This works on the same principle as the first question, with the suction being able to straighten out tiles and bring their corners flat with each other.
They have have become a mainstay for wooden plank tile installations as those tiles are so commonly warped.
• How Do I Remove A Tile Leveling Clip?
Here's one that I see mentioned a lot online, 'how do I remove tile leveling clips without it breaking inside the grout line?'
This question arises mostly from the first time users of these leveling systems and it happens because they haven't learned the best way of removing the wedge when they are getting the tiles ready for grouting.
What happens is they kick out the wedge and the plastic clip snaps above the tile or just high enough for it to stick out during grouting. 
Resulting in a time-consuming task of cutting out the plastic before grouting.
We ain't got time for that nonsense!
The idea behind removing tile levelers is simple; strike the plastic at the base where it meets the tiled surface. Don't hit high, or at the wedge/disk. 
AIM FOR THE BOTTOM OF THE TILE LEVELING CLIP
How you do it is up to you, but for floor clips, I just walk in and kick them out with my boot. My foot kind of skims the surface of the tile as I am aiming for the bottom of the clip, where the most force will transfer to the breaking point beneath the tile. 
You can use a rubber mallet as well and it is recommended for tile clips used on walls for obvious reasons. (We can't walk on walls sadly. Gravity sucks huh.)
Also, try do it with a short but sharp motion, like you would kick a car tire at a sales yard.
A nice, quick kick will ensure the top part of the clip comes off cleanly from the base and you can just sweep up the parts after. 
Easy!
After you get the motion down you will never have trouble removing tile clips again.
I can't say I have had any plastic remaining in the tile joints for many years now and once you master the easy technique, you won't have trouble either.
• Am I a bad tiler for using tile leveling clips?
No, you are a wise tiler for using all the tools and inventions out there to achieve the best tiling result possible. Tiles are constantly changing with bigger and bigger sizes coming onto the marketplace, it is only natural that you need new tools to accommodate these new tiles. 
See the section below for my answer/rant on that subject.
More Tile Leveling System Questions
Should I Use a Tile Leveling System?
A tile leveling system should be used to greatly help alleviate issues associated with bowed wooden plank tiles or large format tiles slumping during curing. You should also use a tile leveling system for installing wall tiles to fine tune the levels and achieve a perfectly smooth finish.
Are tile leveling systems necessary?
Tile leveling systems are necessary to those seeking to achieve a perfectly flat surface, regardless of the tile used. Of course proper surface preparation is required before tile installation however large format tiles or wooden plank tiles often make tile leveling systems necessary.
Who makes the best tile leveling system?
Who makes the best tile leveling system cannot be answered as there are many great systems for every type of tile whether it is for walls or floors. The Best Tile Leveling System Review by Tilersplace is the only review written by a professional tile setter and talks about four of the best tile leveling systems for all users. Overall, the Raimondi Tile leveling system was regarded as the best for first time users. Thanks to it's price and high level of uses across all modern porcelain tile. √
How do you stop a Lippage from tiling?
Tile lippage can be stopped by making sure that the surface is as flat as possible before any installation of the tiles begins. Use a correct trowel and thinset thickness for the tile and carefully place each tile to help reduce the risk of lippage. Sometimes it is required to lift the tiles and add more thinset/mortar as required. Lastly, use of a tile leveling system can help fine tune your tile levels and keep them inplace during the thinset curing process.
How much tile Lippage is acceptable?
Tile lippage is acceptable as set by the ANSI A108.02 Standards. 1/32′ plus the inherent warpage of tiles as stated by the manufacturer is the allowed tile lippage for floor tiles using a grout joint of 1/16′ to less than 1/4′.
The Great Tile Leveling System Misnomer
I'm gonna go on a bit of a tiler rant here as it's something that needs to be addressed.
On every message board, forum and Facebook group dedicated to tiler talk, there are always a couple guys that mock others for using self leveling tile spacers.
These guys make it a proud habit to say that;
"only hacks and handymen use clips." and "real tilers don't need clips."
While they have every right to say what they want and I do understand where they are coming from, it's simply not true.
Yes, it's true that hacks and handymen (handypeople if you wanna be PC about it) can and use tile leveling clips.
The clips are sold to everyone, not just pro tilers and so hacks go out and buy those tile clips in hopes the systems will fix their shoddy work.
They then proceed to spot-fix tiles to a floor with blobs of thinset or mastic.
Their tile clips manage to even out the floor a little; even though they have 25% tile coverage and massive empty voids everywhere.
Yes, it happens. 
And yes, us pro's come in a month later and redo the whole lot.
What the tile clip naysayers are also implying is that if you're a true pro, you shouldn't need clips as you should level out the floor with your thinset or mud beforehand, applying extra material where it's needed.
Yup, totally agree with you, buddy.
But what do you do in these situations?
• When you have large format tiles like 24 or 36 inches with straight edges and the heavy b*stards slump during the curing of your thinset? You do know that even the slightest lip is visible a mile away, right?
• What about the very popular plank tiles and their tendency to be warped from the factory. How are you gonna straighten those tiles out with thinset when they bend upwards? Stack bricks on them so they cure straight over night?
1/3 Offset can only do so much to aid the problem, some brands are so bad they need something to straighten them out during curing.
Wouldn't it be nice if there was a product made just for those situations, to hold tiles flush with each other just long enough for the thinset to cure?…
Believe it or not, tile tool manufacturers like Raimondi saw this problem arising when large format tiles were introduced and came up with a solution for tilers to help them.
They weren't thinking about hacks and handymen having an easier time ruining tiles in honest people's homes, they were thinking about the tilers on the frontlines dealing with new tiling trends that they weren't equipped to deal with.
Also, have you noticed how many countless brands of tile leveling clips there is out there now?
Why do you think that is?
Because people were noticing how popular and useful the first tile leveling clips were, and wanted in on the action.
If the idea of self-leveling tile spacers was a gimmick, the idea would have faded away in time as no one would want it.
Well, guess what, they've been around for over 10 years and they're only getting more popular because of how useful they are.
If you're worried your the only one using a tile leveling system – don't be. Every time I scroll through my instagram which has a large network of professional tile setters from all over the world, I see everyone using some sort of tile leveling system. 
About 95% of all the photos I see contain tile leveling clips.  
So, if you are on the fence about whether or not you should use tile leveling spacers because you feel your professional pride is at stake, don't worry about it.
At the end of the day, it's YOU that is putting food on your families table and it's YOU that is running your business.
Who cares what Randy from Buford, Wyoming says about levelers, he ain't feeding your family or dealing with call-backs after your tiles lip.
So, go grab yourself a set, incorporate them into your routine and be proud that you are using all the tools available to get the best result possible.
You'll add something new to your bag of tricks and be a better tile setter for it. Period.
Tile Leveling Clips – Conclusion
When large format porcelain tiles first entered the market, they created many problems for tilers.
Not only were there no tile cutters large enough to cut them, but due to their straight edges and heavyweight, tile lippage became a real problem.
Luckily, tile tool manufacturers like Raimondi were quick to develop tile lippage tuning clips to help tiles combat the inherent problems these sorts of tiles created and the popularity of these systems quickly grew.
As time went on, the tiles only got larger and heavier and eventually, plank tiles came onto the market that brought their own sets of problems – mainly being warped and uneven straight from the box.
The growing popularity of these self leveling tile spacers meant a great money-making scheme for various companies and soon many copy-cat systems sprouted up like weeds to cash in on the new boom.
This of course only muddied the waters for honest tilers looking for the very best system to level tiles without wasting time or money. I'm seeing ad's coming up on my facebook feed, from mommy DIY sites, advertising some terrible knockoff version of tile levelers, like seriously…wtf. Stop it guys, we have enough crappy systems as it is.
To top it all off, people that never used these systems or even understood what they were for, started "reviewing" them and wrote recycled gibberish. You'll find them all over Google, you have probably read a few before finding this review.
This review was a direct result of all those things and my desire to share my experience with self leveling tile spacers and throw my 2 cents into the pot.
This review of the best tile leveling system highlights some of my favorite leveling systems that I found to work best out of the pluethora that are currently out there. 
They can be used on floor and wall tiles to prevent lippage and achieve a result that every client will have a hard time finding fault in.
All three tile systems by Raimondi, Spin Doctor ™ and Perfect Level Master ™ are quality kits and regarded by tilers are the best tile leveling systems out there now.
A lot of copy-cat products suffer from inferior plastic quality or design flaws that end up breaking prematurely or taking too much time to work with.
The three systems I mentioned are less inherent to these problems and overall give the best result.
Whether you go with the cheapest option (Raimondi) or the one you fancy the most, you can be sure you will be getting a great product a true asset to your tiling tools.
Got lipping tile problems?
Not anymore you don't!
Because you are now using one of the Top 4 best tile leveling systems out there and no tiles will be giving you lip anymore!
Check Out The Best Tile Leveling Systems