Last Updated on
Tilers Place is reader-supported. When you buy through links on this site, I may earn an affiliate commission on qualifying purchases.
Want to learn how to clean tiles with no scrubbing or chemicals?
For too long have I heard complaints about tiles and the misinformation about how to clean tiles.
Maintaining the shine and luster of you surface should not be a dreaded chore.
This article will show you how to clean tiles and grout in the easiest possible way with no need of chemicals or scrubbing.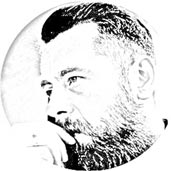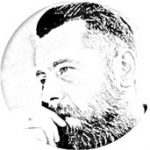 Hi there fellow home owner, my name is Carl and I have been tiling professionally over 20 years.
As a tile installer I understand a thing or two about tiles, grout and silicone as I work with them everyday.
This guide aims to show you how to clean tiles and grout the best way without needing to spend hours scrubbing or using harsh chemicals to maintain the look of your expensive and beautiful surface.
I will detail the best method I have found and retell you the story about how I found this remarkable method of cleaning.
Ready? Let's go clean some tiles!
Want to Know The Best Way To Clean Tiles Right Now?
Below is the product I use that has made my life as a tile owner a whole lot easier and happier.
Select which one is best for you and see the results for yourself.
If you want to learn more about how to use the product and how I found it to work so well you can continue reading.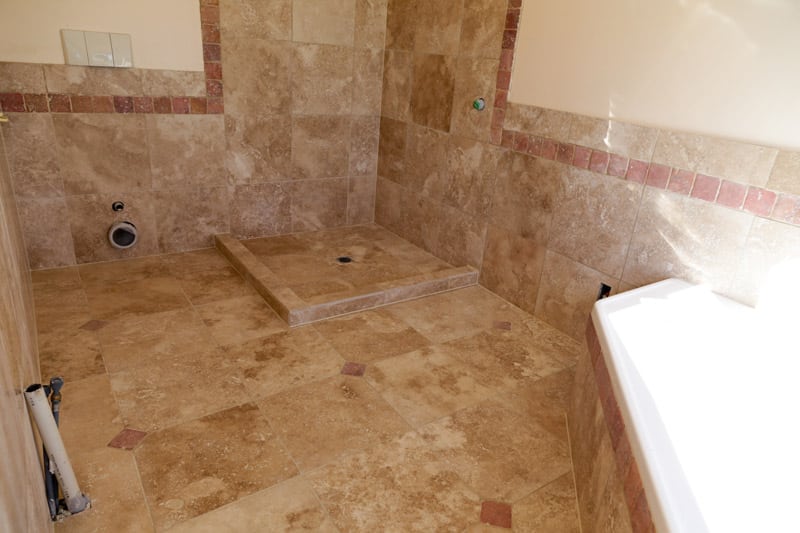 For extremely neglected floors you will need: 
This is best used if you need to heavily buff and restore your floor to it's former glory. It is much cheaper than hiring a professional flooring company that will use the same machine especially if you have a wide area to restore.
After you have done that you can then use the following product which I recommened to maintain your floors.
The ALL-In-One Steam Mop: 
This unit will cut cleaning in half as it vacuums and steams at the same time!
Get this one if you are seriously sick of cleaning for hours or want to cut down on appliances around the home.
Budget Friendly Option:
This is a great entry level steam mop that has unanimous praise from it's customers.
Very easy to use while producing great results it all comes at an affordable price.
If you are on the fence about buying a steam mop then this product should definitely sway your thinking.
My Personal Recommendation:
This is my first steam mop and I am very happy with it.
It was recommended by a client of mine who has used it for over a year with great results.
With a selector you can use it over vinyl, tile, natural stone or wooden floors so you get the right amount of steam without leaving a overly wet surface.
None of these are for you?
Check out the whole range of steam mops here and choose the one you like!
the Harsh Truth
Before we get into this guide in proper let me give you some one on one advice about your tiles and the honest truth about your tiles.
With anything in this world, to keep something at it's best you need to maintain it.
If you want your tiles and grout to be clean and beautiful you need to regularly clean them, just like carpet, vinyl or wood.
I know you vacuum your carpet at least once a week, give the bathroom a clean and wipe down the kitchen counter on a regular basis.
As amazing and hard wearing as tiles are you need to remember to keep them clean as well.
Have your tiles gotten to the state where the grout is 6 shades darker than it was originally?
Does scratching the surface of it leave you with a fingernail full of grime then those are all signs the tiles were not maintained enough.
If you have this problem then I am sorry.
As a tile lover I want tiles to be enjoyed as the asset they are to your home or business and not as a hindrance and detractor to your life style.
Luckily this guide should apply to you if you are seeking to maintain the fresh look of your tile or if you need to give them a serious buff up to restore their former glory.
How It All Started – An anniversary Gift Gone Bad
So I just threw away 8 thousand dollars.
Gone up in oily smoke.
The recurring monthly payments to my finance company are all that remain.
Joy oh joy.
I won't even think about where that money could have otherwise gone.
Mortgage would have been nice,
Or paying off medical bills from my knee incident….
Okay it's not all fully gone up in smoke.
I still have the thing I spent all that money on.
It's on the floor of my home.
All over in fact.
Before you start guessing as to what the hell I am on about I'll tell ya.
I spent 8 large ones on tiling the entertaining areas and kitchen of my home.
That covered the tiles (I got a great deal from my pal Ted), backing board/underlay and all the materials required to lay the tiles.
Since I can obviously lay them myslelf atleast I saved money there.
As long as you don't take into account I could be doing paid work while I tiled my home.
So I bet you are wondering, where's the problem Carl?
"You tiled your home, you did well. That's not money wasted, it's invested."
Yes you are right to think that but you need to know the final part of the story.
As you know, any home decor project always has full input from the wife with her mainly doing the design choices.
Atleast this is what my wife tells me; Jane is always quick to point this fact out as she designs the latest renovation project.
This is where the problem starts.
You see I did these tiles as a wedding anniversary gift for my wife.
And I chose the tiles.
This turned out great as she was actually very pleased with the tiles and absolutely overjoyed that I was finally tiling the home.
She was on my case for years to get rid of the rotten carpet and get tiles in.
So I go the project underway, shifted the furniture, laid the backer and got the tiles in.
My Rubi Tx-900-N turned out to be the lifesaving workhorse as always.
 It cut the half inch tiles with no effort and got all the straight cuts near the walls done with no errors.
Moved everything back in and on our anniversary night we got to eat in our freshly retiled dining room.
 Picture the scene, fire cracking in the hearth, soft blues playing on the hi-fi and the most beautfiul woman sitting across from you over a candle lit dinner.
It's perfect, down to the gleaming new tiles beneath our feet.
With a fur rug next to the fire everything is setup for a happy ending.
Everything goes great, the food is perfectly cooked and the wine is a rare vintage that goes down easy.
Our good spirtis extend even after I accidently drop a lit candle on the floor and Jane spills some of the vintage.
In fact we laugh as if that happened a week before we would have been fuming at each other for destroying the carpet.
Since we now have tile…
It's not a problem!
The fur rug ends up being our bed and my tiles officially welcomed into the home.
Things Begin To Go Sour
Flip forward to the next day when we are cleaning up and set our sights on those stained tiles.
The candle has long since hardened and set itself into the rough texture of the tile.
The red wine has nearly evaporated leaving a red mark on the tile.
Usually cleaning tile just requires a damp rag and anything will come off, it's if stubborn give it some elbow grease.
Well, two hours later we had just about tried everything except a flame thrower.
Heres a list of things we threw at the stains:
Damp Rag

Damp Rag with cleaning solution

Scrubbing Brush

Mop and tile cleaner

Clothing Iron (for the candle)

Various knives and utensils
We even turned to Google, like I know you have, to try come up with a solution.
Upon seeing the results I knew it wouldn't help.
Nearly every site was talking about using a solution of vinegar and baking soda and scrubbing the tiles.
Problem is that may have worked back in the day of grout being portland cement mixed with sand but nowadays with modern mold inhibiting grouts, that stuff is simply no good.
We tried anyway and big surprise, it didn't work.
After all that work we managed to get most of it off but a greasy white stain remained from the candle including a red imprint from the red wine.
Jane's good humour from the other night has long worn off and she admits defeat.
We decide to call it a night and try ignore the stains.
About a week later our new tile floor has a whole range of stains on it, mostly dirt and mud from usual day to day life and various food stains in the kitchen.
We don't think much of it as we know tile is usually easy to clean and do the usual process of vacumming and mopping the floor.
This is the part where I realize I messed up.
The tiles are simply not having it.
Usually a single sweep with a mop will take off most stains from tiles and you move on.
Well these tiles required atleast 3 or 4 vigourous sweeps to get simple dirt off.
Now can imagine doing this in the whole entire living, dining, entrance and kitchen of your home?
Jane's cleaning time has now tripled.
All because of my tiles.
You see I foolishly chose a tile that was slightly textured, think of a low grit sand paper, slighlty rough and super non skid for safety.
Well I thought of the safety side and completely forgot about the cleaning aspect.
A month later and Jane is close to shoving her mop down my throat.
Our home looks like a dump thanks to the dirty stained tiles all over and I won't even mention the kitchen.
The weekly clean has become a taboo word between us and by now its become apparent my anniversary gift is a massive failure.
Failure putting it nicely.
It's become a death sentence.
Another month passes and it is really getting to Jane.
She refuses to have guests over now as she's too embarrassed to let anyone see the state of her home.
For the worst stains she dones her Nocry Kneepads left over from my knee pad review and scrubs the floor until her hands are raw.
Looking at that I feel like utter trash as it was me who secretly chose the tile.
Since I am the experienced tiler that works with all sorts of tiles on a daily basis, you'd think I would make the best decision possible.
Well, even all that experience didn't help against stupidity.
This is about the time I feel I wasted 8 grand and should have taken us on a second honeymoon instead.
I screwed up worse then the time I secretly purchased my Barwalt Saw Shack and didn't tell Jane, I got off lightly compared to this mess.
If you are in a similar situation with a home full of dirty uncleanable tiles I bet you can imagine how I am feeling.
I feel like a condemned this house Jane will start mentioning a word that starts with D and rythms with worse.
Divorce.
Finding The Solution
Now comes the part you wanna read, as this story does have a happy ending and a final solution that solves all my problems.
The rug by the fire makes a return and Jane is not spending every waking moment cleaning.
In fact she's entertaining more than ever as now she is proud of her tile floor and the fact no one is slipping over on it, no matter how wet it is.
The solution came a few days later when I was tiling a splashback in a retired couples home.
They had their whole entire floor space tiled as they were heavily asthmatic and tiles were the easiest surface to keep dust free.
I had laid the floors over 10 years ago and upon returning I wa surprised at how clean their tiles still looked.
They looked like I had laid them yesterday!
I remarked about this to the couple and told them about my current tile woes.
This is when I discovered a common product and the solution to all my problems.
The elderly couple showed me the simple thing they use to clean the tiles.
 It was a revalation to me and suddenly I felt I could defeat my problems with a simple product.
The Best Way To Clean Tile
A steam mop.
Yup.
A mop.
That has steam.
And these two things combined manage to lift off dirt and stains off tiles in about the same time as it takes to use a regular mop.
After they gave me a quick trail I was sold.
That night I jumped online and entered those magic words in my Amazon search box and a few days later it arrived.
That weekend when Jane was out doing the shopping I got to work.
 First I gave the floor a quick clean with our trusty Nilfisk Vacumn cleaner to ensure I wasnt pushing dirt around with the mop.
(If you get the Bissel Mop this step is not neccassary)
Now came the moment of truth, will the steam mop work?
They say real men don't need instruction manuals and I have been a stern believer of this.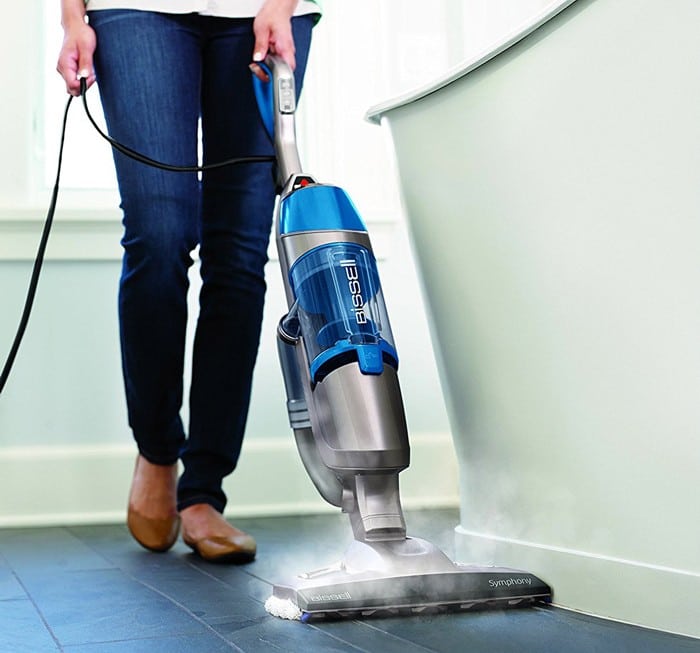 Out of the Box
My Black And Decker steam mop came out of the box and all the additional components were easy to understand what they were.
The main base is all assembled, you just fill up the water tank with some clean water, pop it in and let it click.
Then comes the reusable mop bases. Mainly they just velcro onto the base making switching pads a breeze.
I plugged it in and saw a light come up red.
I pressed the mop onto the floor and nothing happened.
Pushed it around.
Nothing.
After a few moments of faffing about like a man who didn't read the simple instructions, the red light changed color.
Then I pushed the mop again and this time steam came pouring out from the bottom of the base!
Ladies and gentlemen, we have lift off!
Dirt lift off that is.
Goddamn I am cheesy.
With the steam mop working I got to work and starting sweeping the floor in slow backwards and forward motions.
I quickly realized I should go slow to allow the steam to do its thing.
How were the results??
I should have taken a photo of my reaction.
It would have gone viral.
My slight skeptism this thing would work quickly turned to amazement and relief as I saw it was working!
The elusive dirt – the same dirt that survived Janes' frantic scrubbing – started lifting off the tiles as the steam literally boiled them off the surface.
For tougher stains I just blasted them with a long pause over the stain and when I pushed the mop away I saw the stain was gone.
How'd It do on the Red Wine and Candle Residue?
Imagine pulling out a plate straight out of the dishwasher, it's warm and steaming and it's brilliant white radiates the room.
Well that's how my tiles looked after i blasted those stains away.
I slapped that mop head over those stains and really let them bake under that steam, it was one of the best feelings of catharsis I have ever had.
When I pulled that head away I nearly fell over in relief.
The stains were gone!
I actually got down on my knees on the wet floor and took a closer look.
Nope, they were definitely gone!
After that I worked with a spring in my step.
I should have tied a headscarf in my hair and slapped an apron on.
I worked with the same vigor you see on those 50s tv shows of housewives cleaning the home like their souls depended on it.
All with a brilliant Colgate smile on their dials.
Steam Mops arent just for tiles.
After I finished with the tiles I went into the bedrooms and took the steam mop to the wooden floors we have in there.
Did it work?
You bet your jimmies it worked.
The steam mop got the floor shining and looking like new with just a quick sweep all over.
Because it heats up the dirt and grime along with washing it with water you get a much better clean than you would with a regular mop.
Can a steam mop be used on vinyl?
Yup! Sure can.
It heats up the surface of the vinyl and lifts away the baked on and tough stains you won't likely remove with any other method.
Many steam mops come with dials that you switch depending on the surface.
This controls the amount of steam leaving the mop head to ensure it cleans the surface properly without damaging it with excess steam and vapor.
Others have a simple switch that allows you to direct the amount of steam you want. 
Tough stain? Nuke it with steam! All while laughing like a maniac.
You can check out the whole range of steam mops here
How Did the Wife Take It?
When she entered the house she noticed immedietely.
And nearly dropped two bags of shopping onto the floor.
I had just finished as she walked in and was stowing the steam mop away when she just walked up to me and hugged me.
It was the best feeling ever.
No words were needed to be said and I just hugged her back.
I could feel the relief in her overtaking the stress and it made me happier than I could have imagined.
That night we invited some friends over and showed off our new tiles.
A few beers and ketchup was spilt on the tiles but we didn't care.
We now had the weapon to keep our tiles clean forever more.
Despite the misfortune of choosing impossbile to clean tiles I had found a solution to live with them and in the process my marriage got tempered to an even stronger bond.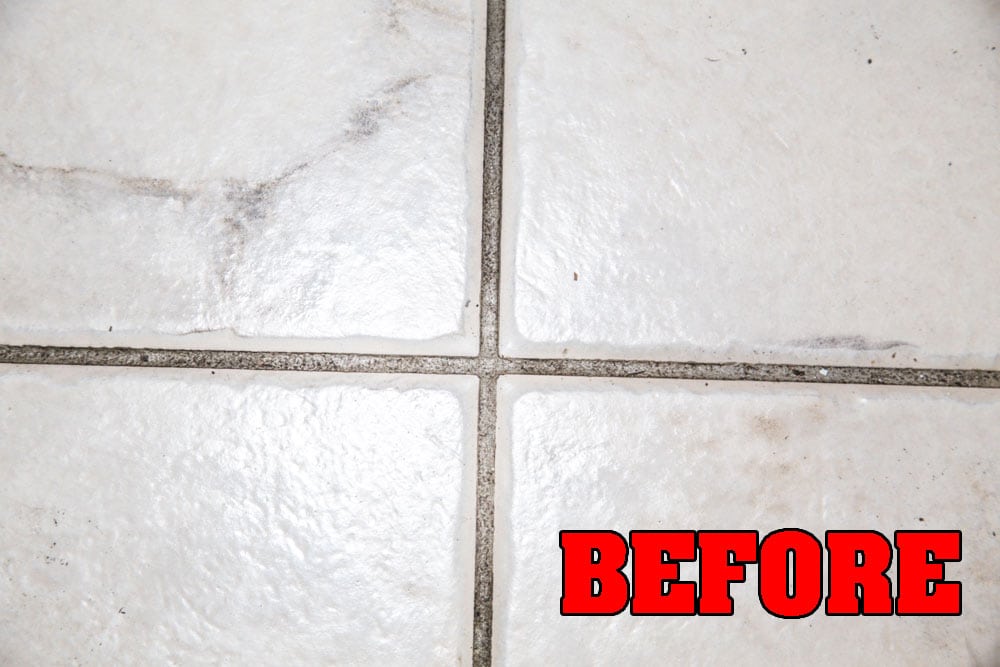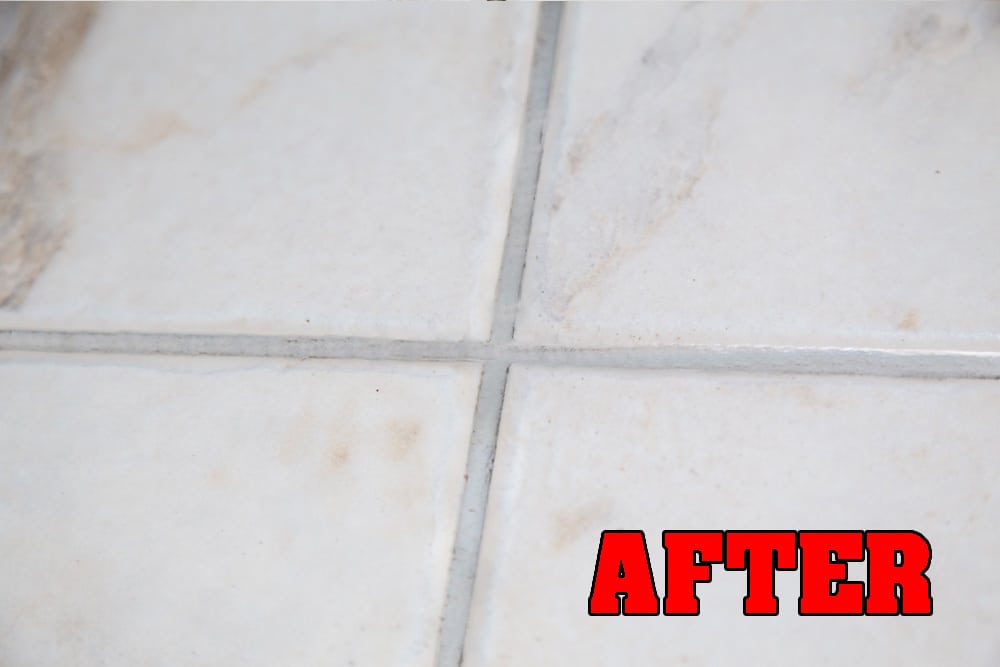 Common Questions and Concerns
Here I will detail some geniune concerns you may have with purchasing a steam mop and if they are really the best way to clean tiles.
Are Quality Steam Mops available On line?
Yes, yes and a another yes!
The beauty of living in this modern day and age is that reality is plugged into the internet via a big fat cable.
Nearly everything you see in a store or catalogue will be found on-line and usually with a handful of stores selling it.
 If you are worried that you can only find bad quality or junk steam mops online you will be happy to know that is simply not true!
For instance all the steam mops and floor scrubbers I have written about in this article are all quality products with full warranties, are built by reputable manufacturers and have a solid customer feedback score.
In addition to all that, the links I have provided send you through to the best prices on your chosen steam mop.
Some products even have bundle deals only available online. 
How Do I know I am purchasing the correct steam mop for my requirements? 
If you have read my product descriptions above and still unsure about which steam mop to get then I encourage you to do some research yourself.
You can check out the whole range of steam mops here and take a detailed look at what is available on the market and determine the right mop for your use.
If you are still unsure feel free to leave me a comment below detailing your surface you have and I will find the product right for your needs.
Steam mops are really a simple concept so in reality any one you chose will do the job.
Should I go with a Cordless or Corded Steam Mop?
This is one that you will need to think about and make a choice with care.
The pros and cons of either system are very obvious.
With a cordless system you get unlimited access without having to trail a cable or extension lead around behind you. 
This is very handy if you have a large surface area to cover or are wanting to steam your shower walls or maybe an area outside.
Of course with this great convenience comes the solid drawback of battery life.
Most steam mops comes with a battery life of around half an hour.
If you feel you can get the job done in that time then by all means go such a cordless setup, also look into spare batteries that you can replace to double your run time.
A corded system gives you the advantage of using your mop for however long you need it while also being lighter and usually cheaper over a cordless mop.
If you will be using it in a regular sized home then the cord should be long enough to cover an area before you switch to another outlet and continue cleaning.
If you do not mind tethering off from an outlet in every room then a corded system is ideal.
My Black+Decker steam mop is corded and the it is no trouble at all to switch outlets as I work throughout the house.
The cord also means the steam mop is ready to use whenever I need it, where as if I forget to charge my cordless one it might not be available for use when I need it.
In Conclusion – Have I found the Best way to clean tile?
Even though my heart was in the right place, my anniversary gift to my wife turned out to be a bit of a failure.
Instead of improving our life quality and enjoying an easy clean floor I created the opposite.
After our tile floor ended up messier than a truck stop diner bathroom I really started to panic.
In a true stroke of luck a client I worked for showed me the best way to clean tiles and my life quality dramatically improved after purchasing a steam mop.
Thanks to the steam clean it provides I manage to lift away hard to remove stains like wine and candle wax along with everyday dirt and messes.
I hope this article has shown you a new and great way to clean your floors without the back breaking strains of scrubbing on your hands and knees.
The old vinegar and baking soda trick is a thing of the past now as grout technology and steam mops have taken the mantle as the best way to clean tiles.
Thank you for reading and I hope you manage to get your floors sparkling clean once again!