Tilers Place is reader-supported. When you buy through links on this page, I may earn an affiliate commission on qualifying purchases.
Rubi TZ Tile Cutter Review
Best Tile Cutter For Porcelain Pedestal Tiles
Tile cutters will never be the same again – Introducing the Rubi Tools TZ Tile Cutter!
This is it friends, the review we have all been waiting for, the review of the most powerful tile cutter known to man.
It's the biggest, it's the baddest, it's the strongest tile cutter ever made.
3300 lbs (1.5 Tonnes) of breaking power is now at your disposal. This large format porcelain tile cutter is the answer to even the thickest of pedestal tiles and porcelain floating deck tiles.
Ever seen a pedestal tile being cut? Well, now you have.
Hello and welcome to my Rubi TZ tile cutter review.
My name is Carl, I've had the good fortune (or misfortune) of slinging tile for over 25 years. 
I've played with many tile cutters over the years and spent more money on them then I have on my wife. With any luck, this Rubi TZ will be the last large format tile cutter I buy for a long time. (I told my wife that too, so it better be true.)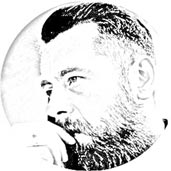 Rubi TZ Tile Cutter Basic Features
These features are available on all sizes of the TZ Line Of Tile Cutters.
Extremely powerful breaking system with power up to 3300 lbs – all operable with only one hand.

Very accurate with soft slider movements and easy view of the types of ceramic tiles and porcelain tiles being cut

5 Year Factory Warranty From Rubi *check seller for specific details*

Fully sprung aluminium support base for superior tile placement and support.

Quality metal bearings and handle.

Fully adjustable lateral stop for repetitive cuts on both sides of the tile cutter.

Interchangeable scoring wheels ranging from 8mm -22mm for fast and accurate cutting for all types of ceramic and porcelain tiles.

Reinforced textile bag with pocket for easy transport and protection during transit.

Includes 8 mm and 18 mm scoring wheels with the sale of all tz tile cutters.

Large cutting capacity, up to 21 mm (13/16″) thickness. Ideal for large format tiles.

Easy to transport: rubber wheels and bearings alongside a large ergonomic handle.

Comes in sizes ranging from 33″ – 61″ for straights cuts and 24″ – 43-5/16″ for diagonal cuts.

For precise diagonal cuts – there's a swivel square with central pivot for fast and accurate measurements in angle cutting.

Exceptional performance breaking system – clean cuts with soft handle motion.

Sturdy chassis, guides and breaking system.

TZ tile cutters are truly designed for intensive cutting of all types of ceramic tiles and porcelain tiles.
Rubi TZ Tile Cutter Highlights
Maximum Seperating Power:  1500 kg/3307 lbs  (500kg/1102 lbs more than other tile cutters.)
Able To Cut Tiles From: 3-21 mm/0.11-0.82″   – Imagine cutting a 20mm thick tile with one hand!
Large Cutting Capacity In Four Sizes:  85cm/102cm/130cm/155cm Or 33.46''/40.15''/51.8''/61.02 (same separating power across all sizes)
Package Includes: Carry Bag + Two cutting knives incl. Rubi's latest PLUS Extreme Cutting Blade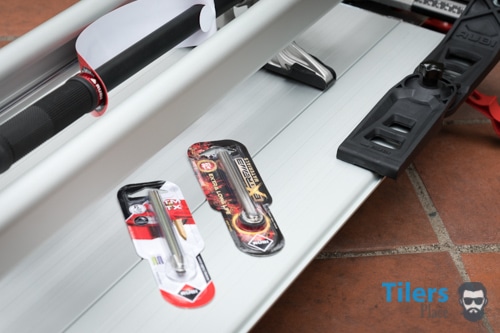 Rubi TZ Tile Cutter PRo's & Con's
Cons:
Weight – this tile cutter is very heavy

Back stop head requires calibration to cut straight
Pros:
Best breaking strength of any tile cutters available

Effortless one hand operation. 

Large cutting capacity with a

 range of tile cutter sizes available to suit all user requirements. From 85cm to 155cm (33-61")

Easiest scoring action of any tile cutters – Smooth as silk

Easy to transport with inbuilt wheels and carry case

Ability to cut pedestal tile/floating deck tile (with one hand)

Is sold with Rubi's latest 

scoring wheels – the XTREME scoring wheels are amazing and damn expensive!

Great build quality and made of premium materials
"The Rubi TZ is truly and honestly, unlike any other tile cutter you'Ve ever used."
Rubi TZ Tile Cutter – Bottom Line Buy Or Don't Buy?
Rubi TZ tile cutters are truly and honestly, unlike any other tile cutter you've ever used.
It is a true precision instrument that makes the tiresome task of cutting large format tile a pleasurable one. The way it takes all the grunt out of scoring and breaking tile is unrivalled by anything you have ever used.
Wow, that came off more like a sales pitch than a honest review, let's try that again.
This Rubi kicks the butt of absolutely any large format tile that you can throw at it – period.
If you're needing a serious tile cutter for those huge slabs of porcelain that designers are calling tiles nowadays, then you won't be disappointed with the TZ.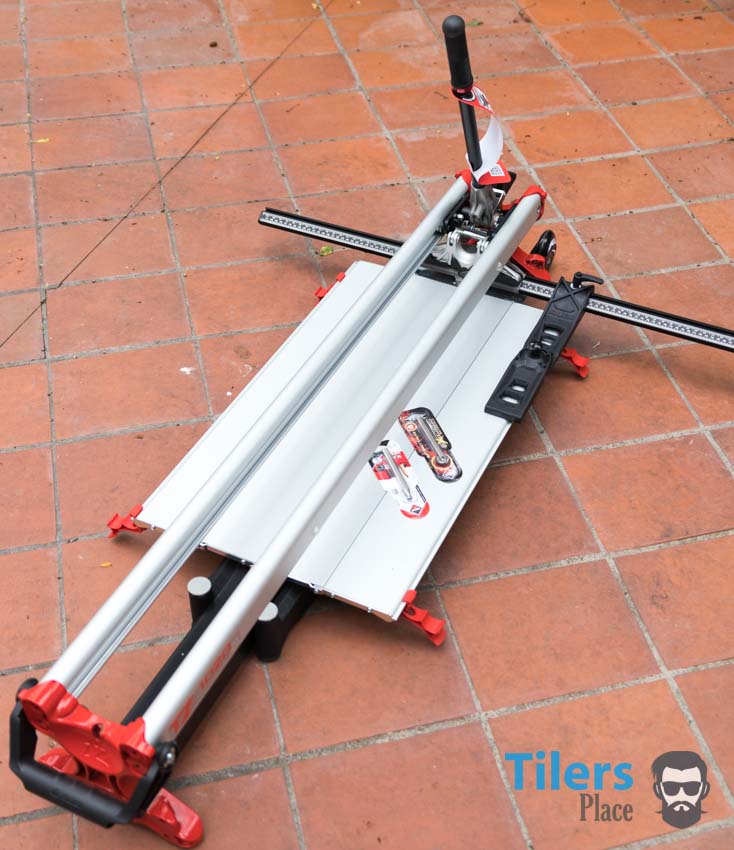 With the added benefit of being able to cut pedestal tile, you can expand your service list to lay those as well since this tile cutter will make laying them so easy. It's highly likely other tile setters in your area won't have this cutter so you get that competitive edge.
The downside of all this power is that the Rubi TZ requires more care than regular tile cutters. Don't go kicking it around or leaving it smeared with thinset. Take the time to align the head and clean the cutting rails to keep it performing at it's best.
Yeah, I know it costs a tonne of beer money but I can truthfully say that out of the 40+ tile cutters I have purchased over the years, this one is something else, a cut above (excuse the pun). It's well worth the money and I don't regret spending the extra to buy it.
Who Should Buy The Rubi TZ Tile Cutter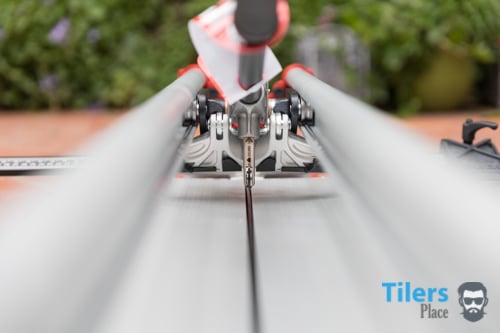 If you want the best tile cutter in terms of breaking strength and one that can cut absolutely anything your clients can throw at you, then this tile cutter is for you. The large cutting capacity makes it capable of cutting damn near anything. Choose which size suits you best, and go for it.
This tile cutter can cut: 
Standard Large Format Tile

Porcelain 

Wooden Plank Tile

Pedestal Tile (Floating Deck Tile) 
 This tile cutter will also help you break into the pedestal tiling market or speed up your workflow if you are already working with pedestal tile and using a tile saw for each cut. With the Rubi TZ, you'll only need to cut round or details on the tile saw, all time consuming cuts will be taken care of by the TZ tile cutter. 
If you find yourself working with standard 32 inch (600×600) tiles a lot and nothing too insane, then a regular Sigma, Montolit or Rubi tile cutter will be your choice, especially if money is a concern.
Rubi TZ Tile Cutter Size Options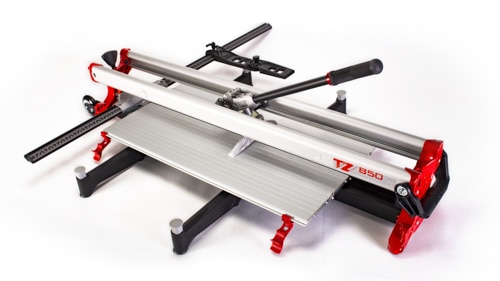 Rubi TZ 850 
Cutting Length: 85cm/33.46″
Rubi TZ 1020 
Cutting Length: 102cm/40.15″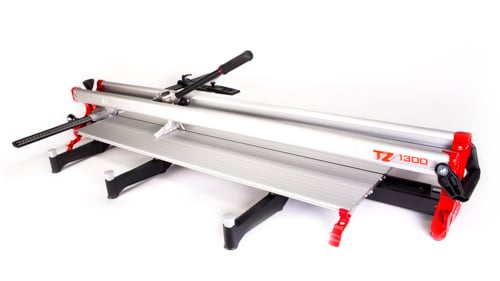 Rubi TZ 1300

Cutting Length: 130cm/51.8″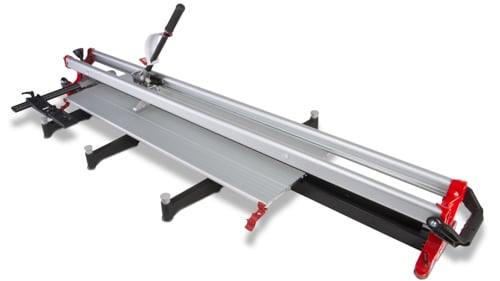 Rubi TZ 1550
Cutting Length: 155cm/61.02"
Rubi TZ Tile Cutter – Why I Brought One
I've heard and seen the Rubi TZ all over the internet long before I got to see one with my very eyes. I saw the awesome videos of people cutting pedestal tiles at trade expos, saw the fancy new design with the new bearings and handle connected to a spring loaded breaking handle and was so darn excited.
I couldn't believe such power could be had in a tile cutter. Up to that point, most tile cutters had the same breaking strength of around 800kg-1 tonne (1700-2200 lbs). Suddenly this Spanish superhero could do 3306 lbs (1.5 tonnes)…what!
This video below is one of those videos I watched, watch from 2 minutes 20, (2:20) to see the part with the pedestal tile – that part really blew my mind. 
About 6 months later it finally showed up in my local tile store and I was all over it like ants on marmalade.
It was as truly impressive as it looked on the internet, even more so! I could see all the new features and bits that made this tile cutter so unique in comparison to everything that came out before it.
The lateral stop for repetitive cuts, the central pivot for fast cutting of all types of angles on large format tile, even the design of the head was all different on the new tz tile cutters.
I was looking at the 102cm (40.15") model and that in itself looked impressive, I have yet to see the 155cm (61.02") model which must really be a sight to behold. That's some serious large format cutting!
"No tile cutter could cut a 2cm thick tile (0.82), it's a tile saw or nothing. Until the TZ came along."
Needless to say I fell in love with it and as a long time Rubi fan, I knew it had to be mine one day.
More months passed and then suddenly I had an influx of enquiries to lay pedestal tile decks. I have done a few in the past and remembered how painful cutting those thick slabs of porcelain was. Each cut took 10 minutes on my tile saw and progress was slow. Of course no tile cutter could cut a 2cm thick tile (0.82), it's a tile saw or nothing. 
Until the TZ came along.
So anyway, I get all those pedestal tile jobs and I'm thinking; "if I can land these jobs, that tile cutter will pay for itself in no time."
Next day I brought the Rubi TZ 1050 home with me.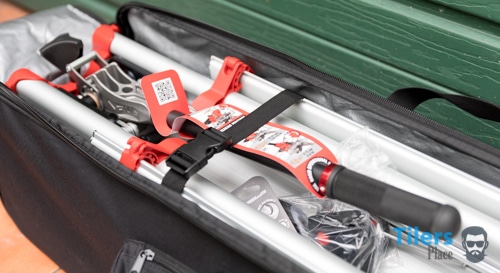 Rubi TZ Tile Cutter – First Impressions
It's big.
Like really big.
I've never had a tile cutter this big before, everything I owned before was about 32 inches long and now I nearly have double that. I could have gone for the biggest one but I don't take on jobs with tiles bigger than 900×900 so it'd be overkill.
Overall, Rubi tools TZ tile cutters are pure quality. Nothing about it feels cheap or half-assed. It's quality materials and engineering, all fitting together in a beautiful looking design.
I like the Montolit tile cutters for their use of attractive color and design, but I think this Rubi beats it.
Sleek red and silver mixed with black accents makes this tile cutter look very professional, for a tool fanatic, it's a treat to the eyes. 
Rubi TZ Tile Cutter – First Impressions
The tile cutter itself now comes in a soft textile bag, it looks kind of like a protective case for a gazebo or even a sports equipment bag.
It has two holes in the bottom that allow the tz tile cutters rubber wheels  with bearings to poke through and a large soft handle to help you pull the tile cutter behind you like an errant child.
Gotta say, them "easy to transport rubber wheels with bearings" actually do a great job of moving this thing around and does truly make it easy to transport. 
Those fancy rubber wheels with bearings are definitely needed as the Rubil tools tz tile cutters are big and heavy. I'd guess about 44 pounds (20 kg) (More for the larger models). Nonetheless the bulk is easy to manoeuvre around the work site or clients home and unpacking the tile cutter is as easy as opening up the plastic case of the old Rubi ceramic tiles cutter.
The tile cutter itself is very compact when it's folded up. The breaker mechanism with its fancy bearings and handle folds down and the extensions to the sprung base fold up and clip into place. Everything just stores into itself and only the long measuring bar needs to be affixed. That and the lateral stop live in their own compartment in the textile bag, handy.
So anyway, I'm at home, feeling like a child at Christmas opening my first present. Set it up on the driveway and my wife, Jane looks on with a bemused grin.
Everything is more or less self explanatory, a pull there, a slot and turn there, and the tz tile cutters assembled with the breaker mechanism and lateral stop ready to go. Bam.
"The scoring action is smoother than the silk you'll find in your partners underwear drawer."
I slot a spare 32 inch tile into the cutter and go for the first score and I'm immediately blown away at how easy the scoring is.
It's literally butter smooth with little to no effort needed from me. I simply push it along with one hand and an even score is made on the tile. What on earth!?
Turns out the handle is mounted on a dolly of sorts, instead of the head gliding along tubes or a central bar, it has four metal bearings instead. Without any lubrication or anything, the accurate scoring action is smoother than the silk you'll find in your partners underwear drawer. Ooh la la
Cutting Tile With The Best Tile Cutter
So once I get over the arousing fact that the tile cutter scores like nothing I've ever experience before, I go to break the tile.
The breaking head has two levels. You simply lift it up and the spring loaded level takes care of the rest. Lift up one click for pedestal tiles or two clicks for thinner porcelain tiles.
That took me a moment to figure out as the cutting bar didn't reach the tile at first. I then lifted higher and got it to the next level which was perfect for this 12mm tile.
Pop, the tiles break cleanly and easily without issue. I immediately score again and this time break it quickly.
No issues.
Feeling cocky, I score a very thin sliver and try. With some pressure in the back and then the front, the sliver snaps off cleanly.
Awesome! 
Lastly, I have a play with the fancy swivel square that allows to setup diagonal cuts. Using the swivel square is very simple with a quick turn required to loosen it and free it up for movement. It has guides for all the standard angles. You can also set custom angles and lock the swivel square in place. 
With myself antiquated with the tile cutters features, I stand back and allow Jane to take some photos of the Rubi TZ while it's still fresh and new. It's these photos that you are looking at.
Cutting Pedestal Tile With The Rubi TZ Tile Cutter
"Everything about this tile cutter has been built around it's immense ability to snap thick porcelain slabs."
Rubi tools have done something amazing with this new range of tz tile cutters and have truly outshone the competition in terms of engineering and resulting breaking strength.
Everything about these tile cutters have been built around their immense ability to snap thick porcelain slabs.
The very reason they're so heavy is the thick metal bar at the center of the tile cutter that provides the strength and rigidity required to produce 3306 lbs (1.5 tonnes) of breaking power.
Cutting pedestal/floating deck tile is very similar to cutting a regular tile, honestly, it's exactly the same.
Just pull out the support legs from the side of the tile cutter, lower in the heavy slab of porcelain decking tile and you're good to go.
Intensive cutting and scoring of all large format tiles is very easy with Rubi's accurate scoring blades.
With the TZ tile cutter, Rubi supplied one of their latest Plus Extreme scoring wheels. 
These scoring wheels are designed specifically for fast and accurate scoring of tough porcelain like pedestal tile and feature a titanium coating for extra long life and minimum chipping to the tile surface. 
It also works great on textured and rough tiles, thanks to it's large diameter. Cutting ceramic tiles is also possible of course.
They fit the TZ and TX range of Rubi tile cutters. 
The only real trick is being careful with the breaking and getting familiar with the breaker mechanism.
I like to put some pressure on the tops and bottom of most large format tiles and coaxing it to break gently. You can go for a full blown snap from the top but if you are cutting thinner pieces, you might break a triangular piece off the tile.

Just be gentle and within 15 seconds you'll have a neatly cut pedestal tile. Not as smooth on the base as a tile saw cut, but still very usable.
So it's official, you can cut pedestal tiles with a tile cutter. But only with the Rubi TZ tile cutters. 
Sorry Sigma and Montolit.
I've watched videos of setters trying to break pedestal tiles with them and it's painful to watch. Yeah, it'll snap em but it takes a lot of work on your part. Not a problem for one or two cuts, but doing a whole job will be a nightmare. How clean the cuts are will also be questionable. (I'm just waiting for someone to email me and argue that fact.)
Things I don't like About the Rubi TZ Tile Cutter
Every hero has their flaws, usually a direct result of their amazing abilities. 

The Rubi TZ tile cutters are incredibly powerful tile cutters that are unmatched by anything else on the market. In order to allow this tile cutter to be so strong, a lot of clever engineering has been put into place to allow such intensive cutting to happen.

Some would say the Rubi TZ is over engineered, with the swinging lever in the cutting handle and the highly adjustable back drop head which you use to set your cutting angle.
Whilst the handle and it's moving parts have never been an issue for me in all my time with the tile cutter, it's the movable back drop head that has caused some early teething issues. 

You see, the back drop head needs to be calibrated in order for it to cut perfect 90 degree cuts.
I didn't realize this until I was on the job and realized all my cuts were off. 
On side would be 15 inches while the other end was 15.2 inches for example.
A quick check with my setsquare showed the head was out of alignment. A quick look into the manual showed that the head needs to be adjusted via two screws.
You loosen an small box screw with an Allen key which allows you to move the head around with a 13mm spanner. A minute turn to the left or right will adjust the head and get your cutter cutting perfect again.
I didn't realize that at the time and was very annoyed, but hey, that was my fault and not the tile cutters.
Ten minutes later I had it all adjusted and perfect.
Now I don't know how often you need to do this calibration. I've only had to do it twice but I imagine if you go kicking the back drop head with the brackets extended on accident, you'll be calibrating it again pretty soon.

The only ther down side feels stupid to complain about really.

The tile cutter is very big and heavy. 
Setting it up in a clients living room does feel a bit clunky but it makes up for how easily it cuts tile and how impressive it looks. 
It truly is a good looking bit of metal and I'm sure clients will appreciate their tile setter using a peace of equipment that looks so professional and capable.
You don't need to be an expert in the trade to know how a professional and expensive tool looks like.
So yeah, you're taking up half the living room, but you look awesome while your doing it. That and you are saving tonnes of time by cutting each tile perfectly and quickly instead of running around to the tile saw every minute or two.
Rubi TZ Tile Cutter Conclusion –
The Best Tile Cutter On The Market Right Now
"I officially hand over the crown and announce the Rubi TZ tile cutter range – the best tile cutters."
I used to call the Rubi TX 1200 the best tile cutter for it's amazing strength, build quality and ability to cut everything.
Well, since pedestal tiles came on the market, that was no longer the case.

I officially hand over the crown and announce the Rubi TZ tile cutter range – the best tile cutters, they are fast and accurate and truly the next generation of tile cutters and a game changer.
From the incredibly easy scoring that is unlike anything you've ever felt to the even more insane breaking strength. 
Next time you see a pedestal tile, take a look at it's thickness. Lift it up, get an idea of it's weight.
Then remember that there's a tile cutter out there that can cut them without any issue.
The Rubi TZ tile cutters allow tile setters to cut a whole host of large format tiles, quickly and easily. From the regular 32×32 inch tiles, to longer plank tiles (up to 1.5metres/61" ) and slab tiles to the infamous floating deck/pedestal tiles. All types of ceramic and porcelain tile can be slayed.
 
As far as I am aware, no other tile cutter manufacturer produces a tile cutter with such strength. 
I've looked and spoken with reps and I can't find it. Only Rubi Tools makes them at this moment. 
The Rubi TZ is a true feat of design and engineering and that reflects in the overall look of the tile cutter. It's a sight to behold, matched only by how beautiful it is to use on a daily basis.

The power comes with the obvious price difference, it is more expensive over regular tile cutters but no greatly so. Depending on the size, it's about a couple hundred more.

The main draw back of the tile cutter is it's back drop head which needs care to calibrate properly but it's an easy process. It does require an allen key and 13mm wrench however so keeping those handy on the off chance would be a wise move for those investing in this tile cutter.
Overall, I'm very pleased with my decision to buy the Rubi TZ 1050.
To date I have completed a dozen pedestal tile decks using the Rubi TZ and over 20 jobs with regular porcelain tiles and have been thrilled using the Rubi TZ. It's easy to transport, cuts cleanly and is built to last.
It makes cutting an exciting process, no longer one of dread.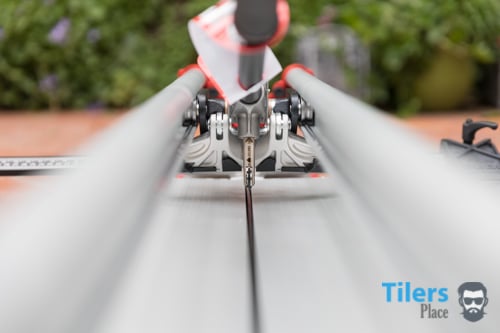 I feel confident in the cutter and know that it won't surprise me with an uneven or jagged cut – no matter which tile I have to use that day.
If you are on the fence about buying the Rubi tools TZ or are simply in the market for a new tile cutter, I would seriously put this one on top of the list. Especially if you are working with bigger tiles or thinking of moving into the pedestal tile game.
The second you break a behemoth tile in less time than it take to walk over to your tile saw, you'll know you made the right decision.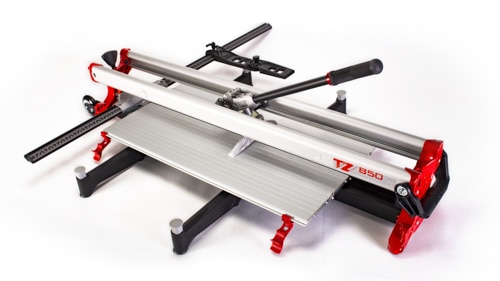 Rubi TZ 850 
Cutting Length: 85cm/33.46″
Rubi TZ 1020 
Cutting Length: 102cm/40.15″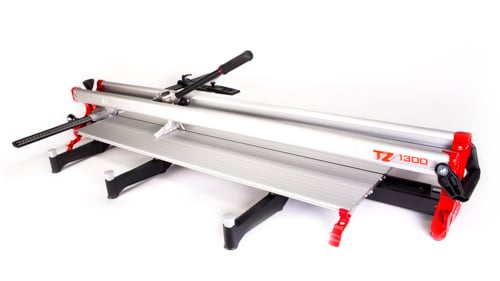 Rubi TZ 1300

Cutting Length: 130cm/51.8″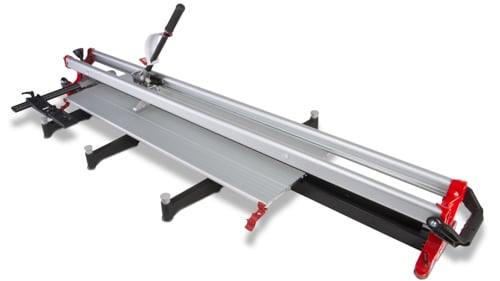 Rubi TZ 1550
Cutting Length: 155cm/61.02"