Last Updated on
Tilers Place is reader-supported. When you buy through links on this page, I may earn an affiliate commission on qualifying purchases.
Best Mixing Drills For Thinset Review 2020
(Drill And Mix Grout, Mortar And Plaster)
Mixing Drill Review – Corded + Cordless Drills
Good mixing drills are a staple of our profession as tilers, plasterers, brick-layers and contractors (if I left you out, don't worry, you still rock). We need a reliable mixing drill that can blend up the thickest of slurries into top quality mud and mortar to the desired consistency.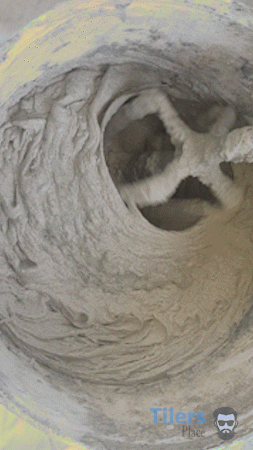 You know that decking mud or mortar is thick and damn hard on any electric motor and that's why I found the greatest mud mixers that will withstand professional use.
Oh, and in order for these drills to feature in my review, they also need to function as power drills for making holes in wood, metal and the site foreman's head when they act out. 
Drilling, mixing and keeping order on the work site, its a hard job – but thats why we use the best.
Click here to jump to the best mixing drills information table.
Unlike every other mixing drill reviews on the internet, I'm not going to bombard you with options or ambiguous information – just info you want and need to make an informed buying decision.
Continue reading and discover the best drills for mixing mud and drilling holes currently available in 2020!
Every single one is up to the task of working hard, day in and day out, so it whichever one you end up choosing, rest assured that you'll have one of the best spade handle mixers out there.
Let's get mixing!
Best Drills For Mixing & Drilling
| Name | Power | Max RPMS | Chuck Size | Weight | Avg. Customer Rating | |
| --- | --- | --- | --- | --- | --- | --- |
| Makita DS4000 | 9.0 Amps | 0-500 RPMS W/ Variable Speed Trigger | 1/2 Inches (13mm) | 8.8 Lbs (4kgs) | 5/5 Stars - Tiler's Place Choice | Check Price |
| Makita DS4012 | 8.5 Amps | 0-600 RPMS W/ Variable Speed Trigger | 1/2 Inches (13mm) | 6.2 Lbs (2.8 kgs) | 4.5/5 Stars - Best All-Rounder | Check Price |
| Bosch GMB9-16 | 9.0 Amps | 0-700 RPMS W/ Variable Speed Trigger | 5/8 Inches (16mm) | 6.6 Lbs (3 kgs) | 4.5/5 Stars - Best for Drilling Holes in Anything | Check Price |
| Ridgid R7122 | 9.0 Amps | 0-600 RPMS W/ Variable Speed Trigger | 1/2 Inches (13mm) | 6.0 Lbs (2.7 kgs) | 4.0 Stars - Runner Up | Check Price |
Drill Mixers Top Tip!
When it comes to mixing heavy materials or drilling dense materials, a lower RPM range is ideal. 
Professional Tiler's Pick ✓
The Terminator of Drill Mixing Machines.
Offers unbeaten build quality and torque that makes it excel at both drilling and mixing duties. 
1.  The Best Mud Mixing Drill Overall:
Makita – DS4000
If you are looking for the best, then stop reading because you found it: The Alpha, The Beast, the King, the Mother-truckin' Makita DS4000!  
It's name and the purring noise of the motor make this power tool sound like a futuristic laser blaster but don't get mistaken. This absolute monster of a mortar mixer is old school quality construction made to survive the apocalypse. 
• Mix Everything! From Thinset to mud, to plaster, paint, epoxy resins, grout, and of course, concrete.
• Forward/Reverse Rocker switch combined with a high torque motor makes drilling dense materials a breeze.
• Toughest Chuck, Casing and Internal Gears in its class. They seriously don't make em like this anymore.
For a hundred bucks more, you can buy the best money maker in the business, seriously pal. This is Makita at it's finest when all their tools were Japanese made and never died.
You want the best, you found it.
Hi there and welcome to Tilersplace.com
My name is Carl and I have been tiling and mixing pookie professionally for over 20 years in both the USA and England.
With a couple of tonnes of thinset and mud mixed in that time, I can safely say I know a good mixing drill when I see it.
Today I want to share my experience with you and point you towards the machines that I personally would use professionally. I expect nothing but nonstop hard work from my tools so you can assured that whatever is in this review, had to work damn hard to get here.
The Best Mixing Drills For Thinset (And Everything)
When it comes to selecting a power drill for mixing and drilling, it's important to take a moment and think about which function you require the most.
All these drills that I've reviewed below are excellent in both stirring up any compound that you work with and also being kickass at drilling holes – It's your job to decide which suits you the best.
• Do you need something lightweight for tricky drilling situations?
• Or do you want a tough and burly mixer that will keep on spinning, no matter how hard you push it? 
All these requirements and are listed below, think about what you want, read the descriptions of the drills, and buy one. No matter who you choose, I can assure you that you're purchasing a professional D handle mixer for heavy-duty use.
Note: These machines have A LOT of different names, so don't worry when I call them something else. I'm talking about the same thing.
1. 

Makita – DS4000 Mixing Drill
Back in the day, Makita was known for top-shelf products and build quality that meant their power-tools never died.
In a fight to remain competitive in the pricing wars, they reduced the use of premium materials and that reputation dipped sadly.
Fortunately for us, they still have a couple aces up their sleeves and the DS4000 reviewed here is one of them.
It has all the features that you want and require in a professional thinset mixer and drill.
The massive 12inch handle gives you excellent control while drilling and mixing, coupled with a 360° rotating spade handle for optimal comfort.
The forward/reverse rocker switch makes these duties even easier and quicker. To ensure no damage is done to the gears, they're precision milled to prevent damage during sudden changes.
The body and internal motor core is all steel and hardened – protecting against shocks and the chuck is the toughest I have ever seen on any mixing drill. It never loosened, no matter how badly I abused it.
Pro's
• Class-Leading build quality, the moment you see it, you'll understand.
• Best drill for large diameter and lengthy auger work.
• Low rpm, high torque motor helps it power through the densest of mixes and materials.
• Chuck is quality steel and clenches bits tight all day.
• Large pipe handle helps keep the power in check during tough operation.
• A true professional power tool, designed to never let you down.
Con's
• The premium quality comes at a premium, making it the most expensive mud mixing drill in this review. 
• At 8.8 lbs, it is the heaviest as well.
• Remind's you of a better time when power tools weren't cheap disposable things with a short life-span. Truly wish we had more tools like this out there.
Wrap-up On the Makita DS4000 Mixing Drill Review.
What else can I say, that hasn't already been said about this absolute monster of a thinset mixer. The moment I saw this thing, I was reminded of my ancient Black and Decker Jack Hammer that's been with me since I start tiling. It's heavy, it's brutal and it's all metal. It has also NEVER let me down, nor has it stopped working.
Like a tough old workhorse, she keeps on pulling every-day, no matter what. This DS4000 drill was cast in the same mold and is a king amongst drills.
My time with it was too short and I plan on purchasing one soon as I've fallen in love with the thing. For my trade as a tiler, she's perfect. Whipped up the thickest of mortars I required and never did it bog down or still smelling of brush burn.
If you want a mixer-drill that you can rely on, to abuse and drop and work her hard, then this is your choice, I can assure you, you won't be disappointed!
2. 

Makita – DS4012 Mixing Drill
 I personally own this mixing drill and been using it for over two years now – I love it.
The DS4012 is a well balanced and heavy-duty power drill designed for daily mixing and drilling duties.
It has all the trick features you want, 360° D-handle, variable speed, great RPM range (0-600) and tough chuck that won't get loose. In fact, I never have to retighten it, even after a month of mixing thinset.
While the plastic casing is lower quality over the DS4000, it's great quality and after two years, is showing no signs of damage, cracking or wearing.
The internals are solid metal and that's what counts. This drill has had a couple hard falls in its life and has shrugged them off. The motor is quiet as well, the quietest mixer drill I have ever owned – no high pitch whine! (I'm looking at you DeWalt.)
There is only thing I could nitpick is the forward/reverse switch, which is a tab above the trigger. A rocker switch would have been better. 
Pro's
• Professional and heavy-duty drill for a great price.
• Variable speed makes it ideal for mixing grout and thinset without introducing excess air to the mix.
• Powers through any cement or aggregate mix without ever bogging down.
• Chuck is quality steel and holds tight forever
• Lightest mixer drill in its class, makes mixing and drilling a delight.
• Easily located brushes make replacement easy – no need to disable the outer casing like other drills. (The DS4000 also features this.)
Con's
• Boring design: looks like an oversized toy gun.
• No handle mount on the side, a 90° degree handle would have been great for drilling.
• Forward/Reverse tab could be replaced with a rocker switch for ease of use.
• No carry case included.
Wrap-up On the Makita DS4012 Mixing Drill Review.
Buying the Makita DS4012 was one of the best decisions I made for my tiling work. Having burnt out over a dozen mud mixing drills over the past decade, the DS4012 is shaping up to be the best model I've ever owned.
It's quiet, it's tough, it has more torque than any other mixer I've ever owned or used (apart from the DS4000) and can tackle both mixing and drilling with ease. Plasterers seem to be love this guy as well, I've come across a couple different teams using the very same drill – so if you're a plasterer…this is the plaster mixer for you gents.
Honestly, I wish I made the switch to spade handle mixers many years ago as they are proper made machines for the task. With larger gearboxes and higher torque ranges over a lower RPM range, they make a mockery out of any other electric drill for this line of work.
The Makita DS4012 is a fine example of what a spade-handle mixing drill should be and if you are thinking of investing in one, you can't do much better than this one.
In comparison, similarly priced models from DeWalt or Hitachi, it's quieter, better built and offers variable speed mixing. 
If you are a painter, plasterer, contractor and of course a tiler, this drill is for you.
I love mine, so will you.
3. 
Bosch – GBM9-16 MiXing Drill
16mm.
That's the size of this beast's chuck. Whilst most drills come equipped with a 13mm (1/2 Inch) chuck, this guy just one-ups everyone.
I guess thats what the "16" stands for in the name. Power tools companies are very clever in naming their products.
Combine that with a higher max rpm range (100 more than most), precision milled gears and a ball-bearing motor, you have one serious drilling and mixing machine.
These features make this a great choice for those requiring a heavy-duty drill most and foremost and only doing mixing on the side.
Of course, you can use this as a full-time mixing drill as well, especially if you are a painter or work with epoxy resin a lot, as the higher rev's will be of use for your materials.
The rest of the Bosch GMB9-16 is standard fare of all professional mixing drills. 360° Spade handle, forward/reverse switch and grab handle mounted at a 90° angle.
Pro's
Huge 16mm Chuck for fitment of a greater range of bits and accessories – Largest mixing drill chuck of any in this review.

Power 9 amp motor makes it suitable for a whole host of work. From mixing compounds (tile mud, dry-wall) to augering holes in the dirt and drilling through thick posts.

Variable speed is easy to use and offers great control of the speed needed.

 
Con's
The same con's as the Makita DS4012 Mixing Drill:
No handle mount on the side, a 90° degree handle would have been great for drilling.

Forward/Reverse tab could be replaced with a rocker switch for ease of use.

No carry case included for this drill.
Wrap-up On the Bosch GBM9-16 Mixing Drill Review
It's funny how even though all these drills are built on the same premise and perform the same task, they differ so much. 
Each manufacturer see's the end user's requirements and adds features that they feel will be of greater benefit and help their product get chosen over some one else's.
This is can't be more obvious in this review and even though we are only looking at 3 examples, they vary so much that you really need to look at spec list to decide on which one would suit you.
The Bosch GBM9-16 is so similar to the Makita 4012 but then completely becomes an outlier with that massive 16mm chuck size. It's very unique in this field and opens the power tool up to a larger market. There are many trades that will benefit from an increased shank size and with a well-built motor suited for the task, Bosch has hit a home-run with this one.
Like all of their professional line of tools, you can expect a high standard of fit and finish with a strong emphasis on longevity out in the field. The motor is refined and quiet and surprisingly tough. I never managed to bog it down, even with some fairly dry mud mixes mortar.
Apart from it's excellence at drilling through the toughest of materials, the higher RPM range will be of benefit for dry-wallers and painters along with those mixing resins.
Oh and did I mention it looks totally kick-ass and tough? It definitely beats my Makita 4012 in the looks department.
Best Cordless Mixing Drills
Mixing drills have a come a long way, especially when they are paired to the latest lithium ion batteries that provide plenty of power and running time. To wrap up this review, I'll take a look at the best cordless mixing drills.
Cordless mixing drills have become a viable option for many professionals as the running time and power they provide is so good that many get a full days use out of one battery. 
If you are looking to get rid of extension leads and setup mixing stations ANYWHERE on the worksite, then maybe a cordless mixing drill is a better option for you. 
DeWalt DCB130B – Best Cordless Mixing Drill
 For many years, Milwaukee ruled the roost with their M18 Cordless Mud Mixer.
It was so good that many corded mixing drillusers made the switch to cordless and never went back. No one dared to get in on the action until now.
DeWalt has entered the arena with their brand new DCB130B cordless mixing drill. It utilizes the companies 60Volt Battery Range which provides this drill with serious power and fearsome running time. 
 If you have already invested in some 60Volt Batteries for your other DeWalt tools, then I would seriously consider purchasing this mixing drill. If you haven't got batteries, maybe it's time to invest? 
Pro's
Double the Power Of DeWalts Corded Mixing Drill – Making this an absolute beast for mixing anything.

Brushless Motor! This one is exciting as anyone that uses mixing drills on a daily will understand how annoying it is to replace the motor brushes. Now it's no longer an issue. 

Long screw-on handle makes this drill very easy to use while mixing or drilling.

To further improve user safety and comfort, the new E-Clutch system automatically cuts off power if it detects an obstruction – This helps prevent any wrist injury during drilling or mixing.

Long Running Time – DeWalt reports up to 17 buckets of tile thinset can be mixed on one charge. I've found that to be accurate and even achieved more. It really depends on how thick your mix is, thinner stuff like plaster or premixed will allow even longer running time!

0-600 RPM Range – This RPM is just higher than that offered by Milwaukee (0-550) and the variable speed trigger works really well to find the perfect speed you want.
Con's
More expensive than the Milwaukee M18 Mud Mixer

Would have been nice to get a larger 16mm chuck to accommodate a larger range of drill sizes.

Placement of the chuck key on the handle could be revised and placed in a safe location to avoid losing it. 
Wrap-up On the DeWalt DCB130B Cordless Mixing Drill
Back when I originally wrote this review, the DeWalt DCB130B had not been released yet – had it been, the overall winner of this review may as well have been it!
This cordless mixing drill is truly something else, I still can't get over how much power it provides in a cordless package. Been able to take this drill anywhere on the worksite and not worrying about running power leads has been a revelation. 
For you guys that are already using cordless angle grinders for tiling, I highly recommend you jump onto the cordless mixing drill train and become fully unplugged.
The DeWalt DCB130B is a great option for every professional that requires a mixing drill as it provides more than enough power to mix the thickest of cements and drill in all materials. 
The large handle can be mounted on all three sides of the drill and the longer handle allows a stronger grip thanks to the wider stance it sets in your shoulders.
I would have liked to see a large chuck size on this drill, something like the 16mm seen on the Bosch. It seems a shame to have all this power but miss out on drilling with some of the larger drill sizes that are available. 13mm 1.2inch chuck size is the industry norm, but being an over achiever is always better. 
Cordless Mixing Drill Advantages 
One of the big advantages of this mixing drill over traditional corded ones is the brushless motor. If you are mixing or drilling extensively throughout the day, most days a week, then you understand this.
Replacing motor brushes in any power tool Is never fun, especially if you need to take apart the tool to access them. My old mixing drill required a full disassembly a couple times a year to replace those pesky things.
While minimal in the grand scheme of things, the time outlay required does eat into your downtime, not to mention you need to purchase those motor brushes that adds more costs your bottomline.
Mixing Drill Buying Options
DeWalt DCB130B Bare Tool 
This option is just for:
the mixing drill itself

the large drill handle

the chuck key 
If you already own some DeWalt 60V Flexvolt batteries, this would be your best option. 
DeWalt DCB130T1 Combo Kit
If you don't own any DeWalt Flexvolt gear or just want an excuse to get a bargain, this kit is for you:
1x DeWalt DCB130B Mixing Drill

1x DeWalt 6.0 A/h Flexvolt Battery

1x DeWalt Fast Charge Battery Charger

1x DeWalt Carry Bag
I'm a sucker for combo kits, so it's no surprise which option I chose. The extra battery is handy as I already own a Dewalt grinder that runs on flexvolt batteries – plus I never owned a fast charger.
The Best Drill Mixers – Conclusion
For those of us who need to mix compounds on a daily basis, a good mixer is an essential requirement of the job. 
The problem is that there are many tools that can do this task but end up getting burned out or killed within a few months of real work.
Many cordless drills and hammer drills have fallen in our pursuit of finding the best mixing drill for our professional use – that ends here.
This review aimed to find the best power tools that will not only mix up a storm but also excel at drilling through anything we need. All-day, every day, year after year.
The Makita DS4000 is the ultimate winner as its extreme build quality and components make it the best mixing drill for thinset and every other tough compound known to man, martians and plutonians.
A power tool like that is an asset to any professional lucky enough to own one and holds it head up high as the undisputed king. 
The Makita DS4012 is the more affordable and younger brother of the King but still holds many of the family values. I've been using one for over 2 years and it never falters, no matter what I mix with it. For a tiler, it's an excellent thinset mixer. I just wish it looked a bit more manly.
Finally, we have the unholy hole maker, the Bosch GBM9-16. 
16mm chuck size and all the torque you need to drill holes in everything with the massive range of accessories you can fit in that gaping maw. Far from a one-trick pony, it also holds its own as a great mixer from a variety of materials. Paint, plaster, concrete and thinset all get churned up without a sweat. 
Need to go cordless? Not featured in this review but highly rated is the Milwaukee 2810-20 cordless drill mixing drill. It is hands down the best cordless drill mixer. Coupled with a 5.0 A/H M18 Fuel battery, you have a king of cordless mixing that can keep up with all your needs.
So, you found a mixer-drill that will suit your requirements.
Go get one and stop burning out those drills boy, your wallet will thank you and so will your wife when you buy her dinner.
Happy drilling! 😉
(get it?)