Makita DS4012 Mixing Drill Long Term Review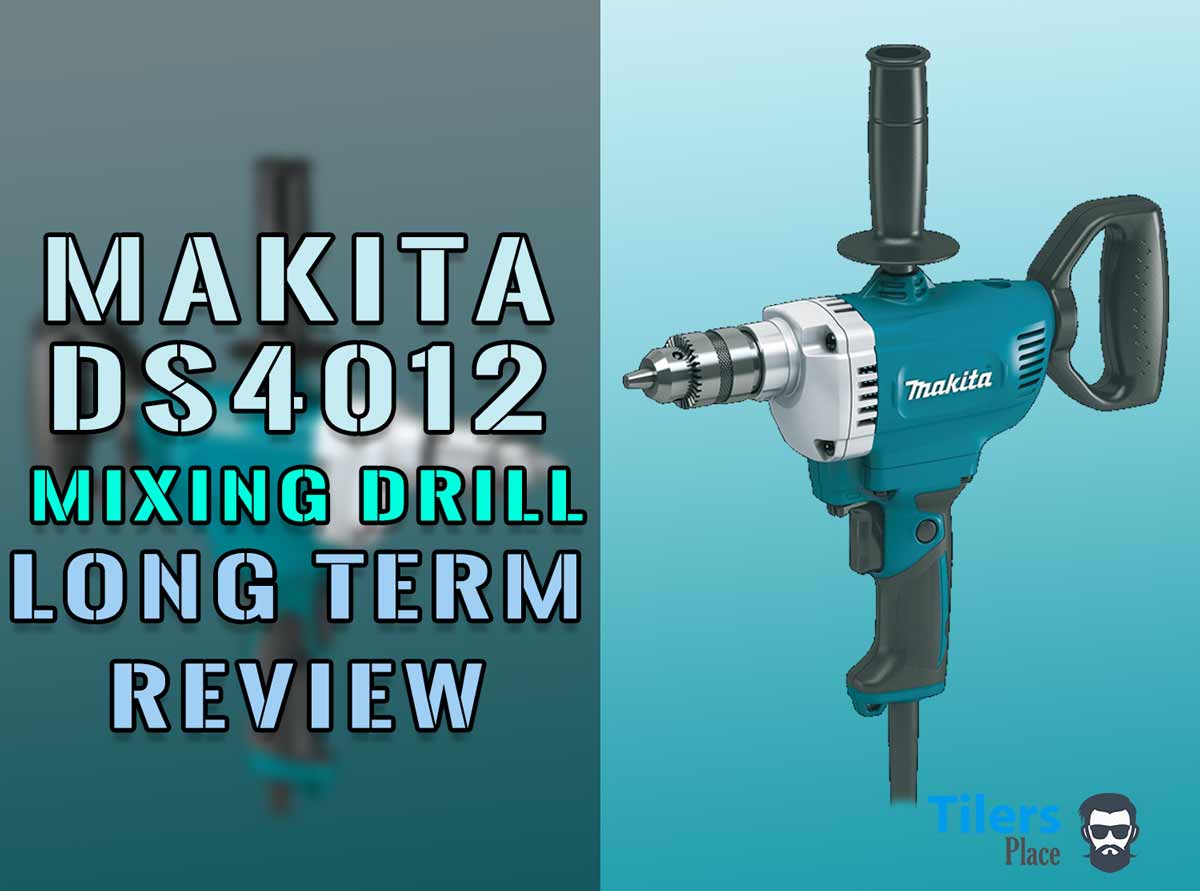 Makita DS4012 is the best mixing drill I have ever owned in over 25 years of owning various thinset mixer drills from many manufacturers. After 3 years of daily use, its still using the original brushes and runs like I purchased it yesterday.
That's all you need to know. Go buy one now.
Like many, I've previously made the mistake of buying power drills built for drilling, not for mixing. This misuse would drastically effect the tool life over a shorter time and I'd end up burning them up faster than a battery powered chainsaw at a lumberjack convention.
The Makita DS4012 is a heavy duty mixing drill with a strong transmission that allows it to keep up with mixing AND drilling. It does both duties equally well, unlike power drills that only do drilling well.
Still here? Okay, let's take a deep dive into the Makita DS4012 and see why I believe it's the best mixing drill for most industries. Like painting, plastering and of course – tiling.
Chuck Size: 13 mm (1/2″)
No load speed: (RPM) 0-600 /min
Product Dimensions:
Overall length: 340 mm (13-3/8″)
Net weight: 2.8 kg (6.2 lbs)
AMPS: 8.5
Handle: Spade
Power Type: Corded (No battery or battery charger to worry about.)
Applications:
Drywall Mud

Plaster

Thinset/Tile Glue/Mastic/Adhesive

Thick bed mortar/mud/screed

Concrete/cement

Paint

Epoxy resin/glue

Anything that requires mixing really
This mixing drill is more than just a mixer as it can be used to drill holes in wood, steel, concrete and dense materials with optimal operator comfort.
The DS4012 is variable speed for improved mixing and drilling performance so you can set the speed easily by simply adjusting the pressure on the trigger. No dials to twiddle with like some other mixing drills.
It's an ideal mixing solution for those of us who mix our own product on site. Dry wall mud, paint, plaster, real tile mud or thick bed mortar and of course thinset – the Makita DS4012 mixes it easily and comfortably.
Any variety of materials can be mixed thanks to the powerful 8.5 AMP motor that changes gears depending on the speed and weight of material being mixed. It won't go full speed when you're mixing a thick mixture of deck mud for instance, but engage a lower gear and provide enough torque to mix the stuff whilst protecting the motor from overheating.
I bet you've burned out an electric drill before. You may have even used a cordless drill to mix stuff with in the past. Sure, the battery would keep up with the abuse but the tiny motor was simply not built to handle such torque and resistance pushing back against it.
The DS4012 won't do that. This is the real deal.
Makita DS4011 VS. Makita DS4012
If you are an eagle-eyed buyer, you may have noticed that there is also a Makita DS4011 available and it's cheaper than the DS4012 by about $10 (depending where you look.)
So what's the difference between the DS4011 and the DS4012?
The DS4012 is variable speed with a lock-on button built into the handle and a reverse switch. The DS4011 is one-speed with a rocker switch that enable forwards and backwards operation by simply pressing up or down.
Cosmetically, they are extremely similar and their specification sheets are near identical as well.
Makita designed the DS4011 with industrial drilling and mixing applications in mind. So for that niche, I guess it would do the job it's designed for. I wouldn't recommend a fixed-speed mixing drill for domestic and commercial mixing purposes however since most of our products come in powder form that get mixed with water.
Slamming that mix at full speed (600 rpm) would create a mess in the area we're working in and also fail to mix the product at the speeds the manufacturer recommends. (Different products require different speeds to prevent adding too much air to the mix.)
So which one is right for you?
Get the DS4012 and enjoy the benefits of controlling your speed. It's one of those items that enables a wide variety of material mixing in one package. Reduced operator fatigue from battling with a hyper-active drill is a neat feature as well.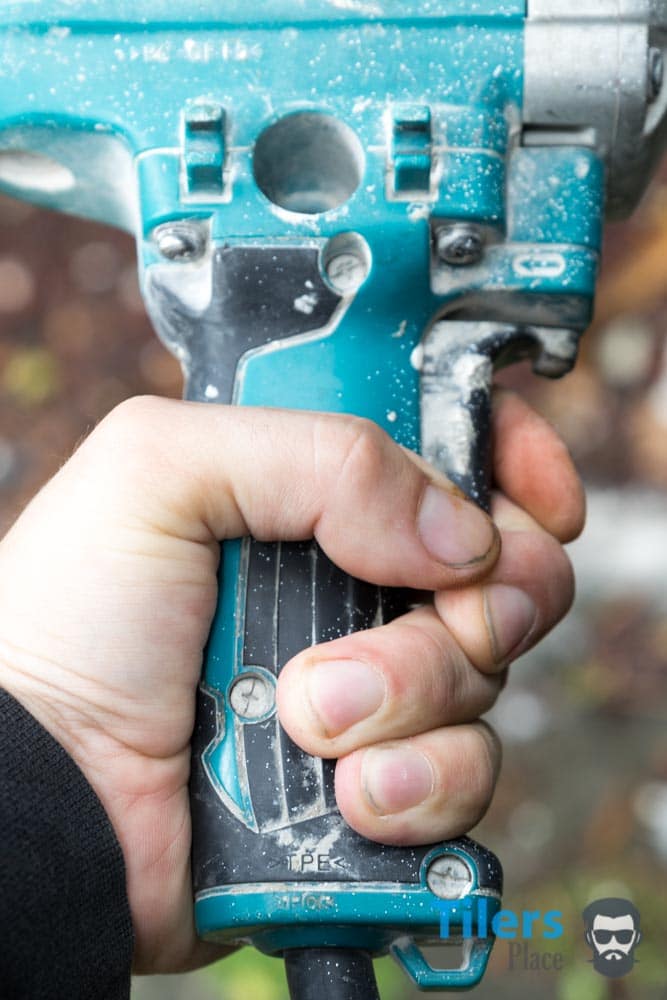 Okay, time to talk like a regular dude and not some salesman.
That talk was simply for Google's benefit. Without mentioning the cliche words like "operator convenience", "multi-position operation", or "broad chuck key", I run the risk of this review never showing up in search results.
And if this review never gets showed, how are you ever meant to find an actual review about the product you want to learn more about before buying?
It's how the internet works sadly. And why I need to talk like a robot sometimes.
So, what do I like about the Makita DS4012?
Let's start with everything, and then we'll work our way down from there.
I've owned this thing for over three years now and it's my only thinset mixer drill. As a tiler, every job I do starts with a bucket of tasty thinset mixed to my desired consistency. Depending on the job size, I mix anywhere from 1 to 10+ buckets of product in any given day. When I'm pouring self leveling underlayment, it can jump to 20 or more.
So my Makita mixing drill gets a work out.
It even mixes thick bed mortar sometimes when I only need a small amount. It taxes the hell out of the motor, it runs slowly, but not once does it start smelling of burnt ozone and used prophylactics.
It then gets the cord rolled around it and stuffed back into the truck where it gets smashed by tile cutters in their cases, full buckets of topical waterproofing, ladders and the kitchen sink as I drive like a lunatic back home across pot-holed roads.
It gets used and abused is what I'm trying to say.
In the three years of using it properly, I haven't damaged a single thing on the plastic encrusted Makita mixing drill. It's covered in dust and globes of thinset and No-nails, but under that dirty exterior is still the tough power tool I purchased so long ago before we wore face masks to church and touched door handles without worrying about germs.
I believe the main part of this mixer being so resilient and durable is that it's manufactured in Japan. As you know, a lot of power tools are designed in countries that have a reputation of quality like Germany, Japan, and the United States. However, the manufacture of the tools is then exported to countries with lower labor costs.
Now I don't have scientific proof that a power tool made in Japan is built better with superior parts as opposed to one made in China.
I do have personal experience however. All the Japanese power tools I have ever owned lasted much longer than Chinese built tools. My Ryobi jack hammer from the early 90's is still going. That was built in Japan.
This theory carries over to the DS4012. It's Japanese made with a Japanese chuck. Both a holding up exceptionally well.
The most impressive part is that the carbon brushes are still the original ones. In my previous Makita drill, I replaced them every 6 months or so. Boy, were they a pain to get to as well. I had to take apart the handle, move wires aside and all sorts to get at the things.
In the DS4012, they are mounted on the body, hidden behind two plastic dust caps. 
A flat head screwdriver is all that is required to get at the things. The previous drill required 3 different screwdrivers and a Swiss watchmakers precision and patience to get all the wires back perfectly in position, otherwise the handle wouldn't fit.
The Makita DS4012 was my first foray into D Handle mixing drills and mixing drills in general. I used to look at them and wonder what the weird shape was about, why the oversized handles and the general appearance of a ray gun from Call of Duty Zombies fame.
Nonetheless, when my old Makita bit the dust (literally), I waltzed into my friendly power tool store and put myself at their mercy to provide me with a tool fit for my requirements. 
The wizened lady behind the counter heard me out and showed me the Makita 4012. Plenty of power, easy to access motor brushes, Makita warranty – sweet.
She let me know that the Hitachi mixer (now known as Metabo or Hikoki, depending on where you live) is comparable in price and specs but doesn't have variable speed. 
No thanks.
The Makita it was and the price wasn't eye watering either. 
(I did later review a couple other drills in my best mixing drill review but regardless, I'm still in love with my DS4012 for daily work.)
The next day I had my first go with the D handle wonder and it took about 5 seconds to get used to the thing and see the benefits. The D handle is really for drilling anyway. The idea is you hold onto it with one hand and if the drill bit bites into the material, you won't break your wrist – the D handle will rotate and absorb the twisting action. Saving you a trip to the E.R and a hefty bill.
For mixing, you'll mostly be using the giant handle as it's mounted directly opposite the main handle where you control the mixing drill. This provides a strong grip on the machine while mixing the thickest of goo. To cite the brochure, it really is a "well-balanced design that allows optimum mixing performance."
Tasty.
The chuck is the traditional thick shiny metal type that needs a board chuck key to tighten and the ability to fit drills up to 13mm (1/2″) in size. That's pretty standard now. What isn't standard is the insane positive bit retention. I can honestly say that I don't remember ever tightening the chuck.
It simply never gets loose.
It chomps down on that mixing paddle like a bulldog and it won't let go for years on end. It's ridiculous how good it is.
Makita DS4012 Disadvantages
According to the laws of the universe, every review requires a negatives section. Otherwise, the reader will believe the review is biased and is simply a paid-for advertisement by the manufacturer.
Well I'm sad to say but Makita has no idea this site exists, nor does it care or ever will. I paid for this mixing drill with my own money I earned from my profession and this review is just a side benefit of owning it.
Nonetheless, I'll say something negative about it to appease your suspicions but truth be told, it's minor.
Motor Speed
0-600 RPM is more than decent for mixing everything but if you mix something with a large mixing drill like those unbranded two handed things you see online, then you notice the lack of the extra 200 rpm's that those things are packing.
Their mixing paddles are also more hardcore and whilst they are harder to clean, really do mix up a bucket of thinset faster.
So that's my negatives about the DS4012.
It's really a trade off anyway. Because I much prefer the lighter weight of it and the easy adjustment of speed in comparison to the bigger mixer drills. Cleaning those spiral paddles isn't fun either. Thinset sticks to it like flies on a rib roast.
Alternatives to the DS4012
There are some notable alternatives to the DS4012 that I can mention in case you want to dig further. 
Bosch GBM9-16
The Bosch GBM9-16 is a notable competitor to the DS4012 and comes with a few distinct key features that the Makita lacks.
First of all, it has a stupidly long cord at over 8 feet which gives it a degree of portability that the Makita lacks.
It also has a monstrous 5/8-Inch (16mm) chuck that enables it to fit bigger drill bits into it's hungry maw.
To facilitate drilling with such large drills bits, the Bosch GBM9-16 also has a more powerful motor and faster RPM's over the Makita. It packs a 9 AMP motor and 0-700 RPM motor speed. 
More points to the Bosch. 
It's also cheaper by about $20-30, depending on where you buy.
Disadvantages? Its heavier at 6.6 lbs in comparison to 6.2 and it lacks a lock-on feature. Meaning that when you're mixing, you'll need to hold that button the entire time.
To be honest, I'd happily use the Bosch as my daily mixing drill, maybe I'll pick one up for a long term review.
If the extra power and chuck size suits your work requirements, that'd be the go.
DEWALT DCD130B
If the key feature you need in your mixer is cordless ability, then the Dewalt DCB130B is the latest and greatest. 
Using DeWalt's fantastic battery system, it has double the power of a traditional corded drill whilst remaining fully cordless. It doubles as a drill as well with a standard 1/2" (13mm) chuck so the scope of applications this guy can handle on the worksite is limited only to your imagination. 
Variable speed, 0-600 RPM motor speed and an electronic clutch (e-clutch®) to prevent injury in case the bit binds up. It's really quite a marvel of technology that's only limited to how many batteries you own.
If you've already invested into DeWalt cordless tools and have the batteries, I'd strongly recommend the DCD130B. Everyone that uses it is singing it's praises, truly a well built and developed power tool.
Main disadvantages would be the weight of 7.7 lbs and the price. It's the most expensive drill I've looked at but not by much. Cordless tools are generally more expensive now and the DeWalt is also the most modern product here.
The Makita DS4012 is an affordable but professional grade mixing drill that has been working flawlessly for over 3 years. As a product that's been used professionally on a daily basis, its a great indicator that this tool is built properly and made to last.
It mixes up anything from paint to cement without damage to it's motor and just keeps on asking for more.
I would have loved it to mix abit faster at 700 RPM but 600RPM is still more than enough for daily use without slowing down the workflow.
I'm very pleased with my purchase of the Makita and wouldn't hesitate to purchase one again if it ever got stolen or possibly broke from misuse.
Bosch's GBM9-16 and DeWalt's DCD130B are tempting alternatives however and I will heavily consider them the next time I'm in the market for a mixer drill.
Whichever one you chose from this review, I can wholeheartedly say you won't be disappointed!
Thanks for reading and happy mixing.
Search Engine Experiment (Ignore This)
You've reached the end of the review my friend. The following is just a test I am doing to see how search engines like it.
Continue Ignoring Please
Buzzwords For Googles Sake
quality steel
job site conditions
unused condition
Mechanical 2-speed transmission
unused condition
metal variable 2-speed transmission
switch for ease
soft grip
switch for ease
Life and Home
solution for drywalls
degree handle
Spade Handle
BOSCH Bosch
Bosch GMB9-16
critical reviews
consumers reviews
products features
3pcs Concrete Bit – HAHD075
concrete in buckets
Portable Electric Concrete Cement Plaster Grout
time to time
time per charge
star protection computer
identical item
exact item
operator fatigue
shipping service
shipping charges
Speed Mixer
Edward Tools Paddle Mixer
Deluxe Mixer
Edward Tools Paint and Mud Mixer
power mixers
faster drilling
Speed for Drilling
drilling performance Specifications
ange of drilling
Amazon Makita-built motor
torque motor
Amazon Makita-built motor
makita-built 4-pole motor
electronically-controlled bl brushless motor
motor brushes
dense materials
type of material
stiffer materials
indicator view deal
charge view deal
Sds-Plus Bits, Tool Only view deal
design view deal
deal view deal
application view deal
design view deal
Sds-Plus Bits, Tool Only view deal
deal view deal
application view deal
battery design
battery Hammer driver-drill and impact driver
18v lxt lithium-ion 4.0ah battery bl1840b
Li-ion Batteries
2.0Ah Lithium-ion Battery
Li-ion Batteries
battery charge level
Battery & Charger
battery energy
M-D Building Products
Product Warranty
PRODUCT ELIGIBILITY
portable products
Rubberized grip
construction for durability
duty industrial
Variable Speed for Improved Mixing and Drilling Performance
features for material
lever for operator
plumbing applications
Convenience features
smooth operation
breakdown by star
star rating
solution for drywallers
simple average
Brushless Hammer Drill
Product description
Hammer & Drill & Screwdriver
product info
Item model
Delivery times
drywall compound
lbs Torque
DEWALT Electric Drill