Last Updated on
Tilers Place is reader-supported. When you buy through links on this site, I may earn an affiliate commission on qualifying purchases.
The Best Multi-Tool Blades For Grout Removal
Looking for the fastest way to remove grout?
We look at the best multi-tool blades for grout removal available for 2019.
Coupled with your favorite oscillating multi-tool, you'll have the best grout removal tool ever!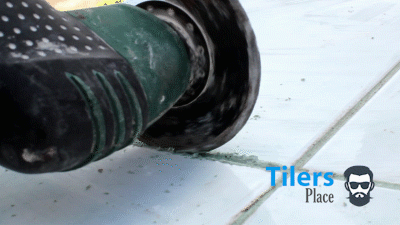 Below are my favorite grout removal blades for oscillating multi-tools.
If you own a Bosch or Fein oscillating multi-tool that feature the starlock blade system then your first choice should be the Bosch grout removal blades.
If you own a DeWalt or other brand oscillating multi-tool, then the DeWalt grout removal blades can be your first choice.
Remember that adapters are now common and allow the fitment of various brands of blades across all makes and models of oscillating multi-tools.
So this means that you can buy whichever grout removal blade you like to suit your application and you won't need to stick to just the one brand.
It's always best to use due diligence however so check the buying page in case there are notable exceptions.
Just click on the image of the grout removal blade you like to get more information and the latest price.
The Best Multi-Tool Blades For Grout Removal Are:
The Most versatile Multi-Tool Blade For Grout Removal 
Bosch OSC212HG 2-1/2-inch Hybrid Grout and Tile Blade
The Ultimate Solution for Replacing A Cracked Tile!
Remove the old grout and grind away the old mortar with just one blade!
Bosch knows a thing or two about oscillating multi-tools, with their partnership with the original creator of the oscillating multi-tool; Fein, they are able to create some true marvels in this field.
They also understand that grout removal is no easy project due to the limited access near walls and the toughness of grout itself.
Their solution to this is the OSC212HG Hybrid Grout Removal Blade, Bosch's best grout removal blade ever.
Featuring a teardrop design that allows access to corners for both grout removal and thinset/mortar removal, you can tackle most projects with just the one blade.
Toughened carbide also ensures a strong and long lasting grout removal blade.
Take a look at the picture to understand the true diversity of this blade and how it works.
On the front side, you have the traditional grout removing carbide grit to access any grout lines that you need to remove.
Once you have removed all the old grout and extracted the old tile, you can use the flat side of the grout removal blade as a rasp to grind away the old mortar/thinset to make way for the fresh thinset.
Not only that, the Bosch OSC212HG features a teardrop design that allows access right up against walls.
It is truly a do-it-all grout removal blade for your oscillating multi-tool and a true asset to your power tool kit.
Combined with a quality oscillating multi-tool, you truly have the best removing grout tool available in 2019. 
There is one elephant in the room that needs to be addressed before the party continues though, so let's take a look at it now.
The main drawback of the Bosch OSC212HG is that it is optimised for Bosch's and Fein's Starlock Quick Release system, meaning that you lose the ability to quick release this blade on other oscillating multi-tools like the DeWalt DCS355 commonly featured on Tilersplace.com.
The Starlock oscillating multi-tool blades feature a fully enclosed body while other quick release systems have a cut out that allows the blades to be slid in and out of the multi-tools accessory plate.
This isn't too major of a problem however as most oscillating multi-tools come with a hex/Allen key that allows mounting of blades with the simple release of a bolt. 
This was the original method of mounting various multi-tool blades onto the tool so it's not a major problem because you still have the ability to use older and various brands of accessories for your oscillating multi-tool.
Additionally, due to the OSC212HG's previously mentioned design, you'll find you won't need to be changing blades as often anyway. As the one blade should do all the work required in a grout removal/tile replacement project.
In terms of; "will the Bosch OSC212HG fit my oscillating multi-tool?", you will find that most oscillating multi-tools now come with a universal adapter included in their packaging.
This will ensure that no matter what pattern your oscillating multi-tool has, the adapter should make the Bosch and Fein branded blades fit without a problem.
Which Grout Removal Blade should I buy?
I use this grout removal blade a lot for tile replacement projects as I can do the whole entire job with just the one blade.
This saves time switching blades over and keeps my work area tidy without a plethora of bits and pieces lying around.
For regrouting jobs, I like to use the previously mentioned DeWalt grout removing blades as the fastcut carbide blades make short work of any grout I throw at them and the design of their teeth ensures a quick clean-up of any grout residue built up on them.
If you have the budget, I would suggest you purchase one or two of the grout removal blades I mentioned above alongside this Bosch OSC212HG. 
You will then have the most versatile grout removing kit for your oscillating multi-tool and you'll be ready to take on any grout removal project, no matter the grout type or tile gap size. 
The link to the Bosch OSC212HG is below↓
Buying Tip!
If you are regrouting a large area or removing sanded/Epoxy grout then purchase two blades.
Transforming your oscillating multi-tool into the best grout removal tool.
So you got your trusty old oscillating multi-tool or maybe even purchased a new one, and are wanting to use it as a grout removal tool.
Great choice!
 I love using an oscillating multi-tool (multipurpose tool) for grout removal and I have declared it the best grout removal tool many times before as it provides great user control, superior grout removal speed and best of all; is easy to use.
Of course, the oscillating multi-tool itself won't remove old tile grout on its own.
You need a good quality grout removal blade attached to it before it will even begin to scratch the surface of your old grout.
Here are a few tips on selecting your next grout removal blade to ensure your investment works harder than you do and you get the job done in no time.
1 – Choose A Reputable Brand
This may seem obvious but the abundance of cheap unbranded or knock-off grout removal blades will make anyone tempted to spend a few bucks less on a cheapie
Truth is that you get what you pay for with grout removal blades as the materials used in the manufacture of the blade reflects the price.
If you want your grout remover blade to last for longer than one job then I recommend buying either Bosch or DeWalt oscillating multi-tool blades.
They are made of the highest quality material and should last you a long time before the carbide or diamond grit wears off down to the metal.
You could buy a cheap grout removal blade if you plan to use it very rarely however with the very low cost of the DeWalt DWA4220 blade, you might as well just buy it and have quality for life.
2 – Make Sure It Will Fit Your Oscillating Multi-Tool.
The last thing you want when your ready to remove some grout is to find out that your grout removal blade won't fit your oscillating multi-tool!
I have had this happen back in the day when multi-tools were a new concept and every manufacturer had their own unique head pattern.
Nowadays, the market has become smart and most brands allow intermixing between blades and tools so this shouldn't catch you out as much.
However, I suggest you read the product page properly and look at the packaging to see what brand of multi-tools support your new grout removal blade.
The grout removing multi-tool blades from Bosch and DeWalt that I have linked offer virtually universal fitment across the various brands of oscillating multi-tools so you should be fine with whichever grout removing blade you choose.
This is made possible by adapter plates that come usually included with your oscillating multi-tool by the manufacturer. 
A further tip!
If you own a DeWalt brand oscillating multi-tool like the ones I recommend then remember the quick attachment head.
They make fitting various blades very easy, however, this only works on DeWalt blades as they have the specific cut-out in the rear of the blade to accommodate this.
The Bosch grout removal blades are fully enclosed and follow the Star-lock pattern that Bosch and Fein developed together to make their multi-tool blades inter-changeable.
It's a small thing but needs to be mentioned so you get the most out of the best grout removal tool.
3 – Choose The Right Blade For The Job 
This one is important to remember so you make short work of your next grout removal project.
I talk in-depth about grout removal blades in this article if you want to read more otherwise I'll summarise it here for you.
You need to take note of the shape of the grout removal blades and see if they'll work best for your task.
Wide grout removal blades are ideal for large jobs that require a lot of grout to be removed.
The wide surface area and a large amount of diamond/carbide grit on the blade itself mean that you will get a lot more life out of your blade.
You can position your multi-tool in different positions throughout the grout removal process to use all the surface of your new blade.
Besides that, you will also tear through old grout much faster than a narrow blade as there's simply more blade surface making contact with the grout.
Long story short: Big jobs require big blades!
Narrow blades are a MUST for grout removal jobs on the floor.
Just check out the image and you will see what I mean.
While the wide grout removal blades are great for their large jobs, their semi-round design means they can't work near walls or vertical surfaces.
You will begin cutting into the wall before you even get close to the grout that is near it.
The solution?
Remove as much grout as you can with the wide grout remover, then change over to the narrow head blade and finish off any joints near the wall.
This saves you getting in there with a grout saw or knife and you will get a much better result as well.
If you are buying a grout removal blade to replace a tile or two then you can just buy this narrow grout blade.
Of course the drawbacks of this grout removal blade are obvious due to the small surface area working away at the grout.
You will spend more time removing grout but do not let this sway you away from buying one. The versatility and the areas it allows you to work in far outweigh the cons.
That's It!
With those main three points taken into consideration, you should be ready to purchase your next grout removal blade for your oscillating multi-tool.
Just take a moment to read the sales page and you'll be certain to make the right decision.
Now that you have this information fresh in your mind, scroll up and click on the grout removal blade you like the most.
It will take you to the lowest price currently available so you can make your hard earned money go further in your renovation job.
With your new grout removal blade and multi-tool, you have a grout removal tool fit for a King!