Last Updated on
The Best HandHeld Tile Saws – Complete Guide and Comparison
Updated for 2019
* Hitachi CM4SB2 Is Now The Metabo CM4SB2 (Same tool, just under the new name.) 
Looking for a new handheld tile saw?
This full in depth guide is for you, covering all the leading brands and putting them under the microscope.
It's the only guide you'll need when buying your next handheld tile saw.
Click here to jump to the best handheld tile saws information table
Metabo CM4SB2 – Best Hand-held Tile Saw
The Metabo tile saw is a highly versatile and feature-laden hand-held tile saw at a great price. It is also the most modern tile saw and able to be setup for wet cutting. 
I've owned numerous in my professional life and recommend it to all tradesman wanting a versatile and heavy-duty 4″ Saw for tile, stone and concrete.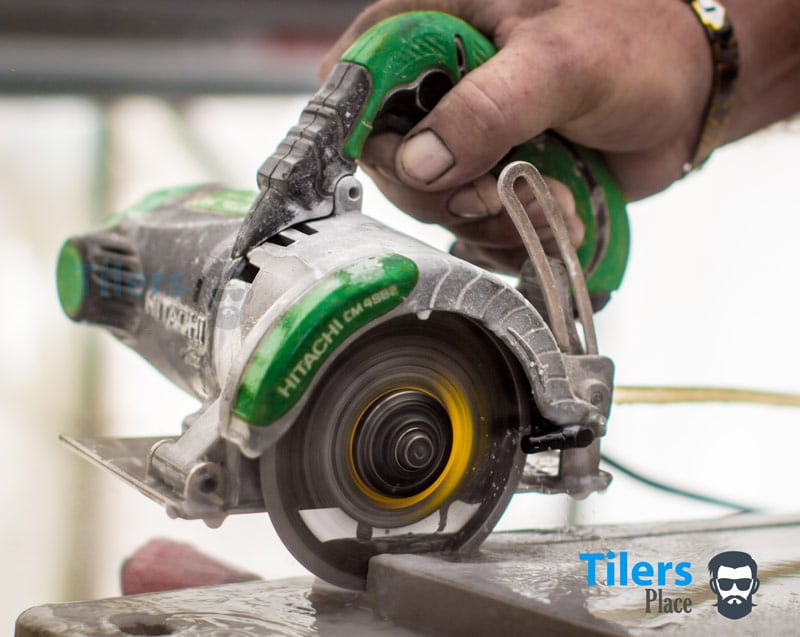 I review the best selling handheld tile saws on the market and give insider information on each one.
Along with pros and cons I give you links to the best deals available online.
Unlike other reviews you will find online I do not announce the winner solely on the fact it is popular or has a massive brand name.
I will give you proper facts about each handheld tile saw and give recommendations on which tile saw is right for you, whether you are a trade professional or a handy DIY-ER.
By the end of this guide you will know which one to buy and know a whole lot more that you never knew about handheld tile saws.
Are you ready to cut through the B.S and reveal the real world facts?
I am!
Let's go!
Handheld Tile Saws – Compare the Best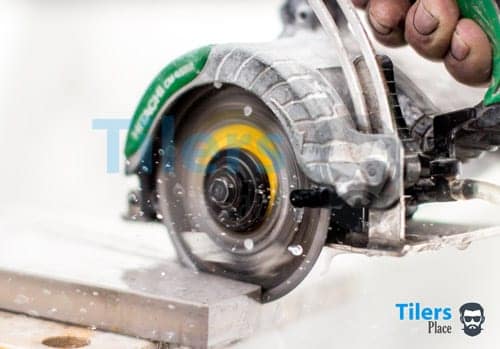 The Best Handheld Tile Saws – Quick Links
Eager to get cutting right away?
Here are the links to the best handheld tile saws. 
Choose your flavor and go for it.
None of these tile saws will let you down.
Introduction to the best handheld tile saws
Handheld tile saws are a mainstay tool for many professionals thanks to their small size, massive power and unbeatable portability.
For such a compact machine, they offer the same level of cutting power akin to that of a full blown tile table saw alongside more stability and versatility over the ever-popular angle grinder.
With various models equipped for either dustless cutting or wet cutting, a hand held masonry and tile saw is truly a power tool that is worth investing in.
Due to their popularity there is a market flooded with plenty of different models. From the cheap and nasty no brand tile saws best left in the trash to the top of the line professional tools.
The great news is you do not need to spend a fortune to get the best hand held tile saw that will last you years, for what they offer you, they are darn cheap and if you look after them, they'll go for years without any issues. For the versatility the electric saw brings you, it is a true bargain and essential bit of kit in the tool box of any one working with masonry, kitchen counters and tiles.
It is much quicker to setup and use over a table tile saw and most also provide wet cutting so it's almost a one stop shop for your cutting requirements.
The biggest drawback I can pin point with a handheld tile saw is that it requires practice and discipline to get a perfect result. You won't be cutting perfectly straight lines on your first go, it's best to practice on scrap material or on cuts that won't be visible.
Don't let this scare you away from getting one though, just be sure to practice with it before making any money-maker cuts. I use one of these tile saws on a daily basis and I feel I know my way around one pretty well, within time, so will you.
If you have experience cutting with an angle grinder, then cutting with a hand held tile saw should be easy and come naturally, the principles are mostly the same.
If you use a tool for over 20 years it's safe to say your an expert on it, so you can be rest assured I will be giving you authentic advice on these tile saws.
My review aims to show the best and worst features of the best selling and most popular handheld tile saws available on the market today and rank them on a basis of all rounder versatility.
The winner needs to be reliable, well designed, versatile and suited for daily use for a professional. All while being affordable.
Tough criteria indeed, that is why I selected the most popular masonry saws on the market in an aim to find the champion.
They are all professional grade, everyday work horses designed for the toughest of duty cycles, you won't find any enthusiast saws here.
Whichever one you decide to buy you can be assured it will keep up with whatever you throw at it.
And more.
Let's begin!
Time to find the best tile saw!
Best Masonry And Tile Saws
If you want to jump straight to the best handheld tile saws for cutting tiles and many other materials, here is a quick list of my best tile saws.
Tile saws are also commonly known as:
Masonry Saw

Electric Tile Cutter

Wet Tile Cutter

Handheld tile saw.

Wet Saw

Portable tile saw

Dry Cut Masonry Saw
If you refer to this machine as any of those names then my list applies to you as they are one and the same thing.
Just apply the type of blade suited for cutting your material.
Click on the links for more info: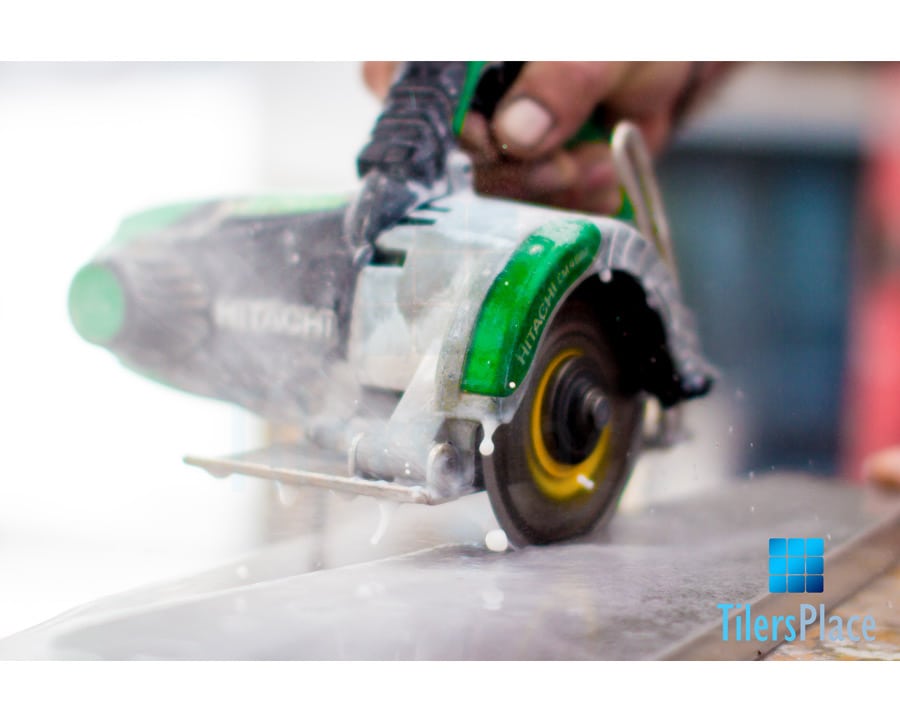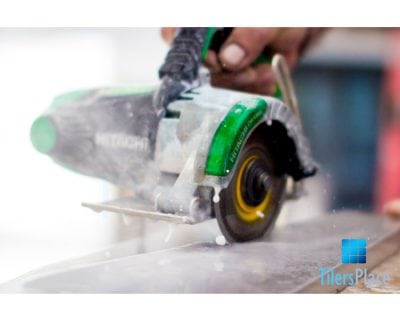 The Quest to Find The Best Tile Saw
Did you ever have one of those days that you wished you never got out of bed?
Did you step out into that great wild world beyond your door to earn some bread but it seemed every move you made just kept making life more complicated?
Yeah you know the ones, those days.
I just had one of those days and now find myself in a dilemma as I lost my most essential tool to a freak accident and now require a new one ASAP! Like, I need one today, yesterday if possible.
If I had just stayed in my warm bed with my equally warm wife I could have avoided all this hassle and my day could have had a happy ending. Take that in whichever way you want, I know how your mind works.
Instead, I went to work like a good boy and by lunchtime my tile saw was in the bottom of a bucket full of water, hissing and frying its last seconds.
How did it get down there you may ask?
Well put simply, a busy work site with too many contractors working at once is not a good combination for anything. Let alone tools left on a workbench, especially masonry tile saws equipped for wet cutting.
A careless painter with a ladder bigger than his brains waddled past and like a slapstick comedy the end of the ladder connected with my Hitachi tile saw.
Pushing it cleanly into my bucket of water I had for the water pump to work in.
I knew my saw was in trouble when the instant all the work lamps went out and the music from the work site radios stopped.
After the fuse breakers were reset and the masonry saw disconnected from any power I quickly discovered my trusty saw just bit a watery death.
The insides smelt like burnt toast and ozone and were equally as black. So now I am on the hunt for a new hand held tile saw to replace my old Hitachi and since the painter is paying for it; I can choose whichever one I want.
Like a kid in a candy store.
The Conditions of this Review
For this review I will compare four of the most popular handheld tile saws available on the market today in hopes of finding the best one. You may be in the market for a new tile saw whether your old one is lacking the performance it once had or you require such a tool.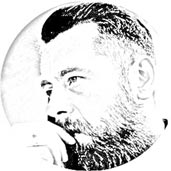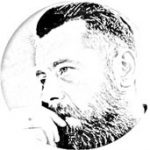 Hello fellow tilers, stone masons and DIYers to my review.
My name is Carl and I have been working professionally as a tiler for the last 20 years.
In all of those many years I have been working with a handheld tile saw with every job requiring a cut or a thousand on this incredibly versatile tool. It's my go-to electric tile cutter and one of the most essential tiling tools I own.
I hope by the end of this review you will be armed with all the information you require and will be ready to purchase your next handheld tile saw.
Let's begin!
---
In 4th Place – Makita 4100NH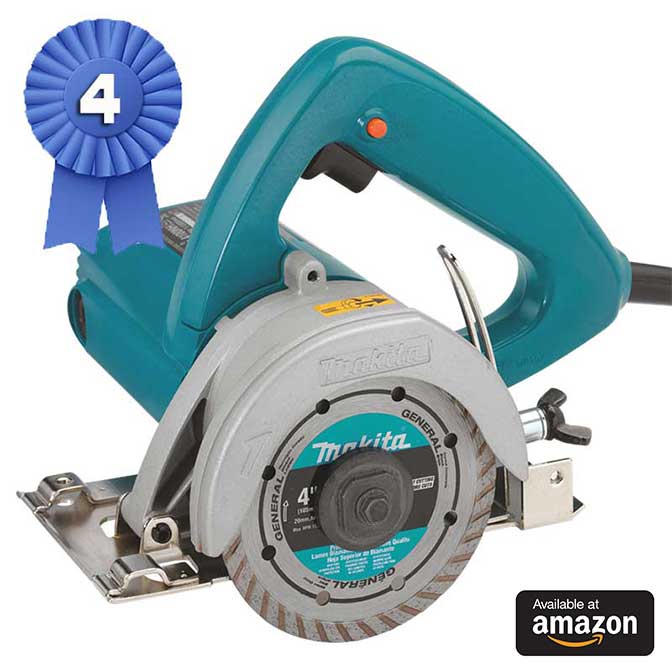 Quick Specs:
Motor power: 12 Amps Advertised (9.6 Amps written on Tool) (1,500 watts)
Max RPM: 14,500rpm
Weight: 6.5lbs (2.9kg)
Depth Gauge Included: Yes
Blade Included: Yes
Wet Cutting: No.
Pros:
Highest rpm out of all saws being compared.

Most affordable saw out of all being compared.

Has a dustless varient called the Makita 4100KB which offers a dust bag and shroud to provide effective dustless dry cutting. You can even rig it up to your shop vac. View the Makita 4100KB here.
Cons:
One of the heaviest in the group being compared.

Lack of a water system disqualifies this saw from making any wet cuts natively. In a test for the most versatile masonry tile saw, this is a major let down.

Lock-Off switch is very annoying for a full days work. It has a clumsy mechanism that does not work fluidly and often times is hard to push in.
Who Should Use This Saw: 
Brick Layers

Casual Users

DIYers

Landscapers

Contractors working with Cement Board

Tilers requiring an inexpensive back up saw
Taking a Closer Look at the Makita 4100NH
On paper the Makita 4100NH looks to be a great competitor in this review and it certainly has a few points going for it.
Out of the four it has the 3rd lowest amp output motor at 9.6amps but it is biting on the heels of the DeWalt DWC860W at 10.8 amps.
The motor however offers the highest rpm at 14,500, it's other Makita brother; the 4101RH follows behind in second place with at max rpm of 13,800.
The added rpm will enable you to make quicker cuts over a saw with a lower rpm motor however it is important you remember to check the max rpm rating of the saw blades you attach to the saw.
All blades have a maximum rpm rating they are capable of handling and going over that may lead to the blade being over stressed and causing it to shatter.
A tile saw shattering is like a grenade going off with shrapnel flying everywhere, not even a full face mask can protect you then. So it is imperative you remember this.
The Best Parts I like About The 4100NH
What I liked most about the 4100NH is it's easily accessed brushes. Located at the end of the saw, you are just a flat head screw driver away from replacing the brushes when they have been used up. Other saws like the Hitachi require removal of the bottom casing to access the brushes while the Makita has them right there.
This feature is definitely a plus when your saw requires a quick service and time is of the essence. I have had brushes give out on me during the busiest of days so it is definitely something to consider.
The price is also very competitive for a professional brand saw. For it's capability as a workhorse the price is very affordable and could readily be picked up by any contractor needing such a tool.
Unfortunately these features are not enough for me to consider purchasing the Makita 4100NH and why it ranked last in my comparison.
Remember this is a test for the best tile saw, so I aimed it for sole use as a tool for tilers. However it has great capability to be used in other trades.
The Parts That Let Down The 4100NH
The major flaw with this masonry tile saw is it's lack of wet cutting ability.
Considering all the saws I am comparing are all within the same price range bar the other Makita, I do not see why the 4100NH didn't come with the valve and plumbing to equip it for wet cutting.
Also the safety off toggle switch for the thumb is of cheaper quality when compared to the others. I have had many instances where it was difficult to push in the button and required multiple attempts, while this isn't a game breaker for most, it is definitely an extra annoyance in a stressful day.
Styling and Design of The 4100NH
While styling is a subjective thing where beauty is in the eye of the beholder, I do not particularly like this design. It is very simple with no real design elements or flair. Just a plain blue colored plastic all throughout.
The other Makita on review at least has ribbing on the handle that adds grip and visual interest and the Hitachi is just the king of cool in this comparison. Dramatic contrast, modern and aggressive styling and plenty of rubber grips everywhere.
This design makes me think of Makita's cheaper entry level tools usually featured in a green colour. While it may be a professional tool, the styling says casual DIYER.
Quick Summary of The 4100NH
While I believe this masonry tile saw may not be the ideal saw for a Tiler, it will be right at home for a landscaper cutting concrete pavers and possibly a granite kitchen installer along with all the others listed above.
It has all the grunt required to cut such materials and the lack of wet cutting shouldn't be missed when used in this application. The operator always can have an assistant spray water onto the material during cutting.
For the price it is a great saw and can have life as a professional's tool. It being fourth place in this comparison does not make it a loser in any regard. It is just outranked by the others simply due to it's overall versatility.
Do you think the Makita 4100NH is the right saw for you? You can get yours here before you begin your next project.
 Quick Look – Makita 4100KB Dry Masonry Saw with Dust Extraction
It has recently come to my attention that there is a sub-model of this masonry saw, designed especially for dustless cutting of masonry and tiles in sensitive environments.
The 4100KB is an upgraded and revised model to the 4100NH which I reviewed however it also has a purpose built dust shroud and extraction nozzle that you can either fit a dust bag (included) or simply plug in your shop vac for the best dust extraction possible.
For cutting in residential homes or any place that you can't make a mess with all that flying dust, then this dustless masonry saw is definitely the one to go for. With more stability and power over an angle grinder, this will be a game changer for anyone that cuts masonry on site.
View the Makita 4100KB dustless masonry saw here. 
---
In 3rd Place – DeWalt DWC860W
Quick Specs:
Motor power: 10.8 Amps (1188 watts)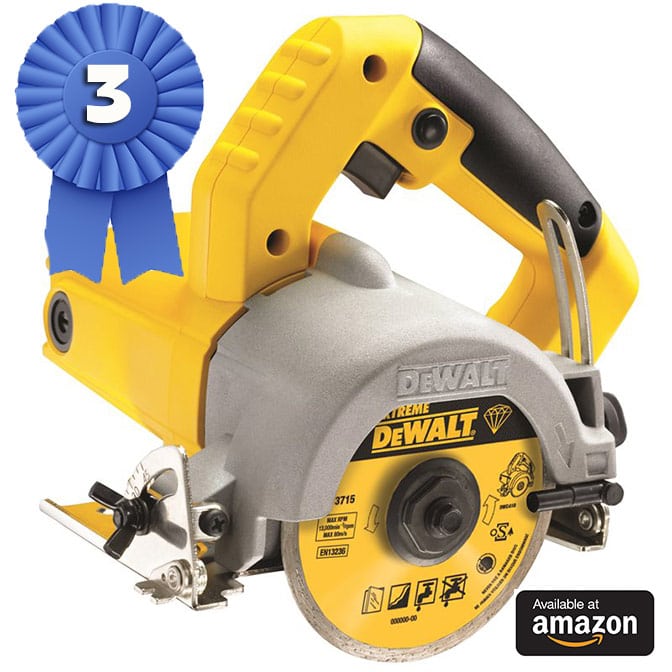 Max RPM: 13,000 rpm
Weight: 6.6lbs (3.0kg)
Depth Gauge Included: Yes
Blade Included: Yes
Wet Cutting: Yes.
Pros:
Cheapest wet cutting saw in this comparison.

Additional bevel feature for cuts up to 45 Degrees – Only saw to feature this.

Easy access to brushes
Cons:
Blade supplied is inadequate for cutting tile.

Sub standard water valve unable to fully stop water

Bad water fittings.

The heaviest in the group being compared.
Who Should Use This Saw: 
Brick Layers

Casual Users

DIYers

Contractors working with Cement Board

Tilers requiring a wet cutting back up saw
Taking a Closer Look at the DeWalt DWC860W
I have many DeWalt power tools in my arsenal for daily work and home duties. From their excellent 18volt XRP battery system which runs cordless drills to a work site radio, circular saw and others, so when I picked this saw up I was expecting the same amount of professional design and capability. 
After all, their a home grown American company that started manufacturing tools for good folks since 1924, they definitely know a thing or two about making a tool right?
Well yes and no when it comes to the DeWalt DWC860W
Unfortunately it seems Dewalt took a shortcut in Research and Development and put a semi-professional product out for sale. From what I can tell this is DeWalt's first foray into the tile saw and they may have a few things to learn.
While it has a decent modern motor with a high RPM and a nice cut adjustment system, everything else is marred by cheap design.
Let's start with the negative first and work our way up to the cream. Or if your a steak man, let's eat the veges and mash first, then save the meat for last.
The Parts That Let Down The DWC860W
Before we begin I would like to point out this handheld tile saw WON a few tile saw comparison reviews.
I am at a loss as to how the reviewers came to this conclusion.
As a tradesman working with such tools daily, I can't help but think they never even saw the handheld tile saws let alone actually used one.
Instances like that were what made me make this website in the first place.
Let's get back to the DWC860W and it's faults that were omitted in other online reviews.
The pressure switch is very small compared to others and a lack of rubber shielding allows dust to enter the switch mechanism during use.
Over time this dust will solidify to a rock that will make the switch hard to operate or jam it completely.
If you are working with concrete pavers this is a particular concern as your cuts create the thickest cloud of dust.
The arbor size is usually the same on all masonry tile saws at ¾ inches however  DeWalt has used a different size that may cause trouble finding a blade for it if an arbor adapter isn't included.
The inadequate wet cutting system!
I believe the wet cutting system is the biggest let down of the saw and in fairness it should really place this saw at 4th place simply to the fact it is so poorly built.
Cheap plastic abounds a system that requires it to be water tight. Which this saw unfortunately isn't.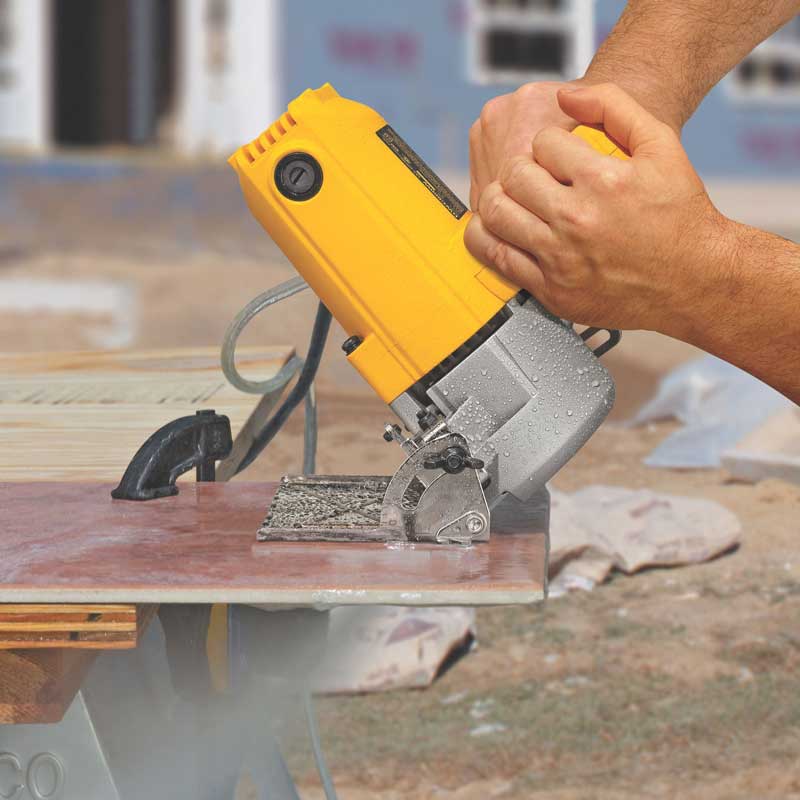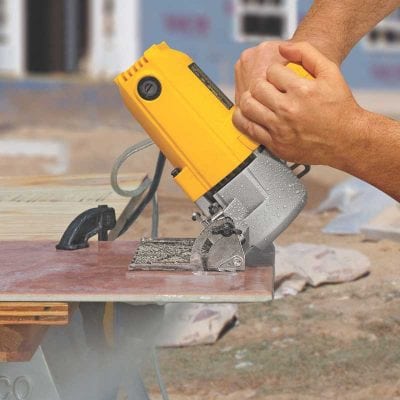 You can attempt to close the water flow completely at the saw but even at the tightest setting water still flows. I do not see the point in including a tap if it doesn't even work.
So in a practical stand point, every time you go to cut your material you need to walk over to the water supply line and turn on the water then run back to where the saw is before it drenches itself.
Then after making the cut you need to shut off the water again. I think you can see the problem here.
In a normal work day where you can easily make over fifty cuts or more, I cannot live with such a time waste and hassle. Also the water jet doesn't supply adequate water onto the blade, this is a concern when cutting particularly dense materials.
The plastic fantastic continues onto the hose fittings which are also plastic and of cheaper quality. For a reputable company this is disappointing to see and hopefully this will be addressed in the next generation of saws.
Phew, that was a lot of veges! Broccoli and brussel sprouts even. Now that we chowed down the worst part, let's enjoy our prime steak.
The Best Parts I like About The DWC860W
On a positive note I enjoyed the inclusion of a Lock-On button that will keep the saw operating without pressing the switch continuously.
I love this feature as on those nightmare days where I am cutting for long periods of time, I find my hand starts to loose strength holding that button for extended periods.
Many times I have longed for this feature and DeWalt have heard my prayers.
DeWalt have also made the brushes easy to access on the exposed outside of the saw. This results in less down time when the brushes wear out.
 Due to this being a wet saw I hope the threads are water tight to keep the internal magneto dry in case any water splashes near that area. Considering the quality of the water feed system, it very well may happen.
The saw also features a beveling cutting system which may prove very handy for miter cutting in a wide range of materials. If you require a masonry saw with this capability, you are in luck!
Quick Summary of The DWC860W
This tool could have a life as a tilers saw with it's easy access brushes and Lock-On button however if you need to do a lot of wet cutting I would give this one a pass.
Nice overall design and styling cues give this masonry tile saw a professional look but a few dollars skipped in R&D hindered this saw from being a proper daily saw in my eyes.
Pricing is reasonable and could suit a more casual user or someone working with concrete pavers or sheeting. The beveling system is a unique feature on this saw and could be a winner for some.
Do you think the DeWalt DWC860W is the right saw for you? You can get it here in time for your next project.
---
In 2nd Place – Makita 4101RH
Quick Specs:
Motor power: 7.9AMPs (1,050 watts)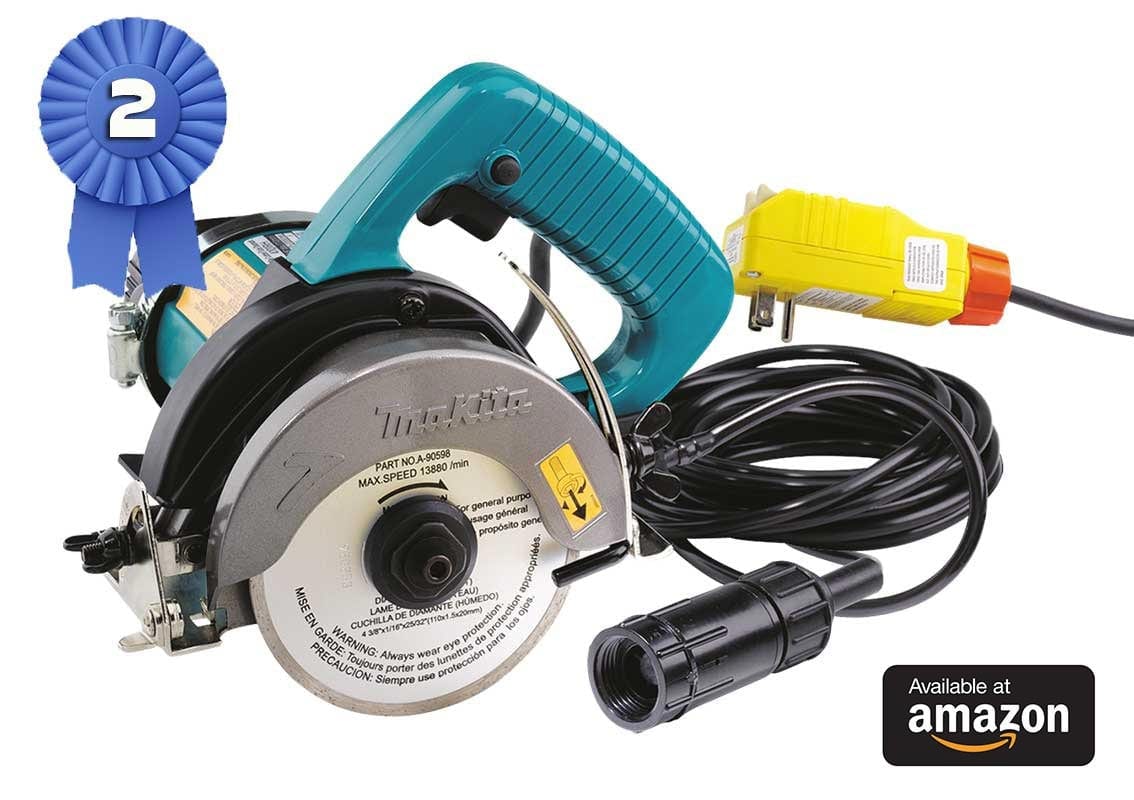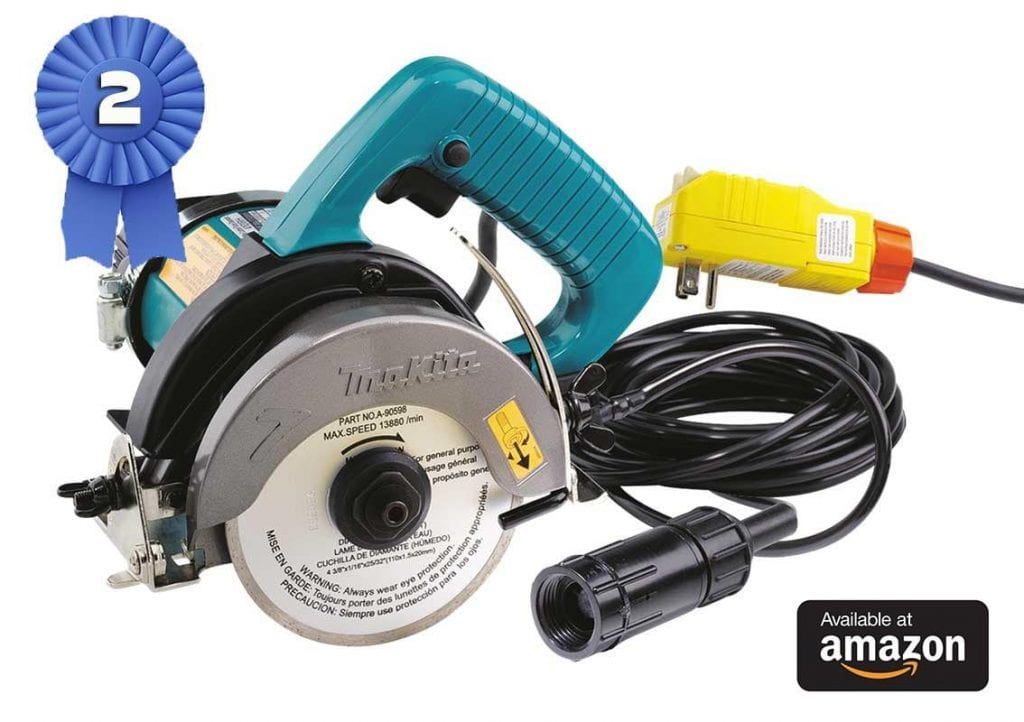 Max RPM: 13,800rpm
Weight: 6.5lbs (2.9kg)
Depth Gauge Included: Yes
Blade Included: Yes
Wet Cutting: Yes.
Pros:
Great Build Quality

Purpose built back cover to prevent water ingress

GFCI Plug built into cable

Great wet cutting setup
Cons:
Nearly double the price of others in comparison

Weakest motor in the comparison group
Who Should Use This Saw: 
Brick Layers

Kitchen Installers

Stone Masons

Tilers requiring a dependable work horse with superior wet cutting ability
Taking a Closer Look at the Makita 4101RH
This is more of what I expect from a power tool giant like Makita. The 4101RH is a well-engineered piece of brilliance from the Japanese giant.
Makita firmly believes in the philosophy that "if it ain't broke, don't fix it" as I owned this exact saw back in the 90's!
It may have had a few updates over the years but on the outside it looks identical to my old Maki' from the distant days gone past.
I surely do not remember the inclusion of a ground fault interrupter on the power cord back when I had one. This is a very commendable move on Makita's part as they are addressing the extreme safety risk that is water and electricity in close proximity to each other.
Let's address the best bits of this all round great saw.
The Best Parts I like About The 4101RH
The Makita 4101RH has the best safety features I have seen on any saw simply due to the fact Makita is addressing the issue of water and electricity with proper concern.
Since this is a tile masonry saw with wet cutting capabilities, Makita understands that water may go where it shouldn't and cause a massive and life threatening problem.
Hence with the inclusion or the GFCI or a RCD as it's known in other parts of the world, if the unforeseen may happen and electricity flows somewhere where it shouldn't (up your arm for example) then the switch will trip and instantly shut off any electricity coming to the saw.
 Effectively saving your life or a sever burn.
Hat's off to you Makita.
While I have seen this feature on other saws, I like its particular inclusion on a specified wet cutting saw. Makita doesn't stop there with the water safety as they have also included a specially designed cover for the rear motor to prevent water ingress.
The rear of the saw is particularly susceptible to water as its main armature coil is located near the back air vents. This cover protects the heart of the saw in case of stray water finding its way there. Considering that's where the electricity is generated, it's a wise decision to have it there.
This design feature has been around since the 90's.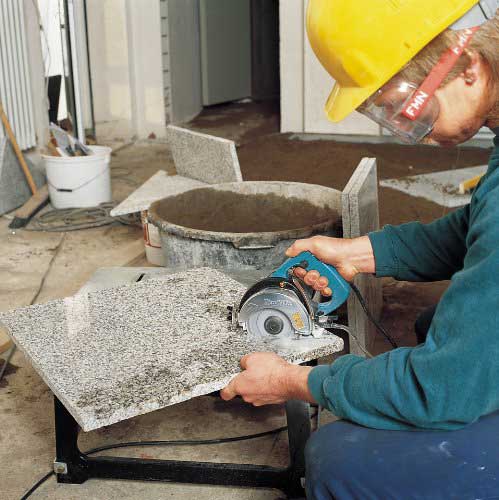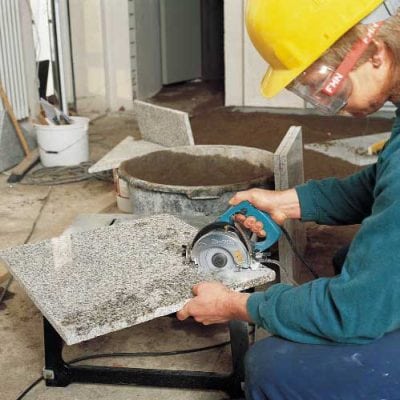 I always found it humorous that the cover was held in place by a hose clamp, it almost looks haggard like a zip tie holding your car bumper on.
Obviously the system works as it has remained a feature over the decades so I am no one to judge it's inclusion.
Let's dive right into the cream shall we, and talk about that wet cutting setup.
Best wet cutting setup!
Apart from safety the Makita also features a brilliant water system included with the tile saw.
Along with all the regular fittings that are made of quality metal materials on the saw itself, Makita also throws in 15 feet (4.5 metres) of water tubing, a water pressure regulator and a water valve.
No one competitor receives all these extras and this truly makes the Makita the superior in wet cutting abilities. Having a water pressure regulator should prevent any leakage problems due to excess water pressure coming from the supply and ensure you get the water only where you need it.
Of course all good things must come to an end and all that indulging in cream comes at a price.
The Parts That Let Down The 4101RH
All these aforementioned goodies do come at a price as this tile masonry saw is the most expensive in my test by a wide margin.
For the price of this saw you could purchase two of the previously tested Makita 4100NH's (according to prices at time of comparison).
However while the cheaper 4100NH is more of an entry level tool, this 4101RH is pure professional and if you require a reliable wet saw for your job the price is easily justified and feasible.
It is the price point alone that affects the 4101H from achieving a top rank in this review. While it is great to have a well-built wet saw, I am looking for the best daily tile saw for Tiling.
Quick Summary of The 4101RH
If you are a stone mason or anyone working with natural stone a lot then this would be the masonry tile saw for you. The price will easily pay itself off in no time and you will be sure it can perform hard all day for many years to come.
The inclusion of a GFCI saves you from purchasing one and will keep OSHA and any work site foremen happy as well as your families when you return home that evening.  
A tried and true classic, the 4101RH is a reminder of the times when Makita only made the best tools and stuck exclusively to manufacturing only in its Japanese homeland. While those days are now long gone, this saw still retains the old formula and reliability one can rely on every day.
Do you think the Makita 4101RH is the right saw for you? You can get it here in time for your next project.
---
In 1st Place – Hitachi CM4SB2
Quick Specs: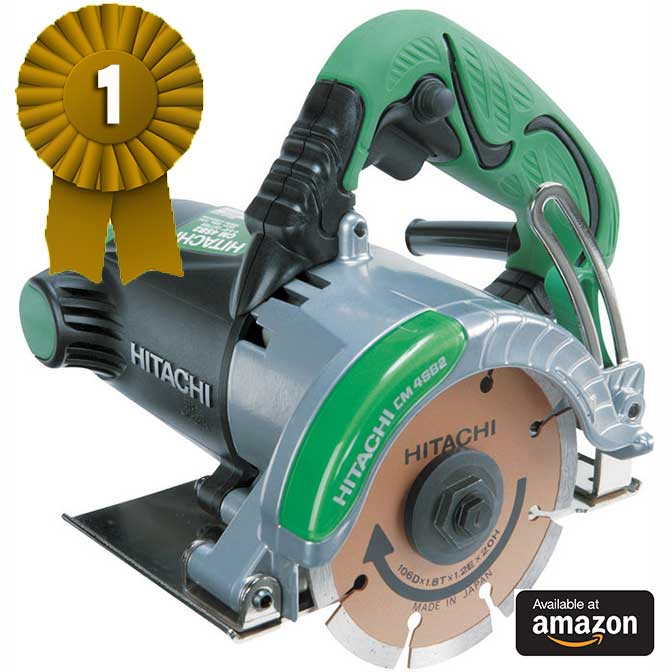 Motor power: 11.6 Amps (2,090 watts)
Max RPM: 11.500rpm
Weight: 6.2lbs (2.8kg)
Depth Gauge Included: Yes
Blade Included: Yes (if selected at checkout)
Wet Cutting: Yes (Some stores sell it without the water plug. See below for details.)
Pros:
Dust proof switch

Lightest saw in class

Highest power in class

Similar price to others in class, half the price of Makita 4101RH

Most modern engine with innovations to promote long life
Cons:
Time consuming to replace brushes

It dosen't float
Who Should Use This Saw: 
Everyone!

Tilers requiring a reliable and versatile work horse for everyday

Brick Layers

Contractors working with cement board

Landscapers

Any one working with Pavers

DIYers

Casual Users

Stone Masons

Kitchen Installers
Taking a Closer Look at the Hitachi CM4SB2
Ladies and gentlemen meet your champion and the fallen hero that fell into a bucket of water. When I set out to find a replacement for my Hitachi CM4SB2 I didn't expect to end up purchasing another one.
Since my Hitachi tile saw was around 5 years old before it met its early demise and I thought there would be newer and better models available.
After researching and testing I was proved wrong, and how very wrong indeed!
It seems handheld tile saws are neither as a competitive nor as a hot market as a drill driver for example so manufacturers put out new models much less rarely then they do popular tools.
Which is understandable from their view point but that sadly means we miss out on getting the latest goodies for our trades.
Nonetheless, when Hitachi set about creating their version of a handheld tile saw they looked at what the other competitors were doing and simply made it better.
How much better is the CM4SB2?
Well for starters the CM4SB2 (try saying that in a hurry!) is the class leader when it comes to motor power, with a massive 11.6 amps (2,090 watts) of power output coming from its modern power plant.
The max rpm is the lowest at 11,500 yet I believe this adds stability during cutting as you get a stronger cut with less vibration coming from excessively high rpm.
During cutting of any material I found the Hitachi tile saw to be the most stable and controllable and with a class leading weight rating of only 6.2lbs (2.8kg) it is the lightest in its class which also adds to its outstanding stability.
Hitachi has done more than just that however.
Unlike the other handheld tile saws, the CM4SB2 has a sealed armature core which protects it from the daily assault of dust and debris created from cutting tile, concrete and stone.
What's an armature core you wonder?
The armature core is the central component of the electrical motor. It carries current across the electromagnets that live around it and creates an electromotive force, which in turns makes torque. This torque (or spinning force) is applied to the shaft which spins our blade and enables us to cut!
 Did I lose you there? Sorry, I'm no electrical engineer myself but I tried to make it as simple to understand as possible.
At the end of the day what it means to us is, since that core is sealed from any outside elements, this keeps it protected and safe to do its job in a controlled environment.
This means it will be working at optimal performance for much longer compared to other unsealed masonry tile saws.
How long you might be wondering? Well my unit was going on 5 years and still ran like a champ with no vibration or loss of power. If it didn't take a dunk in the bucket I believe it could have easily gone for longer.
The One Bit that Let Down The CM4SB2
The brushes for the saw are the most difficult to access out of all the saws tested. I would put this down to the sealed armature core featured in it.
And by difficult I mean it requires you to undo two Philips head screws and popping off the bottom plate.
A chimp could do it.
After taking that off you have access to the two flat head screws to reach the brushes.
This operation is rare as brushes can last easily from a year or more depending on usage.
I use my Hitachi tile saw daily for multiple cuts and I can easily get a year or more use out of a single pair.
So don't let this concern you. The added benefit of a sealed core far outweighs the extra two minutes it requires to undo then tighten up two screws.
The Bits I Like About The CM4SB2
This sealed armature core also aids in keeping vibrations from this motor down. Remember that the core is rotating its central shaft at over 11,000 times per minute, so having the vibrations dampened and keeping your hand steadier is a big plus.
This factor also confirms why its better having a slower rpm rating as well; excess speed will create excess vibrations.
The Hitachi CM4SB2 is also the only one to feature a dust sealed pressure switch.
This is basically a big rubber glove over the trigger that allows easy pressure but is fully sealed against all the dust you will be making during a cut. A simple feature which helps keep the saw running for longer without replacing the main switch.
Now the Hitachi CM4SB2 wouldn't be the top rated and best tile masonry saw if it wasn't equipped for wet cutting so yes it does come with wet capability.
Hitachi provides you with a simple tap that fully cuts water on and off.
I would have preferred if the tap was bigger as it can be hard to turn on and off, this is where the Makita 4101RH trumps over it. As that saw has simply the best system however the Hitachi still manages to get the job done.
Along with the water valve you receive vinyl hose, a water plug and rubber connector. While it is not the best feature of the Hitachi CM4SB2 they get the job done.
The water jet is powerful and supplies the saw with plenty of water during a cut. I have never had problems with a lack of lubrication and I can always adjust the flow via the tap located near the blade.
Like all over handheld tile saws you also get a depth adjustment plate to control depth however with the Hitachi you cannot control the bevel for angled cuts like you can with the DeWalt.
Do You Want to Know a Secret? I Actually Owned Two CM4SB2's.
The one that got fried was one equipped for wet cutting but I also have one with all wet cutting gear stripped off along with the angle plate.
This was my everyday work horse used for cutting most common types of tiles like ceramic and porcelain that don't require depth adjustment or wet cutting.
I found the saw much easier to use due to it's lower weight and manoeuvrability compared to the unit with all those extras.
If you are like me and require the use of a handheld tile saw every day I would recommend you also have a setup like this.
That way your day to day life is easier with a lighter saw but also if it goes down for whatever reason, just pull out the other and you can continue with your work.
What do you reckon I did after my wet cutting Hitachi CM4SB2 took a dunk?
I grabbed my everyday Hitachi tile saw, refitted the wet cutting components and got back to work.  That way I still got the job done and my work schedule wasn't affected due to this mishap.
The Hitachi CM4SB2 is also available at a great price which just seals the deal for me.
Over a few extra bucks over a entry level QEP tile saw I can have the best handheld tile saw available.
It's a no brainer.
Quick Summary of The CM4SB2
 At time of writing the saw was in the same price region as all saws reviewed except for the highly priced Makita 4101RH.
This should make it incredibly tempting for all you that are requiring a solid and reliable everyday handheld tile saw with wet cutting ability.
 Not only will it out perform all overs but also remain by your side for many years to come.
Buy some diamond blades and a spare set of brushes and your set.
I would recommend this tile saw to anyone working with masonry, tile or concrete and wants a tool guaranteed to do the job.
 It has the most power to get through any material you throw at it along with the greatest stability due to its internal core shielding and lower rpm range.
Do you think the Hitachi CM4SB2 is the right saw for you? You can get it here in time for your next project.
2018 Update on the Sale of the Hitachi CM4SB2:
It appears that online sellers of the Hitachi CM4SB2 do not include the few parts needed to make this hand held tile saw a wet cutting saw.
As it is currently sold, it is a dry cutting tile saw only but I have found the parts needed to make the Hitachi CM4SB2 Wet Saw Ready.
The parts are easy to get and I truly believe it is worth the extra fistful of spare change to buy the part and get the Hitachi tile saw and use it as a wet or dry cutting tile saw.
To turn the Hitachi CM4SB2 into a wet cutting tile saw you will require:
Water Plug
This part attaches to your tile saw with a screw that is supplied.
It features twin water jets that spray water directly onto the diamond blade and allows a vinyl hose to connect onto it that feeds the water.
There is a watertight on/off valve that allows you to adjust water flow and shut it off completely when required.
Rubber Connector
This part allows a vinyl hose to connect to a water spigot/tap located on a house.
It threads on like a normal hose adapter and allows you to use the house water supply to run your wet saw.
The metal rod allows a vinyl hose to be slipped on the end of it. You slip the other end of the hose onto the water plug.
Vinyl Hose
This is a standard issue vinyl hose that Hitachi makes for their CM4SB2 Tile Saw.
It has the right diameter to fit the water plug and rubber connector and together with those two parts, turns the tile saw into a wet saw.
These three parts are what you require to make your Hitachi Tile Saw a true wet cutting saw.
All parts are available on Amazon along with the tile saw so if you are wanting a wet saw, just add these three parts to your cart when ordering the Hitachi CM4SB2.
If you want a more flexible wet saw that you can use away from a spigot/tap, I recommend to not purchase the rubber connector, and instead purchase a basic water pump.
It draws water from a bucket or other container and allows you to setup a cutting area wherever it is handy.
Since you will be wet cutting, it's advisable to cut away from a driveway or other finished areas that will get dirty from the used water that contains all your saw dust and other debris.
This water pump allows you to do that as it's much easier to run an extension lead rather than a super long piece of vinyl hose. 
Just setup in a easy to clean-up area like a lawn and you'll be good to go!
Water Pump.
This is a basic water pump designed for submersible use.
It recirculates the water when not in use and can be left on for long periods of time.
Simply drop it in a container of water and connect the hose to your tile saw.
Keep a second bucket of water nearby to top up the main bucket when needed as you do not want the water level to drop below the level of the pump.
How To Setup The Hitachi CM4SB2 For Wet Cutting – Wet Saw Tutorial Video
 Since releasing this review, I have had a number of questions on how to actually put all the wet cutting components together and equip the Hitachi CM4SB2 tile saw for wet cutting.
 Since I love you guys so much, my wife and I shot this quick tutorial video for you. It takes you step-by-step and shows you how to install the water plugs and valves. It's super easy and this video makes it even easier.
Oh, and Jane's brother narrated the video, sadly we couldn't afford to hire Morgan Freeman! (Keep supporting this website, and maybe one day we can!  
Wrapping Up My Great Hand Held Tile Saw Comparison
In conclusion I am very surprised with the current availability of professional handheld tile saws.
Overall there is a raft of great machines provided by all the major manufacturers making selecting the right one a difficult decision.
I hope this comparison review provided you with the knowledge into which saw you would like to purchase and maybe learned a thing or two. 
Handheld tile Saws appear to be a field with a much lower development cycle compared to other fields, as shown by the old but reliable 4101RH. A model is expected to last for at least ten years without any major revisions and it's sad to see this great power tool being so under-utlized.
When I set out to find the best handheld tile saw I did not expect to replace my old Hitachi CM4SB2 with another one.
I thought surely a new machine would have surpassed it's capabilities in the years since I purchased it.
I did not let my familiarity with this saw sway my opinion or affect it in anyway; I would have just as happily purchased a DeWalt DWC860W if I had found out it was better.
In the end it was the Hitachi's greater power, innovative motor design and overall functionality combined with reliability that made me decide on purchasing another.
If you have never owned a Hitachi tile saw then the CM4SB2 is a great example of what this company is capable of making and it might even surprise you.
The Hitachi CM4SB2 is the best handheld tile saw period, grab one for your work and you will agree.
The CM4SB2 is available on Amazon along with all the other saws reviewed today. While you are there be sure to add a saw blade or two to your cart so you are ready for your next project.
Happy Cutting!
Masonry And Tile Saw Information Center 
What is a Handheld Tile Saw?
A handheld masonry saw or tile saw is a small electrical saw similar in design to a circular saw but it is much smaller and designed for single handed use.
It features a large handle at the top with the motor and cutting surface located perpendicularly beneath your hand.
This offers great control of the saw during a cut as it forces you hand to go down not sideways.
This is imperative during cutting hard materials as any sideways pressure while your saw is inside the material may lead to the diamond blade exploding.
Have you ever moved your hand around while holding an angle grinder?
You can feel the way it wants to pull sideways, a tile saw does not have this sensation making it much more stable to use.
I have cut many tiles on both an angle grinder and tile saw and prefer the saw ten times over a grinder.
Nothing compares to the control and stability of this machine.
You have a pressure sensitive trigger beneath your finger so if you drop it, it will shut off, unlike a grinder that may keep running due to its snap lock switch.
You also have a much sturdier grip thanks to the large handle your hand can wrap around.
When cutting tiles I feel the grinders' excessive rpms makes the machine pull away from the surface during a cut.
This makes you wrestle it towards the surface whereas a tile saws extra weight and different cutting angle makes it hold its line much better.
Please note that not all angle grinders have high revs, some models like the DeWalt DWE4557 offer a low 8500 max rpm or others like the Bosch GWS13-50VSP have a variable speed function which allows you to control the max speed.
The advantage a grinder has over a handheld tile saw is it lighter weight which makes it easier to hold for longer periods and makes it easier to control for trickier cuts.
Another is it's ease and speed of changing a blade on the grinder, whilst a professional tile saw takes a couple tools and care to replace.
If you want a tutorial how to change a diamond blade on a handheld tile saw, just use the search bar above to find it.
I will let you be the judge but I prefer to leave my grinder well clear of any tile cutting duties. Many fellow tilers swear by grinders but I bet they haven't given a handheld tile saw a go.
One more feature the grinder is lacking is in wet cutting ability.
You cannot attach a water valve to the grinder so the only cuts you can make a dry. While this is not a game breaker, it definitely cuts the angle grinder's versatility in half.
Once you try a tile saw, there ain't anything more. (My wife says I am a terrible poet, can you tell?)
Material cutting with a handheld tile saw is done thanks to metal blades reinforced with diamonds. Industrial diamonds are embedded in the cutting area of the blade which enables the small saw to cut through extremely tough materials like:
Concrete, (including aerated concrete blocks for shower upstand ledges)
Asphalt,
Brick,
Masonry (hence the name)
And most importantly for us in the tile industry,
Tiles.
And not just a specific type of tile but as my experience had shown there hasn't been a tile material I could not cut with a tile saw.
From standard ceramic and dry pressed tiles to all forms of vitrified porcelains no matter the thickness.I usually leave the cutting of such tiles to a tile cutter like my TX-900N.
However any special cuts, essentially anything that isn't a straight cut I handle that on my tile saw.
Need a circular hole cut for a water pipe?
No problem! After marking the position on your tile etch around the circle using the blade. Just enough to penetrate the glaze, then cut into the center of the tile, aiming to get your blade all the way through to the other side.
Once you have enough material cut out you will be able to insert some tile nippers to pinch out the excess material.
I have been doing this for many years and found it is the quickest and easiest way for making such holes.
If you take care you can get a perfect round hole. It's definitely an essential skill to add if you haven't already.
All thanks to a tile saw.
However the masonry tile saw isn't only capable of cutting such common tile types, it is also supremely capable of cutting tiles made from natural stone.
Granite,
Limestone
Travertine,
And Marble are just a few examples of what a good tile saw can cut.
Granted if you want capabilities like this you need a wet tile saw with a water valve system built into it.
This system allows you to pipe water directly onto the tile blade to keep it cool and lubricated while performing a cut.
This is essential for cutting thick material or long tiles like 24x24inch (60x60cm) or bigger. This is due to the extended running time of the blade causes it to heat up excessively.
Lack of water to such a cut will result in factors like:
Tile glaze melting off- often ruining the tile .
Tile blade unable to cut
Tile blade getting damaged and ruined
Tile blade exploding (very rare cases).
Water lubrication during cutting also helps eliminate dust during cutting.
As there are no tile saws available off the shelf with a dust shroud, water is a great way to control dust during cutting.
The water catches the dust instantly and turns it into a heavy powder, thus disabling it to enter the air and creating a cloud.
What's a dust shroud?
A dust shroud is a plastic cowl that fits onto a head of a tool like an angle grinder. It has a large spout that allows a vacuum cleaner head to fit into the hole. When in use the vacuum sucks all the dust as it is created hence eliminating all dust created during a cut.
Don't have a cowl but have a buddy?
If you require a dry cut with zero dust then there is a way!
Have a person hold a vacuum cleaner hose near the cut line while you perform the cut. If the vacuum is running properly it should be able to suck up most of the dust even if it's a few inches away. I have used this method before when circumstances forced me to cut indoors.
It's not the best method, but it works!
Another feature of a wet tile saw is its small size and versatility.
Since there is no large table to setup and due to its small weight you can cut your materials in much less space over a full table saw.
This allows for quick setup every morning and an easy pack down at the end.
Spread out a drop sheet, run out a power cord and plug her in and your set.
This is great when working in a private residence or even apartment block where (if you're lucky) you only have small balcony to cut on outside.
I have to mention however that I add another element to this to enable much easier cutting and not to mention to save my back.
I use a folding workbench like this Kreg KWS1000 Mobile Project Center.
This bench allows me to cut my tiles while keeping the material stable and supported.
After years of cutting on buckets or my knee, a folding workbench is a much needed addition. Due to its folding design it fits in the back of my work truck without issue.
If you haven't got a folding work bench yet I highly recommend you get one along with your purchase of a handheld tile saw. It's worth its weight in gold. You can thank me later.
The last point I would like to make is that a tile saw is not just limited to Tilers.
Most stone masons or kitchen installers I know have one. They are predominately working with stone so require a compact yet powerful saw to cut their materials with.
Landscapers and any paver setters also have one as the tile masonry saw is extremely capable of cutting concrete pavers and stones for their work.
Brick layers use them to make quick cuts and details in bricks and similar materials.
Another common use for a masonry tile saw is cutting cement board, equipped with a regular diamond blade it flies through, making the job effortless.
This versatility comes with the amazing assortment of blades available on the market in a range of styles and price points. The general rule of thumb is the cheaper it is the softer the material it can cut and its durability is nowhere near as lasting as a proper blade.
Generally if you find a good blade it can last anywhere from 3 to 6 months or more, cutting tiles daily in a variety of grades.
I have found great results from turbo blades such as this one and prefer to use them over mesh designs due to turbos having a wider cutting area.
This helps keeps the blade cool from extra air flow and less rubbing from the majority of the blade.
Remember when purchasing a blade that you buy the corresponding size blade.
The handheld tile saws we will be viewing today should all work with a standard 4inch blade. Also note the center hole is large enough to accommodate the center shaft/arbor of your saw.
Most blades come with a washer to accommodate the arbor of a masonry tile saw or a grinder. The previously mention turbo blade is ideal for your saw.
Now that we are well versed in the saw, let's get on with the review!
I have conducted the test of these saws in the aim of finding the best masonry tile saw.