Tilers Place is reader-supported. When you buy through links on this page, I may earn an affiliate commission on qualifying purchases.
Rubi Gel Duplex Work Knee Pads Review
The popular manufacturer of tiling tools, Rubi Tools, has entered the knee pad market with their idea of the best knee pad for work.
With a heavy duty design and comfortable gel inserts, I put them through their paces to see if they live up to the high standard of Rubi Tools and deserve a place in your work truck. 
Are they the best knee pads for work?
Let's find out.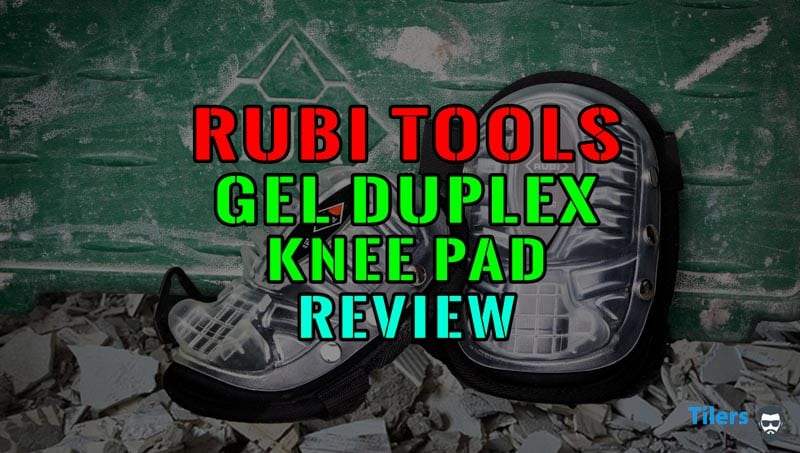 Hi there and welcome to the only website providing detailed and honest knee pad reviews for hard-working people like you.
My name is Carl and for the past 20 years, I have been tiling professionally and messing around with plumbing, electrical work, carpentry and all the hundred other things we handy weekend warriors dabble with.
Over those years I have knelt on my knees a heck of a lot and after a health scare that nearly resulted in a knee replacement, I have become a big-time user of knee pads.
I know a good pair of knee pads when I see one and I use that knowledge to test and review the best knee pads on the market.
Today we look at the Rubi Tools Gel Duplex knee pads to see if they deserve to be called professional knee pads for work.
Rubi Tools Gel Duplex Knee Pads – Overview
The new Rubi Tools Gel Duplex Knee Pads are designed with durability and user comfort in mind.
They are one of the most comfortable knee pads that I have ever used thanks to a heavy emphasis on user comfort.
With thick gel padding and external plastic caps, they effectively protect you from any cold and harsh surface you'll encounter at work.
The soft plastic caps are also removable, effectively making them twice as thin and compact.
All this design and premium materials doesn't come cheap – the price of these workers knee pads is higher than mainstream knee pads.
However, I believe the extra money is worth spending as you'll likely get twice the life out of these knee pads in comparison to cheaper knee pads around the $20 mark.
After a month of daily use, these knee pads are still looking like new and the gel padding remains supportive.
I couldn't say that about other knee pads. (I'm looking at you DeWalt.)
Buckling System: Elastic Velcro + Adjustable Buckle
Padding Material: Silicone Gel
EN14404 Safety Standard Level: 1
Pros:
• Top Quality Gel Padding
• Very Comfortable
• Straps Don't Bunch Up Behind The Knee
• Exceptional Protection On Tough Surfaces
• Elevates Shin Off The Ground 
Cons:
• More Expensive Than Regular Knee Pads
• Buckle Slow To Put On
• Quite Bulky
• Raised knee position may cause rolling for first time users of high knee pads.