Tilers Place is reader-supported. When you buy through links on this site, I may earn an affiliate commission on qualifying purchases.
Rubi TX-900N Tile Cutter Review 
This Tile Cutter has been superseded by the Rubi TZ tile cutter range. It offers a larger cutting base and 1.5 tonnes (3300 lbs) of breaking strength. Check out my review here.
If you are looking for the best manual tile cutter for all forms of tiles, then a cheap tile cutter simply won't cut it. Let others waste their time with QEP and Brutus tile cutters and go straight to the money makers.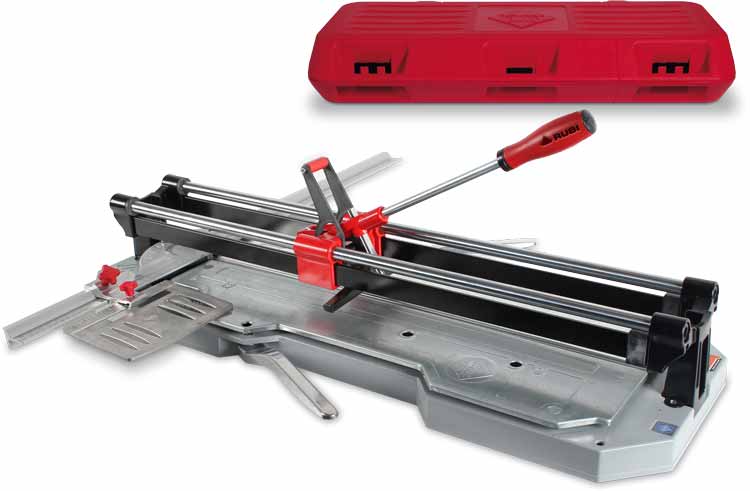 Best Manual Tile Cutter Introduction
Full In-depth Look and Review of the Best  Manual Tile Cutter for Porcelain and Large Format Tiles.
Rubi Tools is already a global leader in Tile cutting technology and they take tile cutting a step further with their professional line of TX tile cutters. I take the mid tier model for a real life review and show you why the TX Series manual tile cutters are some of the most versatile out right now and a true slayer of tiles.
Disclaimer: I understand us tile guys have their loyalties to the big 3 tile cutter manufacturers: Sigma, Montolit and Sigma –  so if you have no interest in Rubi Tile cutters, I have found comparable porcelain tile cutters from both Sigma and Montolit. You can find them here.
At the end of the day, if you are rolling with any one of these powerhouses of tile cutting tech and are using a brand you are familiar with, you have a great manual tile cutter. I've worked with all three brands and understand it's down to personal preference – so let's not argue which ones better as their all great manual tile cutters in their unique ways.
If you are using QEP, Brutus, CO-Z or any other tile cutter under $100 dollars, they are made for home improvement purposes only.
The Best Manual Tile Cutters – Top 3
These three manual tile cutters are the best in the industry and all rock at cutting tiles. They do things in different ways but end up producing the same result. They all have very similar specifications and prices so listing them out ain't the best use of your time. 
Click on the image and decide for yourself which one you prefer.
Why I Don't Buy Cheap Tile Cutters Anymore
You wouldn't cut bread with an axe now, would you?
The blade would sooner mince up and pulverise your bread instead of actually slicing through cleanly.
And we can't have that.
Everyone knows when it comes to a great sandwich; you first need to remove the crust.
And how do you do that? With the right tool of course.
This exact same principle applies for tiles and tile cutters. Hence why the Rubi TX-900-N range of tile cutters are considered a truly professional manual tile cutter and the one of the best for porcelain tiles available right now. Offering a great build quality matched with versatility and an affordable price, this cutter ticks all boxes when it comes to finding the best manual tile cutter for your needs. 
A Good Manual Tile Cutter Needs To Have: 
• Replaceable Scoring Blades 
•  At least 2000 Pounds Of Breaking Pressure
• Quality Materials For Build Strength – No Plastic
• Retracting Arms For Supporting Large Tiles
• Sliding Bevels For Repeatable Cuts 

• A Reputation Amongst Professional Tilers 
These days the market is absolutely flooded with tile cutters which maybe tick one or even two or those requirements but you wouldn't know it. The internet is flooded with "best manual tile cutter reviews" written by people that never used a tile cutter, one tile cutter review even recommends a carpet cutter…a carpet cutter in a TILE CUTTER REVIEW?…..pardon my French but WTF! 
If you have been using a tile saw for most of your career or are simply looking for a great tile cutter, fake reviews like those are making it near impossible to find the right tile cutter for your requirements.
Whether you are a seasoned professional seeking a new work horse or a handy DIYer wanting to add a new skill up your sleeve (and maybe some brownie points from the spouse) – the choice you make will either mean a job well done or a kick up the backside.
Of course tiling is a diverse field with many tiles coming in a large variety of materials from the common ceramic tiles to vitrified, rectified porcelains and extruded tiles.
What you will struggle to find online is which cutter can cut which tiles and since you want the best value from your decision; you want to find the cutter which can cut the widest array of tile types.
Well, the Rubi TX range of tile cutters are the most versatile cutter I have ever used and this fact alone would make it the greatest manual tile cutter available.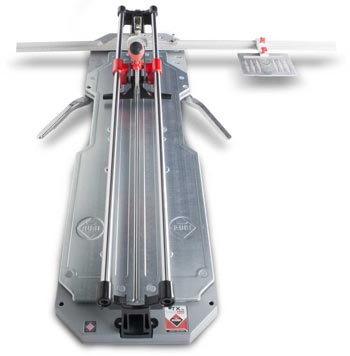 It handles all of the previously mentioned tiles types with ease, not to mention some of the largest tiles commonly available on the market right now.
If that alone is enough to convince you to get it – great, you can buy yours here.
Otherwise if you want an in-depth look into this amazing manual cutter, read on and learn about the best Spanish invention since the pocket knife.
Welcome fellow tilers to my review of what I believe to be one of the greatest manual tile cutters on the market today.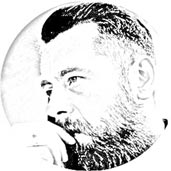 My names Carl and I have been tiling professionally for over 20 years in the industry that has come a long way since I started out in the 90's.
I started Tilers Place to help share my knowledge and experience with others.
Along the way I have seen a lot of innovation and thanks to cheaper import laws, a lot of reversed engineered – how can I put this nicely -… JUNK!
I myself fell prey to this shiny junk and it cost me thousands due to a breach in contract and worst of all: My professional pride was insulted and the company image I worked so hard to build was tarnished.
All thanks to a misinformed and badly judged decision when I was purchasing a new tile cutter online.
So how did a seasoned professional end up making such a rookie mistake which cost him a massive lose in income and pride? 
Read on and I will tell you the sorry tale and how a terrible experience led me to finding the top manual tile cutter on the market. The Rubi TX-900-N.
Pt.1 – When A Tile Cutter Turns Into A Piece Of Junk
I received a call from Bill, a building contractor who was building tiny homes. He outfits them and needs to tile the entire floor area. There were 5 to tile within a strict time limit with more to be tiled as they were built. 
After a couple meetings and emails he accepted my bid and gave me the go ahead. 
To celebrate such a great score I decided to indulge myself by buying some new tools for the big contract. I purchased some new knee pads, a new tile saw and the most important tool: a new tile cutter.
While browsing online I was amazed and honestly overwhelmed by how many different brands and types of tile cutters there were and are available. I am used to going in store and seeing either Rubi or Sigma and purchasing one of those.
Now you have hundreds of different designs, companies and prices to choose from with conflicting reviews from customers on every single one. Some singing the tile cutters praises while others saying to avoid them like the plague.
I decided to go with one which had a sleeker look than my battered old Rubi TR, claimed to have double the breaking strength and was half the price of other major brands.
It was one of those QEP tile cutters , stupidly cheap and very popular. The description said it could cut ceramic tiles, so surely it must be good?
Well, judging by the cutter reviews from other review sites it must have good, it won every single review!
I know you have stumbled upon those review sites as well and who always came out on top?
A QEP tile cutter.
So I thought what they hay, I'll give it a go. It looks like utter dogsh*t but I might be getting jaded in my maturing years.
Oh what a fool I was!
I am embarrassed even writing this because its so obvious things were too good to be true. One thing I have learned with tools is that you get what you pay for.
Pay more but pay once.
It's a motto I always stuck with but that evening after sinking back a few Jack N Cokes I was feeling good and went with the shiniest QEP tile cutter I could find.
After all, how bad could it be right?
Let me tell you how bad.
I broke an entire box of tiles trying to set the thing up.
The brand new tile cutter could barely score in a straight line and getting the thing to break a tile required just the right amount of brute force. Too little and the tile would chip from the breaker because it deflected, too hard and breaker pulverized the tile leaving me with three or four pieces.
Not since the introduction of the first porcelain tiles have I seen such terrible cuts. Needless to say, Bill saw this and was not impressed. He said I came highly recommended and expected a professional.
With professional tools.
Not a monkey playing with toys (his words exactly).
He then went on to say I will be invoiced for the broken tiles and not to bother coming back. Never in my professional life had I been so humiliated and chastised. With what good grace I could muster I packed my tiling gear and left.
Red in the face, rage in my soul and pain in my heart.
I grabbed my shiny, steaming pile of tile mashing junk and laid it neatly underneath my Dodge Ram. Then I drove over it. Hearing the tile cutter pop as it broke underneath my tires made me feel better. I dropped the remains in the nearest skip and promised myself never to be so stupid again.
If you are looking for quality my friend, you won't find it in those QEP cutters, if their cheap, it's for a reason. I understand you respect your work and your skills. Don't tarnish your reputation with cheap tools. I was stupid and one moment of forgetting my life's code bit me in the ass. HARD.
Don't let it bite you too.
Pt.2 – MAKING AMENDS: FINDING THE RUBI TX-900N
The very evening I went online again and decided to right the wrongs and get a real tile cutter.
After ignoring the shiny junk cutters, the TX-900N jumped out at me due to it's design and competitive price over the many others.
I have had many good experiences with Rubi tile cutters in the past with the brand providing my primary cutters for most of my tiling career, so finding another Rubi tile cutter with such capabilities already ticked a lot of boxes for me.
Where it really stood apart from the others however was the design of its movable cutting head.
Unlike other designs (like Sigma tile cutters) which feature a crooked handle piece doing the cutting and breaking of tiles, the Rubi TX-900N tile cutter has a straight handle with a simple drop lever that lowers the breaking edge over whatever point of the tile you require.
So when cutting a large tile you can move the head over the top, give the tile a crack and then move down the bottom, crack it again and the large tile will split in two.
Adding to the features is the tile cutters remarkable breaking strength of 2204 (1000kgs) pounds coupled with the ability to cut tiles as big as 36×36 inches (93x93cms)!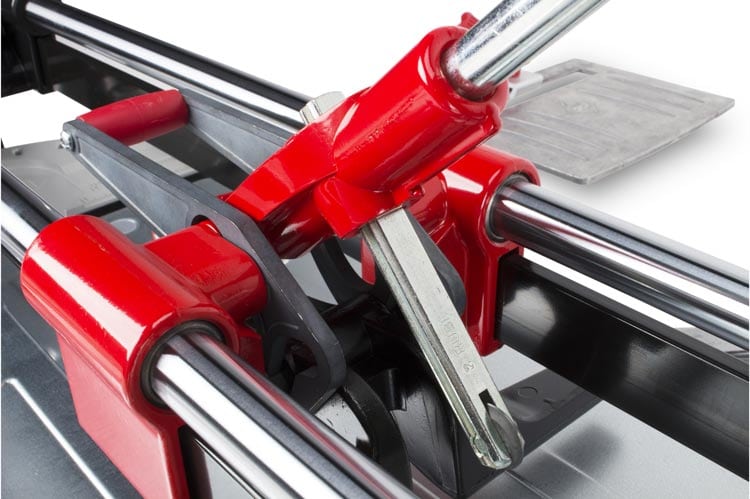 Current tile trends are seeing very large tiles being installed everywhere from kitchens, entrances and bathrooms.
In fact its very common seeing tiles as large as 50x50inches (127x127cm) and Rubi has got you covered there as well.
The same cutter can be had in a larger size with the exact same properties and durability. Behold the TX-1200! Think of this one as the Super-size burger combo of the tile cutter world.
The TX-1200 cutter is the ultimate porcelain tile cutter and laughs at the thickest of tiles.
For my requirements I settled on the TX-900N. It offered a perfect blend of usability without comprising too much with its size.
Rubi TX-900N Tile Cutter Review – The Protective Case
Upon receiving the cutter in the mail shortly after ordering I knew I had finally made the right decision. Unlike the disastrous first cutter I purchased, the TX-900N came in it's very own hard case protective cover.
This is something which even the more expensive Sigma and Montolit tile cutters come with. 
Made from heavy duty plastic this case will protect your tile cutter while traveling or storing away when not in use. The case is finished in a striking red color with the Rubi Logo proud in center with notched grooves around it.
The top of the case is built flat – designed for use as an elevated extension to the cutter. Having the cutter higher off the ground makes loading heavy tiles onto the cutting base much easier and if you are cutting tiles all day.
Your back will thank you for choosing the TX-900N cutter. In fact this case design is a keystone for all Rubi's professional tile cutters and one I have always been fond of.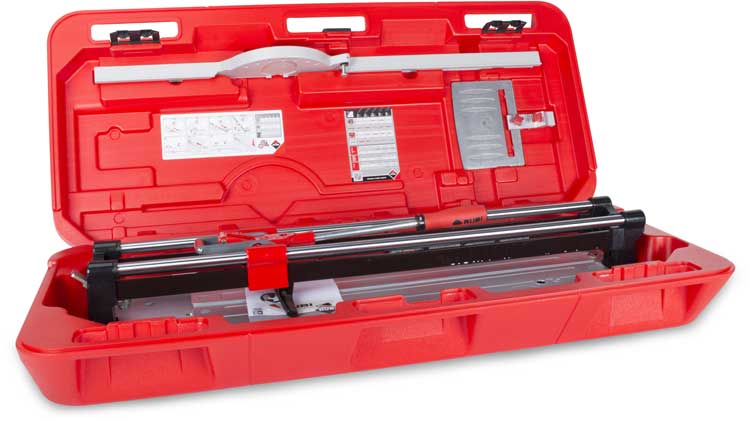 The case also doubles as a great way to move the TX-900N around the home or job site with large carry handles located on the top.
With three large handles for grip, you can either carry the cutter yourself or you and an assistant can grab both ends and carry the Tx-900N with ease.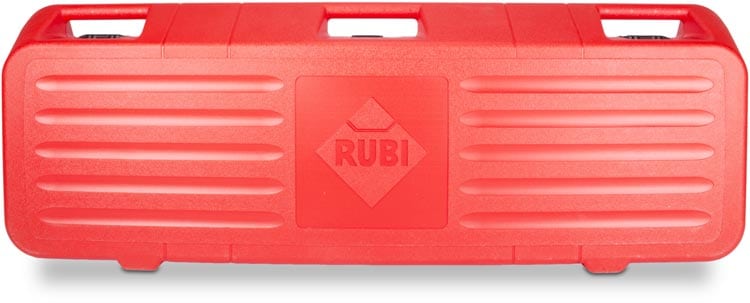 Rubi TX-900N Tile Cutter Review – Con's
Even The Best Have Their Flaws 
Weighing in at over 52lbs (24kgs) the TX-900N tile cutter is definitely not a feather weight so having such a convenient way of carrying the cutter around definitely helps break up that weight.
The larger brother TX-1200N has a similar case except much longer. The cutter itself has wheels on bottom side. This enables rolling of the 74lbs (33.5kgs) behemoth if you prefer.
The weight is the only real problem I have with the TX-900N cutter. Carrying it around and lifting the tile cutter out of its case is a bit of an exercise. Weight has always been an issue with tile cutters and Rubi has made amends with this over previous tile cutters.
By constructing the cutter out of 50% high strength aluminium they managed to make the latest generation of cutters real light weights compared to previous designs.
Like with everything there needs to be a compromise as using too much aluminium would impact on the cutters amazing breaking strength and durability.
Personally I am happy with such a compromise as I only move the tile cutter once or twice per job and for the rest of the time I receive the hulk like strength I need to cut the thickest of tiles.
The other issue is the obvious elephant in the room.
These porcelain cutters are long and require a large area to setup. Since we are cutting such large tiles the cutter needs to be just as big hence making it a very large tool.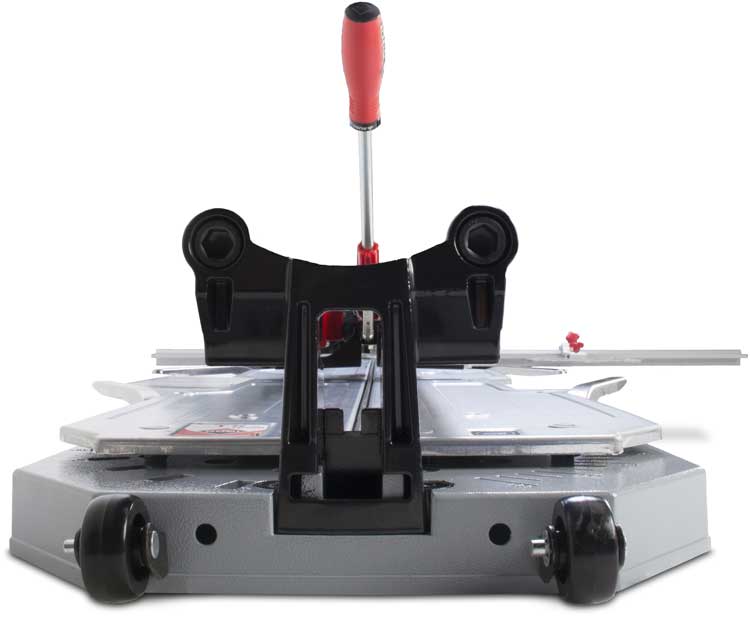 RUBI TX-900N TILE CUTTER REVIEW – First Impressions
The hulk-like strength of the TX-900N was tested on the very first job I used the TX-900N.
The client purchased 36x36inch (91x91cm) tiles with an overall thickness of 0.8 inches (2cms) for their outdoor entrance area. Upon inspecting the porcelain tiles I realized they were just at the threshold of my TX-900N's abilities!
I had the ultimate test for my new beast and today was its first virgin cut.
I admit I was nervous, I have never cut such thick tiles on a manual tile cutter before. 0.8 inches is seriously thick and the last tile I cut such tiles, I used my trusty Hitachi tile saw. Deciding I'll take Rubi on their word, I whipped out my new weapon my mass tile destruction.
Upon finding a suitable flat area near the site, I popped open the 3 plastic clasps which hold the case firmly shut during transport.
Lifting open the case I can't help but grin at my new tile cutter. She looks amazing, like a million bucks.
The twin chromed guides glint as they catch the rays of the morning sun and the bright red and black paint on the key features of the TX-900N contrast so well with each other. As unusual as it may sound, you can call the TX-900N beautiful.
More importantly though, the tile cutter looks professional.
Image is very important to any business because you want your clients to know that you know what you are doing.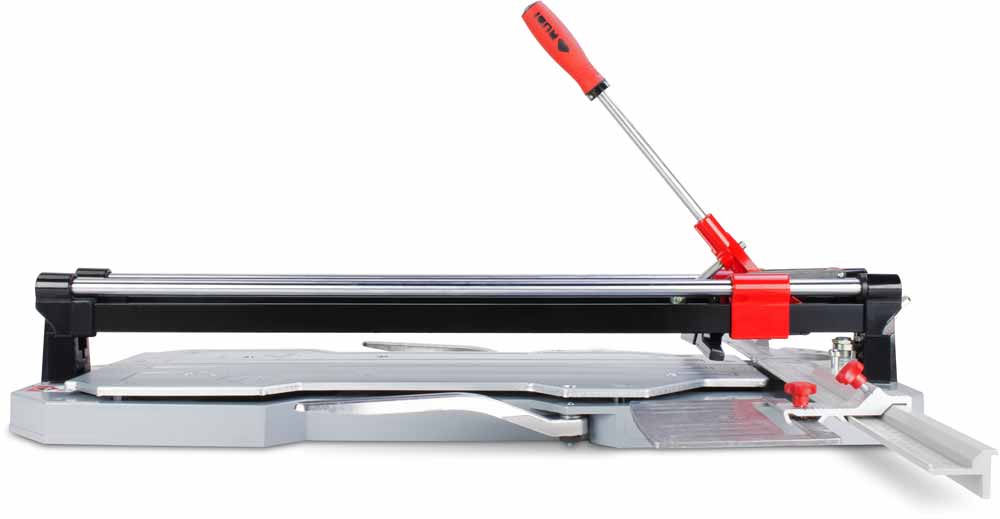 They want the reassurance they have hired the right person for the job and your tools backup this image. The Rubi TX-900N tile cutter will not let you down in this regard; in fact I have had many remarks from customers about it.
They are highly impressed by the cutters look, with the big bold overall styling and form but what really impresses them is how she performs.
A big tile, especially one like the 36×36 inch porcelain tile looks unbreakable. It's very thick and extremely heavy. The TX-900N just laughs at it and you can almost hear her say: "is that all you got big boy?"
I loaded the tile onto the cutting base, lined it up and using the ergonomic rubberized handle I scored a line across the tile. Dropped the reinforced twin breaker bar and pushed the handle down again.
POP!
The double layered aluminium base takes all the impact and the tile is in two perfect pieces. My client can't believe their eyes and only remarks.
"Wow, that was easy!"  
RUBI TX-900N TILE CUTTER REVIEW – Ergonomics & Design
The beauty of the Rubi TX-900N how it makes heavy difficult work a breeze with its extreme ease of use and functionality.
Everything is well laid out and designed for the user's comfort at the forefront without compromising on the tile cutters ability to work hard all day. The central handle design also enables this cutter to be suited for either right or left-handed people, not a very exclusive feature in the tile cutter world, but still nice to have on the Rubi. 
Considering I am left handed, the ambidextrous design is great.
I understand the struggles of learning to use tools designed for right handed people. All you lefties using a masonry tile saw will know exactly what I mean! I have yet to find a masonry saw for left-hands.
Fortunately we need not to worry with this Rubi as it feels perfectly natural using whichever hand you prefer making the learning curve for the TX-900N tile cutter very quick and easy.
RUBI TX-900N TILE CUTTER REVIEW – Cutting Tiles
During the first job I had to set the TX-900N to do multiple cuts of the same size for a straight area near the wall.
Using the aluminum lateral stop I set the required size and tightened the red grub screw.  The scrub screw is also is ergonomically designed with large nubs to easily undo and tighten the lateral stop in place.
The lateral stop system did a great job. Score after score, the tiles were the exact same length.
No more worrying about jagged tile lines when they meet a vertical surface. After installing, the tiles' edges match the next one's perfectly.
This was an issue I was often worried about as having perfectly matching tiles is key to a beautiful job. No longer do I need those concerns and can cut scores of evenly sized tiles.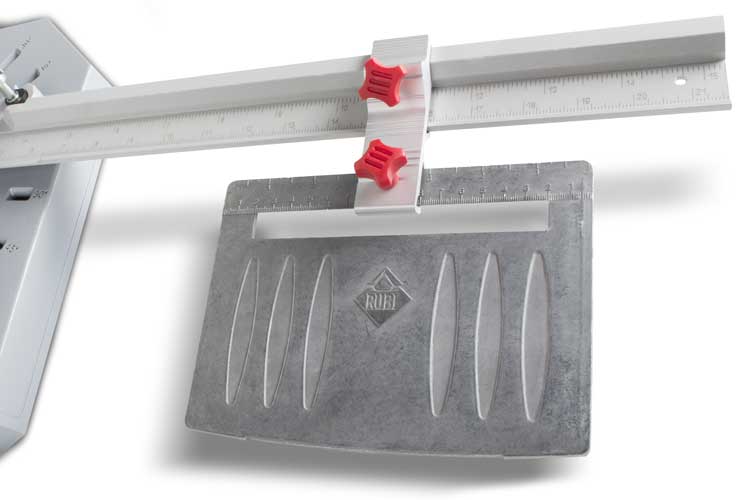 The TX-900N's backing plate not only offers perfect 90 degree cuts but it can also pivot to fulfil any angle you may require. This makes laying tiles in a diagonal pattern a snap.
Simply lock in the angle you require and cut however many tiles you require in your set angle. Its seriously really easy and quick!
Use of this system is very easy.
At the back of the dual front struts you will find a large red knob.
Turning this locks or loosens the backing plate system enabling you to move it around on its axis to find the angle you need. Lock up the knob and you are ready.
RUBI TX-900N TILE CUTTER REVIEW – Cutting Large Format Tiles
Rubi has also addressed concerns with keeping large tiles supported during cutting. On either side of the cutter are located lateral supports which you simply swing out when required.
They prop up the tile hence keeping it stable and level during a score. When it is not required you simply swing the supports back and they tuck neatly into the base. 
How many tiles have you wasted due to bad support provided by the cutter? For many years I have huffed and puffed with large tiles when cutting.
Simply because these lateral supports were not included. I would often have a tile slip to one side during scoring resulting in a crooked or incomplete score.
Thanks to the lateral support system this is no longer a concern!
Since we are on the topic of scoring I want to get into another area which makes the Rubi Tx-900N a better manual tile cutter compared to other systems.
RUBI TX-900N TILE CUTTER REVIEW – Scoring System
Another design staple of most professional grade Rubi cutters and one which features on the TX-900N and any other in the TX series is the unique scoring system.
Rubi understands that tiling is a precision job. The end result needs to look clean with symmetry in the grout lines and no jarring flaws that stick out.
How do you get that? With a clean cut!
You know you can cut tiles on an electric saw to get a great cut but the draw backs of that is obviously time consumption.
Aside from the inability to cut natural stone, a tile cutter is your best friend for quick, precise and consistent cuts.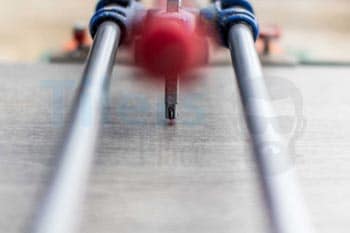 Rubi has tackled this problem two-fold, first with the concept of a twin rail system and two with it's scoring wheels. We will discuss the latter soon.
TWO RAILS OF PRECISION
The twin rail system on the cutter is made out of heavy-duty chromed steel rods that are both calibrated and rectified for greater strength and accuracy.
Rubi didn't stop there however as they also included steel bars underneath the rods to increase overall rigidity to the scoring system and maximize breaking pressure.
What I like about this is that since the dual rods are not central, they do not cover the work area where you are making a score.
This means you are seeing exactly what the tile cutter is doing as you make a score without any surprises.
Other's like Sigma tile cutters have a single rail in the middle of the machine, directly in sight of the work area, hence obscuring your vision during a score.
Not only is the rail more likely to get inaccurate over time from use but also the breaking force of the system is lower.
The inaccuracy will come in time after so many cuts. The pressures of breaking tile and you leaning over the rail occasionally will take a toll on the metal and it's mounting point.
I have had it happen on my Sigma cutters I used a few years back and no amount of playing would make them accurate again.
With dual rails like on the TX-900N this will not be an issue. In saying that you might experience the one common issue that all Rubi tile cutters are prone to and the one Achilles heel of this design.
With extended use, the head starts to get loose and you need to watch how you align it to prevent scoring off the line. It's not a major but something to look out for down the track.  
THE INTERCHANGEABLE SCORING WHEELS
The second great feature of the Rubi scoring system is the previously mentioned scoring wheel system.
These long scoring wheels are slipped into the base of the handle where it connects with the main assembly. With a simple twist of the handle you can tighten the blade in place or loosen it to adjust the height at which you want the wheel to bite into the tile.
I like this feature as it allows me to adjust the pressure at which I make a score along a tile.
As you know all tiles are different and should be treated as such.
While some require a regular pressure score, some need an extra delicate or deep score.
By adjusting the height of the scoring wheel it is much easier to regulate pressure over the single rail Sigma tile cutter or QEP systems. 
Their scoring wheels are an entirely different shape that offers no real adjustment nor are they as easily replaced as a Rubi wheel, which as you remember, is a simple twist of the handle and out it comes.
If you have concerns that this simple system makes the scoring wheel unstable or that it pops out very easily then your concerns are not needed!
The scoring wheel is seated in a tight, form-fitting notch in the handle base and then the twisting engage system locks the blade hard up against the seat.  
Twin flutes on either side of the wheel also help to keep it from twisting or shifting during a score.
These scoring wheels are available in a variety of different sizes all depending on the tile you are cutting.
Rubi recommends a larger diameter wheel like the 7/8inch (22mm) blade for rough surfaced and difficult to cut tiles or a 3/8inch(10mm) blade for general tiles.
I would recommend purchasing both at time of purchasing your TX-900N and keep the fresh blades for whenever you need a new blade.
Rubi has fortunately provided special notches inside the case for exactly this purpose, keeping your new blades safe but handy whenever you require them.  
All the Rubi blades for the TX system come with a scoring wheel made out of tungsten carbide which enables maximum tile surface penetration while retaining lasting durability of the cutting edge.
Lastly, the scoring wheel system is very hassle free and does not require the additional complication of a lubrication reservoir like Montolit systems. The simpler a machine is the less it is likely to break or cause job stopping delays as you fiddle with a complicated mechanism.
If my scoring wheel requires any lubrication I give it a quick spray with WD-40 or similar to free up the action, it's very simple and after years of this process its never failed me.
Handy Tip to remember: Not all Rubi scoring wheels are for the same system! 
When purchasing a new scoring wheel be sure the packet says for "TM/TX". The scoring wheels I have linked are made and ideal for your new TX series cutter.
Rubi have also come up with this handy chart to help you select the right scoring wheel for your application.
You can follow it religiously if you like but its not really neccassary, just have a couple TX/TM blades handy and you should be able to cut any tile on every job. 
Further Benefits Of The Rubi TX-Series Tile Cutters
I have touched upon the dual rail system a lot in this review and I have one last point to make about why it wins over single rail systems.
This conclusion was made after a full day's work using a single rail system and a dual rail system.
To break a tile with a single rail system like you would find in a Sigma Tile Cutter or Montolit you need to grip the whole entire handle and the rail underneath then squeeze together.
On instructional videos it all looks so easy…As undoubtedly it would in a controlled environment with ideal tiles. Sure you can also simply press down as well but thicker tiles don't always break so easy.
With lighter tiles you can slam your palm into the breaker bar or push down, in either of these scenarios you are forced to bend your wrist and put a lot of pressure on it. 
Whether you are squeezing that handle and rail together hard enough to break the tile, or pushing down with your wrist – and repeating that process hundreds of times per week – it might get painful at some point. 
I already suffer from borderline RSI (repetitive strain injury) in my hand from carrying and gripping heavy objects during the job all day, I do not need a further cause to push me over the edge.
If you suffer from this condition or also have sore wrists and/or hands then I would highly suggest you look into a Rubi system over a single rail system.
It is not only that reason that I prefer the twin rail system on the TX-900N.
Simply put, it is faster to use.
Score the line, drop the level and push down with the handle. Lift the bar, repeat!
Not only does the longer bar provide more torque over the shorter single rail handle but it requires less strain and effort from the user. It is much easier to push down following the natural pull of gravity rather than reach around and squeeze.
I can see the merits of such a system for small tiles like the popular subway tiles as very little pressure is required to break them but once we get into the big leagues, the single rail system is lacking.
WHAT OTHER USERS THINK OF THE RUBI TX-900N
I have caught up with many experienced tilers since purchasing the TX-900N and asked them their opinion on it and on Rubi in general.
One commented he didn't understand the dual rail system – until I had given him a scrap tile to practise on.
He took the knowledge he had from his single rail Sigma cutter and scored the tile perfectly then with a moments hesitation he dropped the breaker bar and pushed down.
I wish I had a camera to capture the expression on his face. One part amazed, the other part cracking the biggest grin possible all with a cigarette dangling from his mouth.
On his first go he managed to cut a 1/2inch (12mm) tile perfectly with no problems whatsoever. A couple weeks later I ran into him again and I was quick to notice the eye-catching red box of a TX-900N sitting in his wagon. 
A couple other old salts expressed the same opinion about Rubi in general; that they have been using them for over 25 years and won't consider anything else.
A few points they were unanimous on was that for a professional there isn't anything else to rival it.
You simply can't get over the fact how quick and easy it is to use all day, day in and day out for years on end.
The scoring wheels last longer than stains on a mattress and the breaking strength is more than enough for their use.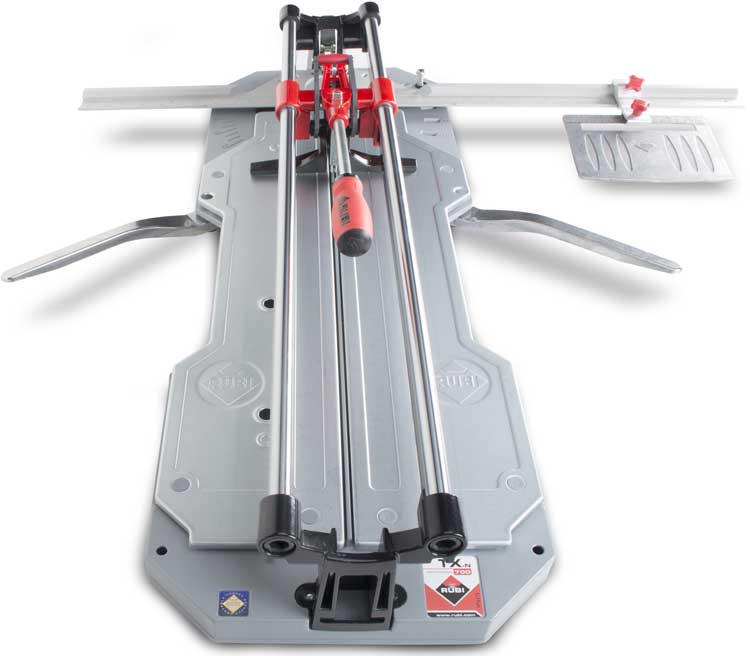 If a company gets such praise from an experienced professional, you know their doing something right.
I personally am the happiest tiler in town with my TX-900N.
My only regrets are I didn't purchase it sooner as I'm sure those tiny homes would have been tiled in no time with this big red beast.
Similar Tile Cutters – Sigma And Montolit
I have found similar tile cutters from both Sigma and Montolit that you can check out. They all have similar specs to the TX-900-N and are of similar size to fit all large format tiles like 35 (90cm) tiles. If you are looking for the best large format tile cutter from your favorite company – here they are! 
The main differences between the tile cutters are their single rail design and the way you score tiles also differs in the Sigma tile cutter – instead of pushing the scoring handle, you push it across the tile.
Rubi Tile Cutters VS QEP Tile Cutters
Take a look at the photo below and the results speak for themselves.
The image shows a tile cut with the QEP tile cutter – the same cutter that has won every single review on the net apart from mine – and the same tile cut with a Rubi tile cutter.
I scratch my beard and wonder how it managed to win all those reviews.
Who am I kidding, I know why.
The QEP tile cutter won simply because the reviewers saw it was popular and it came at a cheap price.
Popularity undoubtedly comes from the sheer volumes the Qep tile cutter sells because of it's price but when we are dealing with professional tools – You really do get what you pay for.
The fact is, I know you are not a fool and you actually want a professional tile cutter that will cut tiles properly.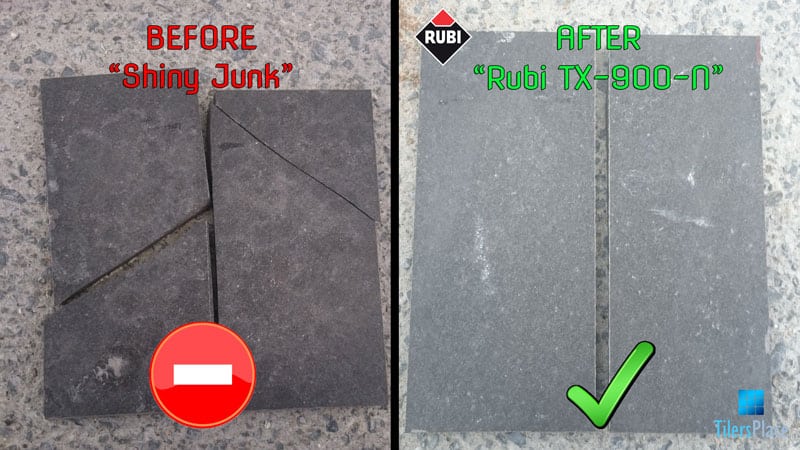 Using the QEP Tile Cutter I scored the line like I would on any other single rail system and then popped the handle down.
Well popped and cajoled it, swore a little, said a prayer and did a rain dance and only then did the cutter finally snap the tile.
Boom, look at that result!
If I wanted four pieces of tiles, I could have hit the tile with a hammer, that would have been quicker too.
Now I score the tile with a Rubi TX tile cutter and take a look.
Perfect cut right through the center and the cutting line is flawless. No chunks missing off the glaze either. If my whole entire review does not convince you that Rubi Tile Cutters are superior and worth the extra bread, then maybe this image will. 
I am not discarding Qep tile cutters all together, they do have their place in the world, just not one that should be in a professionals world. Qep tile cutters are extremely mass produced instruments using basic and common materials, built cheap for minimal use.
Their designed for the casual DIYer, throwing up a backsplash over the weekend or something of that nature. They're ill-suited for thick tiles as they don't have the breaking pressure built into them like a professional tile cutter like the Rubi has. 
Use A QEP Tile Cutter For: 
• Brick/Subway Tiles (Pressed dust type, not porcelain – definitely not bevelled.)
• Small Ceramic Floor Tiles 
Don't Use A QEP Tile Cutter For:
• Porcelain Tiles (Floor or Wall Tiles)
• Large Format Tiles
• Wood Look Plank Tiles 
• Any Professional Use 
 If your laying anything 0.5inches (12mm) or thicker, I would truly recommend you pay more and go for a Rubi Tile Cutter.
End of the day, the moniker "professional tile cutter" does not apply for any QEP tile cutter, even if the online sales pages say otherwise.
For a professional tool, you pay a professional price and for $50 or so bucks, I can never call the QEP tile cutter a professional tool.
Best Manual Tile Cutter – Conclusion
Rubi understands you will require your TX-900N for intense work, all day, every day and so far, I have definitely appreciated the work they have put into making this the best manual tile cutter available.
Not only is it extremely capable in dealing with whatever type of tile you throw at it – be it a simple ceramic tile, extruded or rectified porcelain tile – the TX900N offers the perfect blend of usable dimensions and affordability.
In my opinion it is the best porcelain tile cutter amongst many other things. 
The eye-catching design is both attractive as it is functional with the dual rail system being the real jewel in the crown of an overall great system. The carry case is a great bonus feature and will ensure your investment is kept safe and accurate on the road between jobs.
A tile cutter is a precision instrument and the case treats it as such.
When purchasing a tile cutter you want one that will last and one that will perform consistently and I know the TX-900N will do just that. Since purchasing it I have noticed I am hardly using my electric tile saw to clean up any jagged cuts as the cutter does its job so well.
This means I work quicker and more efficiently not having to switch tools to cut one tile. 
I understand you might shy away from a manual tile cutter.
There are plenty of tile setters that only use a wet tile saw. If I was one of those I would not have had the free time to build this website for you, infact I probably wouldn't have a career.
I built my career and a loyal customer base because my work is quality, looks great and I am fast. If I had to cut every single tile in my career on a wet saw I would take thrice the time to complete a job.
This is not an exaggeration, it's fact.
Besides, a lot of jobs I have done had a strict time frame and I just managed to complete them in time using a manual tile cutter and all my time saving tactics. If you use only a wet saw I urge you to give a manual tile cutter a go, it might be the missing element that brings your company forward.
Back to the Rubi tile cutter.
With all the positives this tile cutter has, the only drawbacks are almost trivial as they are inherent with the ability of cutting such thick and large tiles. That being the cutter's overall size and weight.
Lugging it up a flight of stairs can seem a chore on a Monday morning but it is soon forgotten. A drop sheet in a nearby bedroom provides an area to setup and you're away.
Overall the Rubi TX-900N is in my opinion the best manual tile cutter of 2020 and a great manual tile cutter for porcelain tiles.
It is a prized addition to my arsenal of tiling tools and one I do not intend on replacing any time soon.
Offering the same 2205lbs (1000kgs) of pressure, these professional tile cutters mainly differ with the size of their cutting boards. 
If you are looking for a larger cutter then the big daddy of the TX series is the TX-1200N. This behemoth also packs 2205lbs (1000kgs) of breaking pressure and a giant 49-1/4inches (125cms) of cutting length. To help you cart the 74lbs (33.5kgs) of bulk around the case comes with wheels.