A Tiler Setter's Complete Guide To Marble Tiles
When it comes to a surface finish in your home, nothing comes close to marble tiles in terms of luxury and wow-factor.
Marble tiles are the absolute king of exclusivity and scream class, sophistication and give off an aura of wealth.
Apart from their visual appeal, they are also very versatile if installed and maintained properly.
In the kitchen and bathroom, these tiles are also a good option, mostly due to their ability to stand up well to moisture and foot traffic while still being relatively easy to clean and maintain with suitable tile sealers.
However, finding the best tile floor for your home can sound a little daunting with so many kinds of flooring available. There's porcelain, glass, marble and travertine, just to name a handful. Because of its special characteristics, marble tiles are also found in a league of their own. Before deciding on marble tile, can the time to learn about them and their special requirements to get the most out of them.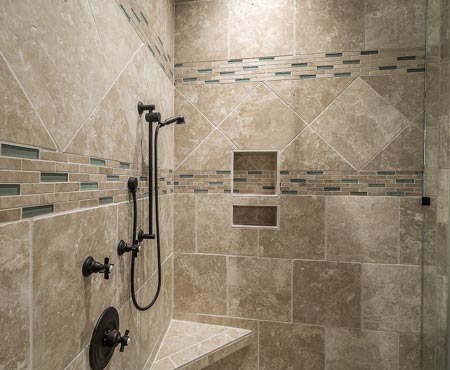 A General Look At Marble Tile
Marble tiles will add elegance to just about any room, including the bathroom, and the natural attraction to water can lend a unique beauty to your grounds, no matter what the style you are after for your home. It's also popular to use these tiles for floors, because they simply warp less in high traffic areas unlike carpeting or hardwood flooring.
However, this same type of elegance affords little durability, so it will be necessary choose the type of tiles that will wear well when routinely exposed to wear and tear. These characteristics will make up the biggest portion of this particular type of design, as the look becomes more for show than for use. Some people opt to use these types of tiles outside, since they can be cleaned from foot traffic.
Natural marble has a distinctive look of elegance that is quite difficult to replicate, but you may also be able to find cultured marble that is easier to care for, but will also have much of the same look and feel. Either way, when you redo your floors, this will be quite a project so it's important that you are aware of exactly what you are getting into before you start.
The biggest help you can get when redoing a room with marble is from the internet. There are so many different possibilities from wall tiles and statues to marble tiles that are more for the floor. Getting ideas from the start can help you prepare for all of the tasks that will be necessary to redo your floors.
If you do your research on corridors and entrance halls, then you may also be able to incorporate marble anywhere you would like. Often time people will redo fireplaces and foyers to include these great tiles. Since so many people choose to use these touches in the rooms they're redoing, they can make a huge difference to any home.
Use Of Marble In Kitchens
Marble is also a natural countertop choice for many people. They can provide a luxurious and interesting look for almost any room without the high maintenance that comes from using granite. But just because you choose to use marble only for the floor doesn't mean that you won't be able to use other ideas and decorations around the room.
Some of the classic purple marble traditions include marble pillars and other center islands around foyers or side doors. However, you can use these ideas in just about any room of the house, from foyer to kitchen or bathroom. The beauty and elegance of these natural stone works of art can be incorporated into almost any room in your house, from a grand entryway to a scaled down powder room.
Marble and granite bridges in bathrooms, granite tiles around a tub or shower, marble accents in a bath will work just as well as granite or marble, since there is just as much of a sense of luxury and elegance at work. The same decorative elements do not have to cost you thousands, as some of the modern concrete overlays; these overlays are much less expensive and can in fact be wallpapered or painted instead.
There are many different options for you to choose from when deciding on which tiles to use in your home – there is a marble tile for every taste and decorating style. It won't be a big surprise that more and more homeowners are choosing to follow the trend of using luxurious natural stone – luxury that is also easy on the eyes.
About Marble Tile
Marbleandgranite.com describes as marble a natural stone that has been used for centuries in construction materials and design. It was the peak of luxury in ancient Greece—and those tiles are still around today. Marble has never really gone out of style, although the preferences of some varieties of marble models have evolved over the years as more alternatives have become available.
Marble is a metamorphic rock or natural stone tile that originates from quarries all over the world, including Spain, India, Turkey, Great Britain, Greece, Italy, Belgium and France. The way we work with Marble has evolved due to the advancements in technologies like wet cutting saws and diamond blades.

Marble is extremely strong and can last for virtually an infinite amount of time. As the time test in major places around the world has been, there is no question that marble will not be held to the same level in your house. Using marble in your kitchen, toilet, hallways, doors or other rooms in your home would lend it a look that other tiles and flooring won't match.
Marble Floor Pros and Cons
There's a possibility that marble tiling is not going to be the right choice for your home. Until investing in marble tiles, it is necessary to consider pros and cons and decide whether this is what you want to use in your house. In my experience, here are a variety of pros and cons to remember with marble tiles:

Pros:
• A unique appearance that's hard to match with different tiles
• Has hypoallergenic properties
• Very long-lasting if maintained correctly
• Accessible in many various types and designs to suit every taste and home
• Can easily outlive the life of the home it's installed in
• Polished marble reflects light, adding natural light and helps make the space seem wider and more spacious.
• Underfloor heating can be added and conversely, it cools homes naturally in summer.
• Increases property value.

Cons:

• One of the most expensive tile options (especially in natural stones).
• Difficult and expensive to install
• More likely to break under a certain weight in comparison to porcelain tile
• Regular cleaning and maintenance is required by resealing it annually.
• Quite absorbent, and susceptible to staining. Sealing with a quality tile sealer is a must and be done regularly. All spills must be cleaned immediately.
• Preparation of surfaces to accept marble can be more extensive in comparison to regular tile.
Types of Marble
One of the main differences between various styles of marble tiles is the difference in hue. Due Marble being a natural material, all variations are totally unique – no tile will look like another.

In addition to these colour combinations, marble has unique:

• Tones
• Grains
• Veins

Here are some common types of marble tiles.

Calacatta: Calacatta is an uncommon stone that is frequently mistaken with Carrara. One way to tell them apart is because the veins in Calacatta are smoother, and the backdrop is typically white marble. It looks amazing in kitchens with stainless steel appliances.

Emperador: If you want a tile with a particular hue, the brown Emperador tiles might be right for you. You will see fine grains in this tile, and a darker look will be perfect if you chose to offer the space a cosier feel.

Carrara: Carrara is one of the most popular types of marble found in homes, especially in bathrooms due to its whiteness. It comes in colours from white to green to blue-grey, with fine veins flowing across each tile. Carrara marble may also be referred to as white Carrara, white Carrara or Bianco Carrara depending on the form.

Statue: Statue tiles are very similar to Carrara, but the veining is more prominent. The colours can be various shades of grey, and the appearance is really shiny.

CremaIvoire: CremaIvoire has a yellowish or beige colour and is very smooth, with several irregular veins passing across it.
Marble Tiles Designs and Trends
Once you determine which form of marble tiling you want, you may select from various types and designs. Since marble is a versatile stone, it can be cut into patterns and shapes that you have in mind, and unlike every other form of tile, marble can be customised to your unique tastes.
However, if you don't have a specific choice, the more traditional tile types and patterns available include:
Herringbone: Herringbone utilises rectangular tiles to alternate the cross-sectional impact of tiles of varying colours, which appear identical to bricks except at all angles.

Brick: Exactly what the name implies, the tiles are stacked in a brick format with the top tile starting halfway from the one below it. This is a common style used in backsplashes.

Repeated Chequer Board: This uses two different shades of Marble, laid to resemble a chequered board.
3D: Several colour shades to produce an optical illusion or 3D effect where the tiles seem to be coming off of the surface.

Bordered: Use a border and various tile types to provide an interior look bordered by an exterior look. It is suitable for hallways and large rooms and commonly features in kitchens as a backsplash.
Mosaics: Marble tiles also come assembled as mosaics on sheets. These come in a vast variety of designs and really provide a pop to any room.
Some home design websites will claim that marble tile is easy to install and I fear I cannot agree with them. Marble tile or any natural stone is by far the most difficult type of tile to install and requires more specialist equipment as well.
To peak your interest, here are some basics of installing marble tile, should you feel you're up to the task.
Once you've measure the room and ordered your correct amount of tiles (remember to add 15% for wastage), you'll need to purchase a the proper supplies and equipment.
Suitable underlayment like levelling compound, anti-fracture membrane, screed or cement board

Notched trowel

Tile spacers

T-square

Chalk line or self-levelling laser

Specialist thinset suitable for marble tile

Rubber mallet

Suitable tile sealer

Wet Saw
Before anything, you need to apply a suitable marble sealer to every single unit of marble tile that you can purchased. It needs to be applied to the front and all sides of the tile. 2 to 3 coats is a must. Ensure the marble tiles are laid flat whilst sealing and are perfectly dry and moisture free. Any moisture will show up underneath the sealer in the form of clouding and can't be removed.
When you have all the supplies and equipment in order, the first move is to plan the substrate, which is the foundation of your tile, and is placed immediately over the plywood/concrete subfloor.
Marble surfaces require perfect levels with no deflections.
Once you're confident that all is smooth and flat, it's time to work out where you're going to put the tiles using the T-square and the line chalk.
Often begin in the middle of the room and figure out where the exact centre is situated and then identify it. Prepare your mortar with thinset mixer back of each tile, carefully position it along the marks you've created. You can have to cut any tiles with a wet saw if they don't fit near walls and other obstacles. Tile cutters cannot be used as marble breaks along the veins and not along the score line that the tile cutter creates.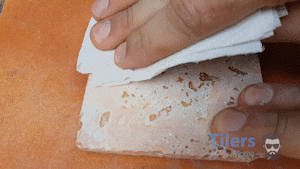 Finally, after all your tiles have been set, you'll need to seal them again to protect the tiles from scratches or discoloration during grouting.
Then use the grout float to add the grout to the joints between the tiles. When you're finished, add another coat of sealant to the tiles and the grout.
Cleaning and Maintaining Marble
After installing your marble tile, it is necessary to keep the marble in the best possible condition by cleaning it and maintaining it in a consistent manner. Given the fact that marble tile has a long life cycle, it requires to be supported to preserve its lustre and consistency.
There are a few items to keep in mind when washing and maintaining marble, including cleaning it up directly following an accident or having it clean day after day. First: Marble flooring needs a decent resealing every 6 to 12 months.
 While this does not prevent marble from being stained, it does allow it to avoid stains a little more and prevents most stains from becoming irreversible. The best way to prevent staining is to clean up any messes the moment they happen and by always ensuring there is marble sealer on the tiles.
Next is general washing up.
Since marble tiles can be quickly etched from acidic substances, only stick to soft, soapy water to get the job done. Before you mop, though, brush away dust and debris from the floor tile to prevent abrasions. Treat your tiles like your car. Remember they can be easily scratched and only use soft and gentle cloths and brooms on them.
When you mop, make sure the tile of the floor is well dried. A steam mop works great for marble tiles as it deep cleans the dirt and leaves a tiny amount of water behind.
Last is to know what to do if anyone unintentionally drops or drags soil on your marble tile. Try a blend of 10 percent hydrogen peroxide with ammonia for tough stains.
Casual cleaning can be done with an acid-free cleaner or a household detergent that safe on stone.
Consider The Costs Of Marble
Marble flooring is one of the most costly forms of flooring and surface coverings in general, and it's worth having a look at what such prices can be, so that you can determine whether or not marble is the best option for you. Marble tile prices can vary between $10 to $100 per square foot, depending on size, marble grade, thickness, finish and country of origin.
Next is the installation phase. If you contact a tiler to install the marble tiles, you'll be looking to pay upwards of $5 per square foot depending on the surface. That price is just for installation of the tile, surface prep and sealing is an additional cost on top. A marble tile backsplash generally starts at a minimum of $1000.
This does not take into account the expense of supplies or other considerations, such as floor removal, furniture removal and reconstruction of any harm to the subfloor.
Although you can save money by installing tile on your own, keep in mind that any mistakes can easily make the project go over the price of a professional. Tile setter's will also charge more if the job needs to be removed and restarted from scratch. Meaning you pay twice on material and anything else you have purchased.
Marble tile is the crème de la crème of natural tiles and tile in general. It excludes a luxury can only a few can afford and it's steeped in history dating back to the ancient Romans.
Whilst it's a natural product with all the inherent beauty of mother nature, it's still a temperamental specimen that needs to be treated with care.
Like a top-tier race horse, it requires the very best to ensure that it performs at it's peak all year round.
If you have the home and budget and more importantly; the time and money to care for marble tiles, it's the best choice for you. For those that can't afford the initial outlay and ongoing maintance costs of marble tiles, there a hundreds of porcelain tiles made to look like marble – all without the stringent resealing needs and tendency to staining.
Check them out before opting with natural tile.