Slate Tile – A Tiler's Guide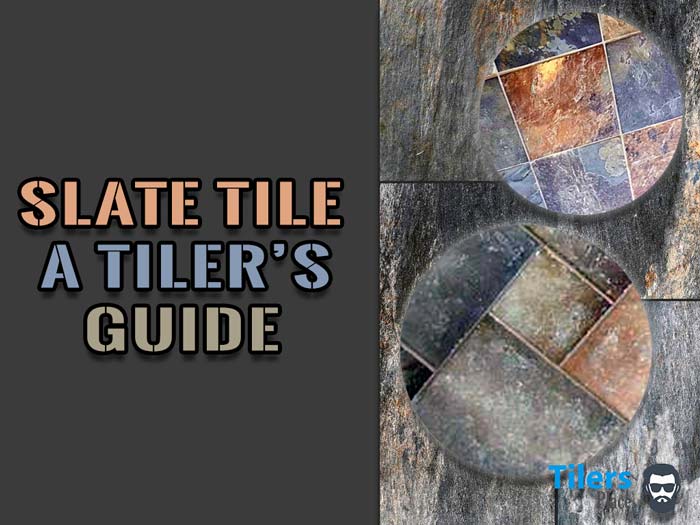 Slate tile is a beautiful and long-lasting natural rock option when choosing floor tiles. It may be utilized to make a stunning floor covering that will hold up to a lot of wear and abuse without deteriorating.
The beauty, durability, and minimal care needs of slate flooring makes it a wonderful investment for many houses even if it is not the most cost-effective choice. If you are tossing up if slate tile is right for you, knowing more about it may help you decide whether or not to go with it as a floor covering choice for your house.
The Numerous Varieties Of Slate
Once you've decided to go with slate flooring, the next step is to choose the kind and design of slate tiles you want. Personal preference will certainly dictate the majority of your decisions, but there are a few factors that may guide you in the right direction.
Natural cleft slate floor tile is a popular choice because of its rough, grooved surface and lack of apparent seams. It's also known as natural slate, and it's in charge of maintaining the slate's natural depressions once it's been dug out from the ground. The rough texture appeals to many individuals since it gives off an authentic, vintage feel. You'll see these tiles in many older homes from the 70's or 80's where slate was extremely popular.
For this reason, slate is a great option for damp or outdoor locations such as bathroom floors, swimming pool decks and patios since the rock's surface structure helps to prevent people from tripping and falling. In these locations, it's best to avoid using slippery natural stones like marble or polished porcelain since they may become very slippery when wet.
There are many other advantages to using slate tile in your home.
It is possible to utilize slate as a floor covering because of its toughness and longevity. Because it was created naturally under extreme conditions of heat and stress over millions of years, most of the things your home can throw at it will not damage it. Slate flooring is impervious to dings, scuffs, and scratches. A tiny scratch or scuff on a slate floor is easily hidden by the natural ridges and grooves of slate, as opposed to more supple or smooth natural floor covering options like hardwood or marble.
Slate's history as a building material has resulted in it being extremely scratch- and water-resistant. When used in moist places like bathrooms and kitchens, it is also a great choice for walkways and patios in gardens since it can withstand steam from showers and spills as well as water from sprinkler systems and rain.
Slate is composed entirely of natural resources, thus looking for it is a green move. A VOC-free sealer on slate is especially beneficial if it is obtained locally. If your home has radiant heating, natural slate may be an energy-efficient choice since, as previously mentioned, it performs an excellent job of transmitting heat into the room and holding that heat longer than standard tile.
One of the primary reasons people avoid slate flooring tiles is their expensive price. It's a pricey option, particularly if you're using genuine rock, and it may be out of your budget. While prices typically range between $5 and $12 per square foot, some may charge up to $30. Also account for the cost of sealers and your tiler's installation cost.
Tilers will charge more for working with natural stone as it requires additional steps and a more complicated installation process. Specialist thinset adhesives have to be used to ensure the slate adheres properly and doesn't react with the glue.
Before laying, the tiler will need to individually seal each piece of slate to ensure they don't stain during installation.
Cutting slate is also an issue as regular tile cutters won't break them cleanly. Each cut has to be made on a tile saw which dramatically increase installation time and labor.
The product's astronomical price isn't entirely unreasonable however. Natural stones, apart from being long-lasting, are also a great method to attract customers for future house sales because of the way they seem to potential purchasers.
Slate's hardness makes it long-lasting, but its low moisture absorption means it may be chilly and unpleasant to walk barefoot on. Some slate is also uneven with many layers that can trap dust and make it generally harder to clean. Carpets, vinyl, or cork are all good options if you want flooring for a welcoming and pleasant environment, or if you live in a chilly region.
The way slate seems to be cut straight from the earth into tiles is one of its most attractive features, in addition to its utility as a flooring material. Many people notice this fact as soon as they see a slate tile floor and remark on its unique qualities. Every tile is unique with its own veins, coloration and even thickness in some cases.
Slate is known as a "Metamorphic rock" as its made up of clay minerals, micas and quartz amongst other things, according to Geology.com. Quartzite, one of the components of slate is a nonfoliated metamorphic rock that was formed through time.
Slate comes in many colors, a common one being charcoal. Its often very gritty, but it may also come in a number of other colors, including earthy tones like olive green and beige, sandy tones like tans or gold tones, blue tones like the ocean, reds that dissolve, and even deep sapphire-colored streaks. Its truly amazing to behold what colors and beauty nature can create and capturing that beauty and adding it to your home is a big drawcard of slate.
Slate's earthy tones make it a popular choice for owners who wish to bring a little bit of the outside in. If you're looking for a natural stone, Slate is a good choice. For additional wow-factor, homeowners may design a floor covering that is unlike anything else on the market by using floor tiles in a single textured hue or multicolor patterns.
Of course, your own tastes will come into play here. Slate is popular because of the variety of colors and textures it comes in, but some homeowners dislike how difficult it is to coordinate slate floor covering floor tiles. There are options such as laminate or unfinished wood for those who want their floor tiles to be consistent or really personalized. Both of these materials are readily accessible.
Others choose honed slate, a tile that is more polished and has fewer visible or detectable grooves than other varieties of slate. Consider utilizing honed ceramic tile for kitchen floors or other high-traffic areas where people are likely to go barefoot. Honed slate will also make cleaning easier in these areas as the smooth surface will be less likely to trap dirt and debris.
Compared to other kinds of tile, this sort of slate tile is more pleasant to walk on and lasts longer. Homeowners who want a beautiful slate look in spaces such as living rooms and dining rooms may choose the more modern and sleek appearance of this kind of slate.
To prevent cement stains from staining your slate tiles during installation, you'll want to cover them with a clear coat of sealer once before installation and after they've been placed. A solvent based sealer is recommended and all sides of the slate should be sealed.
The sealant will also help avoid grout from drying out in undesirable spots during the grouting process. Use a grout sealer to seal the grout after it has fully set. This will help prevent stains from developing and protect the floor.
A stone sealer will help keep your slate looking new for a long time by protecting it against stains, scratches, and fading. It's a well known and loved product as it really adds the finishing touch to a slate floor alongside its protective qualities. Additionally, it'll be easier to maintain than many other types of natural stone.
Please note that you'll have to reapply sealer on an annual basis depending on the kind of use your slate floor receives. The process is straightforward, with a proper steam clean before hand and then just applying the sealant.
However, other than sweeping off dust and debris on a regular basis, slate ceramic tile requires little care. To prevent the stone from getting overly acidic, use a pH-neutral solution once a month to clean the tile. Specialist solutions like this are available at tile stores on online. Avoid using store bought cleaning solutions or bleach as they will discolor and ruin your slates appearance.
Deciding on whether you'll install the slate yourself or getting a professional in should be a well thought out process.
If you are an experienced DIYer, you may be able to save money by doing the project yourself but do note that all work with natural tile is more difficult and involved than standard manufactured tile like ceramic or porcelain. Despite the fact that a slate tile installation may look very simple once completed, it is not recommended for inexperienced individuals since the material may be brittle throughout the installation process. When it comes to complex designs, such as mosaics, it's best to leave it to the professionals.
Sealing, cutting and installing slate all have inherent tricks that a professional has learned across their career and skipping these steps may lead to a disaster and waste of material.
If you decide to go ahead with it yourself, be sure to consider your subfloor For the most part, it's quite safe to use slate directly on concrete surfaces. A simple grind with a cup grinder and priming the surface is all that's required in most cases. Some tilers will recommend a decoupling membrane on top of the concrete to battle lateral movement on new concrete.
It is probable that you will need to add a layer of tile backer or cementboard if you are working with a subfloor made of plywood or wood, since this will give the tile more stiffness and protect it from moisture seeping through the subfloor. Preparing your subfloor is just as important as every other step in the process and will ensure that your floor will last for decades, rather than months.
Another step you can take is by sorting through all your slate and choosing which pieces to use where. This is generally easier to do after you have sealed it all. Since you'll be unpacking and laying out each piece to let it dry, you can easily see all the tiles you have to play with.
Many homeowners like to use their favorite tiles in areas where they will be most visible. Those with interesting patterns, colors or formations will be put in prime position, where as more uniform ones will be placed in less seen areas like behind doors, under furniture, etc. Use this opportunity to put the rougher, more unforgiving ridges and grooves of natural cleft tile in a less-used area where people will be less likely to trip over them, as is the case with slate tiles.
Lastly, a light colored and modified thinset adhesive must be used to hold the tiles in place. Avoid using a dark color as the trowel lines may burn through on lighter pieces. This is mainly a concern with marble but its still possible. Also, use a non-acidic silicone sealant for the joints near walls as a standard sealant will discolor the slate.
As you can see, installing natural stone is a lot more time consuming than laying standard tile. Its things like this that really stack up the time spent on installation.
.