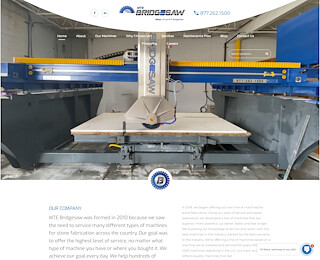 Get the Best Used Granite Bridge Saw for Sale
Cutting machinery is the cornerstone of every granite and stone production business. This specialized equipment allows for the mass production of perfectly finished pieces that deliver world-class results to customers. However, not all companies can invest in a new granite bridge saw.
In such cases, the wisest thing to do is to opt for an excellent aftermarket bridge saw for marble and granite. There are different alternatives on the market, but you won't find better options online than a used granite bridge saw for sale from BridgeSaw.com. You should know why our equipment is the best, and the excellent equipment options we have for you.
Why Choose Bridgesaw Equipment?
You get the best industry alternatives when you buy our used bridge saws and CNC machines. We use our more than ten years of experience in servicing, repairing, and maintaining cutting machinery to ensure the maximum performance of our used equipment. Each machine is carefully inspected and repaired, with original parts and manufacturer's specifications. This guarantees optimum performance and that our customers get the most out of their investment for years.
These Are the Excellent Used & Refurbished Options We Have for You
Maya600a: with its powerful 20HP motor and 1450 RPM, you can produce 10' of 3cm granite in less than a minute. The cutting is fully computerized, and you can choose between simple and staggering cutting. You can use blades between 18″ and 24″ according to your needs. The functions are fully computer programmed for uniform mass production. Also, it has a 4-gallon/minute auto shut-off water system. You control it with wireless remote control for maximum security. You can choose between the 2015 or 2018 model.
GMM Brio: this 2007 Polish gem is ideal for small to medium projects in your workshop. It is very versatile and can be operated manually or fully automated. It performs diagonal, perpendicular, and parallel cuts with great speed and high precision. Its system is innovative since, instead of rotating the table, the head is the one that rotates (0°-370°) for a maximum level of accuracy. Its 625mm blade can masterfully handle any project up to 205mm thick.
Matrix Sebring: If you are looking for a wholesale CNC bridge saw that is a workhorse, this is your ideal choice. It is very versatile as it has a dual system: a 1/2HP motor with variable speed control & a laser alignment system, and a 20HP saw motor for 0°-45° stone sawing. It guarantees a "Dead-Straight" cut without vibration interference and an exceptionally smooth operation. It has an extraordinary heavy-duty rotary table with four positive locking positions, with which you can complete any project successfully. Year of manufacture: 2001.
Get Top Used Granite Bridge Saw for Sale
If you are looking for the best, used wholesale bridge saw to boost your business, you are in the right place. At Bridgesaw, you'll find the best alternatives in the secondary market, with our maintenance guarantee and very competitive prices. Plus, we offer free shipping nationwide and the best financing options. Contact us for service or to see our models and deals today.